NLF Summer Showcase Standouts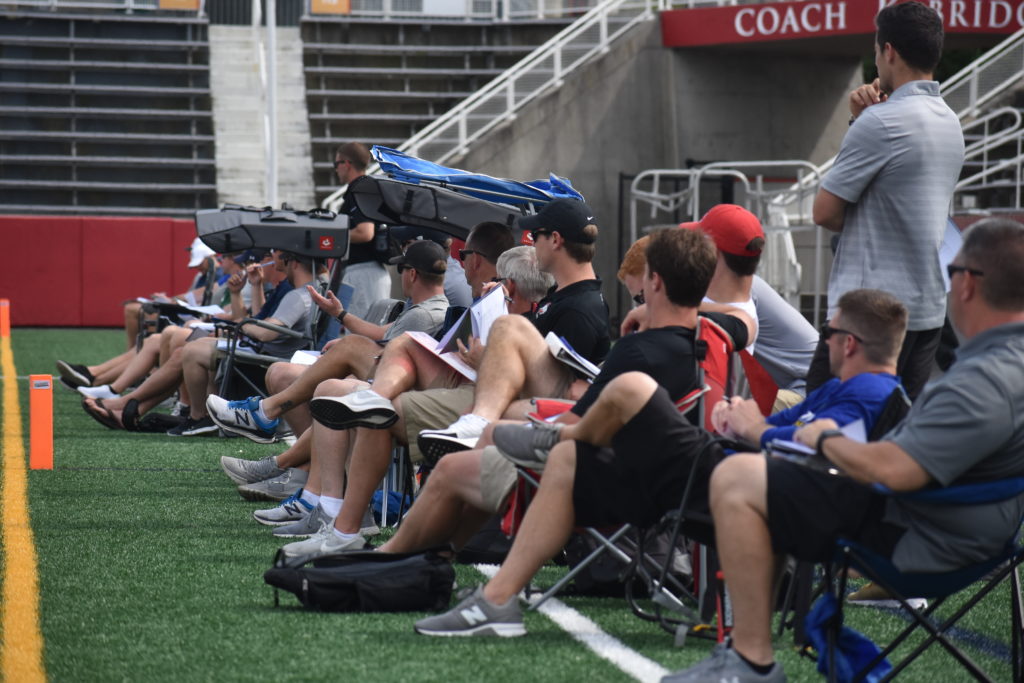 Follow the NLF on Instagram, Twitter and Facebook. 
It's the final summer on the club circuit for the 2020 class, and in the past, that might have meant less college coaches on the sidelines for games featuring rising seniors.
Last year's NCAA recruiting rule change has made it so that's not the case anymore, and Friday night at the NLF Summer Showcase at Stony Brook, it was very clear that there's still plenty of interest in the oldest class on the circuit. More than 60 college coaches from all levels came out, including luminaries such as Yale, Maryland, Denver, Penn, North Carolina, Michigan, Ohio State and many, many more.
For some, that might change their playing style as they get overly aggressive to impress and get out of their comfort zone. For others, like defenseman Jack McCarthy, it's another chance to put forth the game that's made already made him a big player.
"There were a ton of college coaches there, which was really cool, and I just hope that they see something in me, whether it's the effort factor or the way I play that stands out," McCarthy said.
McCarthy's performance in the showcase couldn't have hurt his chances of finding a collegiate home. The Connetquot (N.Y.) and Team 91 2020 Orange standout was impressive as part of a fierce group of defensemen, and he's not sweating the fact that it was part of his last club summer in an effort to find a college.
"I want to get set for college and find a spot that will fit how I play and a school that will really fit me best," McCarthy said. "I thought I played pretty well. I got to show how I play 1v1 and I did a lot of clearing, so I showed a little bit of everything that I can do. I tend to do really well against bigger guys because I'm able to dig my feet down into the ground, drive them on GLE and knock them around. I knew I had to be calm, too, and have nothing bring me down. If I get beat, just put it in the past and get them next time."
A 6-1, 200-pounder who's already started for three years and was a captain as a junior for Connetquot, McCarthy is emerging as one of the top uncommitted '20 defensemen on the market. He went up against 91 teammate Cory Capri (Glenn, N.Y.) in the first game, then went looking for a different type of assignment in the second game. He found a way to be an active presence on the back end, even putting the ball on the ground a few times, and once he gets moving in the open field, he can be awfully tough to slow down. McCarthy also took some wings and had a particularly impressive ground ball in a 3v3 situation to start transition.
"There were all types of different attackmen, so I got to cover bigger guys who want to body you and quick, shifty guys that want to run around you. It was the best of both worlds," McCarthy said. "Cory is really quick and has a nice inside roll, so going against him helps me get better. In the second game, I wanted to cover someone different. I'm still always learning and I just try to keep getting better."
2020 Standouts from the NLF Summer Showcase
Liam Nestor, midfield, Phillips Andover (Mass.) / Laxachusetts Black – Highlights
A two-way force out of the midfield, Nestor is the type of midfielder that every team needs. He does a very good job defensively and had a couple of caused turnovers Friday night, but he also showed an improved ability to finish, including a hat trick in his team's first game. He redodges well and can shoot with either hand, and he'll rarely force a shot. He finds a way to come out of scrums with tough ground balls and consistently stays low in his defensive stance to get under dodging midfielders.
Ethan Robinson, LSM, McDonogh (Md.) / Baltimore Crabs – Highlights
Robinson was EVERYWHERE for his team, particularly in the opener where he caused three turnovers and gobbled up a couple of ground balls. He has a prototypical handle for the LSM spot, and he has very good feet to match, to go along with good core strength to steer midfielders to where he wants them to go. He also looks comfortable defending anywhere on the field. Robinson is opportunistic with his checks and you won't see him going wild with them, but when he does throw them, they usually land. He followed it up with a strong performance in the weekend tournament, helping guide the Crabs to the championship game.
Trey Sofield, midfield, Long Beach (N.Y.) / Team 91 Orange – Highlights
Sofield has excellent size for a midfielder, and when you pair that with the athleticism that he showed off Friday night, you can see that he has the tools to be a big-time player. He was one-man wrecking crew on the clear, calling his own number on a handful of punt return-style clears. He consistently showed that he's at his best between the lines and excels in transition. This spring, he even dropped back to LSM for the first time this spring due to his team's need for a pole and performed admirably there.
Alex Stepney, attack, Loomis Chaffee (Conn.) / Prime Time – Highlights
Stepney wasted no time in showing how he racked up a 41-goal, 62-point season at LC. He uses his shiftiness and change-of-direction ability to routinely beat his man at X, and he does a great job of turning the corner to create a scoring opportunity, as you can see in the goal below. Stepney loves to come above GLE and rip for the far corner, and he's also a huge asset in the riding game and in collecting ground balls. He's not afraid to go to the dirty areas, and that's something that you love to see from an attackman.
Put him on your highlight reel, Alex Stepney! #NLFSS19 @PrimeTimeLax08 @LC_BoysLacrosse pic.twitter.com/Xy5U3YGB1d

— NLF (@natlaxfed) June 7, 2019
2020 Honorable Mention
Cory Capri, attack, Glenn (N.Y.) / Team 91 Orange – Highlights
Joey Dahlkemper, faceoff midfielder, Kent (Conn.) / Prime Time – Highlights
Alex Gekas, midfield, Roswell (Ga.) / Thunder LB3 – Highlights
Ben Morgan, defense, Severna Park (Md.) / Crabs – Highlights
Judge Murphy, attack, Brooks (Mass.) / Laxachusetts Black. Highlights
Conor Zachar, midfield, Taft (Conn.) / Laxachusetts
2021/22 Standouts from the NLF Summer Showcase
Andrew Atchison, attack, Lassiter (Ga.) / Thunder LB3 – Highlights
A slick, shifty attackman with plenty of quickness, Atchison has absolutely no fear. He's willing to go to the heavy traffic areas and will take a hit to make a play, but the only problem for defenders is that he's incredibly elusive and often too slippery to get a clean shot on. Atchison also has creativity for days and was tossing out behind-the-back passes and one-handed shots as a regular part of his arsenal. His stickwork in tight spaces is exceptional.
Chris Cappelmann, faceoff midfield, St. Anthony's (N.Y.) / Team 91 Blaze – Highlights
Cappelmann was lights-out at the faceoff X all showcase long, using his elite hand speed and strength to dominate draws. It looked like he was winning every clamp, and he's willing to go chase down the ball if it becomes a 50-50 ground ball. He didn't show it as much, but he also plays lefty attack and takes 1v1 matchups out of the box for the Blaze team. There are few more well-rounded faceoff men in the '21 class, and he'll be in high demand on Sept. 1.
Fisher Finley, midfield. Milton (Ga.) / Thunder LB3 – Highlights
A massive, imposing midfielder, Finley strung together an impressive weekend for the '21 finalists and started it off with a strong showing in the showcase. Checking in at about 6-5, 200 pounds, Finley creates separation with his brawn, but he also has some decent speed once he gets going downhill and showed that he's a legitimate scoring threat running down either alley. So much so, actually, that it was hard at times throughout the weekend to determine whether he was a lefty or righty. With his size and athleticism, there's no telling how good Finley can be.
Oran Gelinas '22, goalie, Middlesex (Mass.) / Laxachusetts Black – Highlights
Shooting low on Gelinas is announcing to the world that you enjoy wasting your time on fruitless endeavors. He was terrific all showcase long, but he really shined bright in his team's last game, making at least double-digit saves in his half of work. His footwork was terrific, he cut down angles well and challenged shooters with regularity. Gelinas even drew some oohs and aahs with a sick behind-the-back pass to start a clear. He followed up his outstanding showcase with a great showing for the Laxachusetts '21 Black squad over the weekend.
Sam Smith, LSM, Millbrook (N.Y.) – Highlights
You love to see the versatility that Smith brings to the table. He showed the ability to excel both at pole and close defense, and he relishes his matchups at GLE. Smith showed a good IQ and made solid off-ball decisions, and when opponents tried to go at him, they were often blanketed, thanks to his excellent footwork.
Joey Spallina '22, attack, Mount Sinai (N.Y.) / Team 91 Crush and Smash
If you haven't gotten used to it already, get used to hearing Spallina's name. It's hard to argue for anyone besides him as the top '22 in the country, especially after a season where he racked up 131 points for Mount Sinai and led Long Island in points for most of the season. For the second straight year, you can make a very convincing case that he was the best player at the showcase, and he's adding more tricks to his game. He normally hangs out at X or just above GLE, but he had a sweet lefty on-the-run shot from 12 or so yards out. There's also an incredible lacrosse IQ to go with elite stick skills, and he'll try any pass or shot at least once. When you think you have him covered, he's got another ace up his sleeve.
2021 Honorable Mention
Conor Kilfeather, LSM, Springside Chestnut Hill (Pa.) / Big 4 HHH – Highlights
Drew Martin, goalie, Blue Valley West (Kan.) / Midwest Top Gun
Jake McLoy, attack, Thayer (Mass.) / Laxachusetts
Cole Monette, goalie, Woodward (Ga.) / Thunder LB3 – Highlights