Beginning with the 2023-24 club season, the National Lacrosse Federation will require all players in graduation years 2029 and younger (U14) on its member clubs, and participants in tournaments run by its member clubs, to go through an age verification process with USA Lacrosse. Here are some FAQs about the process.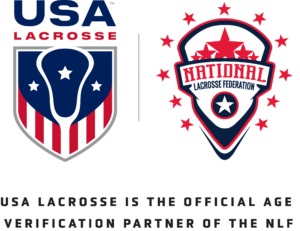 Why is the National Lacrosse Federation (NLF) requiring age verification at the 2029 Grad Year (U14) and younger?
 There are several compelling reasons behind the NLF's decision. Among the biggest:
Integrity of competition
Quality of experience for all participants
Player safety
Why is the NLF partnering with USA Lacrosse on this initiative?
As the governing body for the sport in the United States, USA Lacrosse brings trust, credibility and neutrality to the process. USA Lacrosse already has a proven age verification system in place that it has used for other organizations and looks forward to expanding the program.
What are the age groupings?
For the 2023-2024 club year, in graduation years 2029 and younger, the NLF has chosen to implement a 15-month timeframe (June 1 birthdate through August 31 of the following year) for its age groupings. The NLF clubs are expected to continue using graduation years as the team names, but all players will fit within the 15-month groupings. This will help minimize team roster disruptions and to incentivize classmates playing together.
FREQUENTLY ASKED QUESTIONS
VERIFICATION POLICY (Coming Soon)
BIRTHDATE CHART