NLF Summer Kickoff 2022 Standouts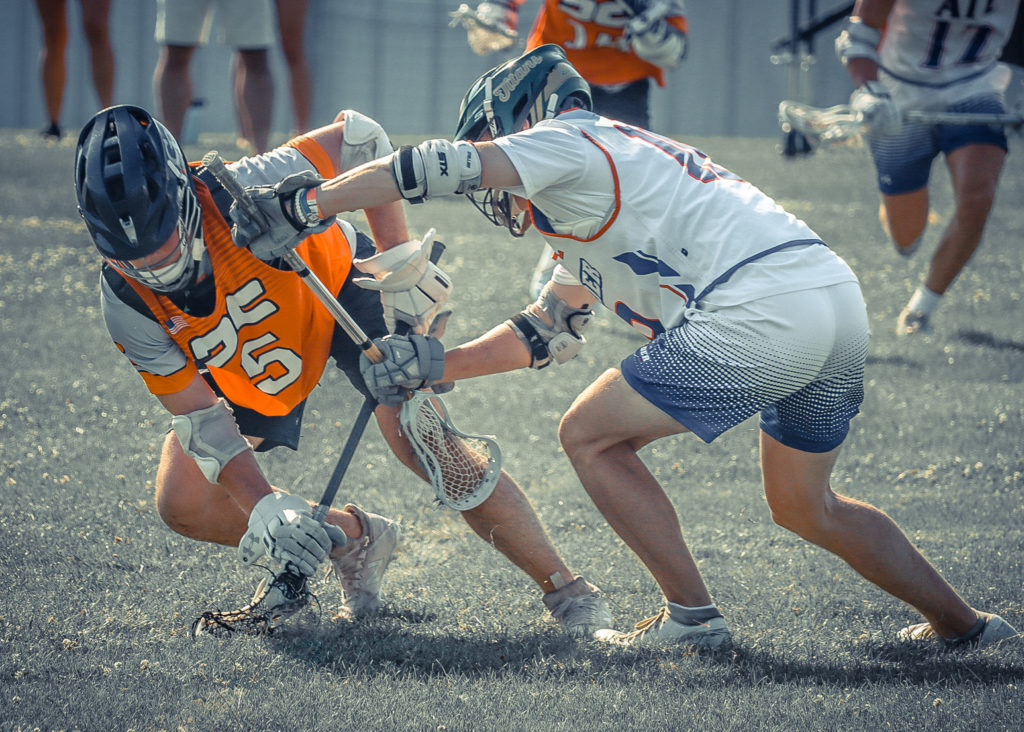 Follow the NLF on Instagram, Twitter, YouTube and Facebook.
When so many of his fellow faceoff midfielders griped, Mac Eldridge kept his focus dialed in and his goals remained unchanged.
The NCAA's announcement of its intent to change from allowing faceoff guys to go on a knee to the standing neutral grip certainly caused enough consternation, and there's no doubt that it will have a significant impact on who gets recruited and how hard they get recruited. Instead of pushing back against what seemed inevitable – the rule officially passed this week – Eldridge got to work.
"When they first announced the change, I realized that people were going to complain," Eldridge said. "I just knew that if I took the time to work on it and develop, I'd be a step ahead of the people who were complaining."
For the DC Express 2022 product, the timing also coincided with a few significant personal changes. He transferred to Georgetown Prep (Md.) this year, and it was there that he started to take a liking to the weight room. Eldridge not only hit a growth spurt from 5-8 to 6-0, but he put on 40 pounds from 150 to 190 and saw ridiculous improvements in his lifts.
"My bench went from 135 in the fall to 225 at the end of spring, and I went from 200 to 350 on my squats," Eldridge said. "A big part of my game is being able to fight for ground balls, and bulking up has been a big help there."
Those ground ball skills, coupled with a more extensive knowledge of exits, a varied use of counters and Eldridge's great hand speed, have quickly vaulted Eldridge into the conversation of the top faceoff men in the class. At this week's NLF Summer Kickoff, he was lights-out for the Express, helping his team roll to a 2-0 day by consistently gaining extra possessions for a team that has a ton of offensive firepower to put the ball away.
"I've benefitted from the change, due to my hand speed and how fast we can exit with the ball," Eldridge said. "I kind of already knew what to do and I advanced what I already had on a knee, and now I can exit better. My wings are incredible, too, with guys like LSMs Cullen Brown (Landon, Md.) and Ryan Splaine (Gonzaga, D.C.) and midfielders Marcus Pedone (Richard Montgomery, Md.) and Tucker Wade (Bullis, Md. '23). They've really helped me and are really good at communicating with me."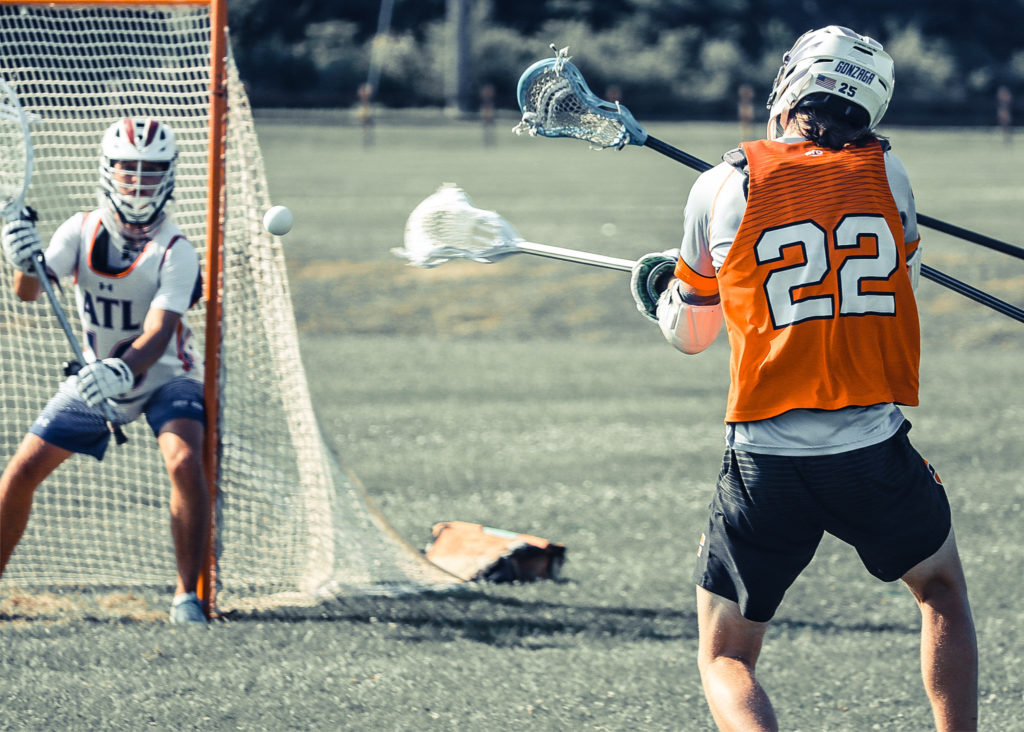 Of course, having a dynamic offensive unit to dump the ball off to makes any faceoff man's life easier. DC Express' offense had itself a day, scoring 20 goals in its two wins over Thunder LB3 and SweetLax Florida. Attackman James Matan was in the thick of things from the start, torching Thunder LB3 for six goals and an assist, including five and one in the first half. In that first half, the Gonzaga (D.C.) scored on a rebound goal in front, a high transition rip, a low shot out of the righty corner, a lefty shot out of the corner and a ridiculous one-handed transition goal in traffic off of a great Eliot Dubick (Churchill, Va.) feed. The Dubick-to-Matan chemistry was evident early, and they've been a nightmare for defenses all summer long.
"I just play hard and try to take whatever look's open," said Matan, who started for Gonzaga as a sophomore in both of its games this spring. "I try to be an all-around player and try to get my teammates involved early and let the game come to me. As a team, we're feeling pretty good and we're trying to make a statement every time we play."
Consider that statement officially noted.
Other 2022 Standouts
Aidan Aitken, midfield/attack, Salisbury (Conn.) / SweetLax Florida (Highlights)
Aitken was a consistent force as a scorer for the Floridian crew, the result of being a multi-dimensional offensive threat. Put him at X, up top, wing, whatever, he can cross defenders up with his athleticism. He's got the outside shot to be a threat if you sag off of him. He's also SweetLax's top two-way midfielder and relishes defensive assignments. He did a great job of anticipating and jumping passes on the defensive end, constantly clogging passing lanes for opponents.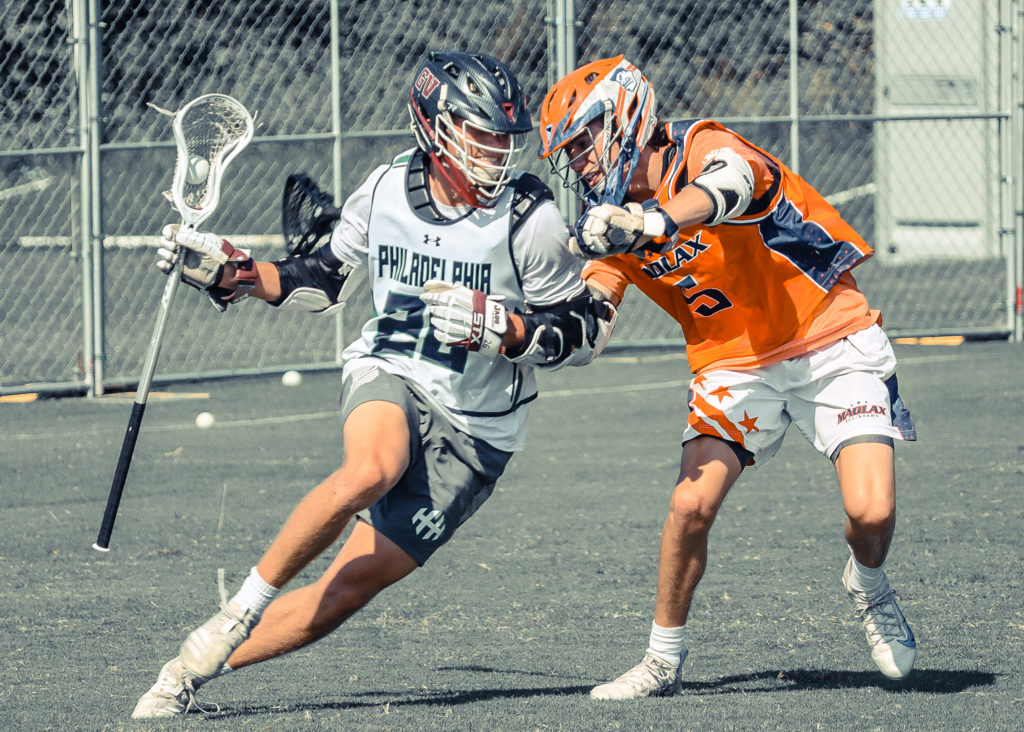 Max Busenkell, midfield, Garnet Valley (Pa.) / Big 4 HHH (Highlights) NLF No. 13 '22
Busenkell is a frequent visitor to NLF standout stories and there's a good reason for it: he's going to be a big-time recruit. The Big 4 HHH offense runs through him, mostly because he can do a little bit of everything and a lot bit of scoring. He runs well, showed yet again that he's a threat to score either righty or lefty, and has really good offensive IQ. He's lethal from inside of 10 yards and does a great job of keeping defenders off balance and getting inside leverage to shoot. 
Hugh Conrad, goalie, De La Salle (Calif.) / West Coast Starz – NLF No. 31 '22
Conrad was his usual sterling self for the Starz, coming away with just about every save he should have and making a number of highlight-reel stuffs. He's very quick with his hands and explodes out to shots with his stick to cut down angles, and he just seems so darn poised in the cage. His quick feet and loose hips allow him to quickly drop down to make low saves and he had a ridiculous save in transition against MadLax, where he came back across with his stick on a 1v1, that really showed his all-around athleticism.
Max Ewald, LSM, Buckingham Browne & Nichols (Mass.) / West Coast Starz
Heads up and sticks in when you're around Ewald, because he's the most likely Starz defender to end up on Instagram with his surgical detwigging skills. Ewald played with the stacked '21 Starz squad this week and he put a decisive end to a one-goal win over the Annapolis Hawks with a beauty of a caused turnover by the midline. He loves to press out and make his matchup earn every inch of grass that they get and doesn't back down. He's good for a couple of caused turnovers every game.
Elliot Dubick, attack, Churchill (Va.) / DC Express (Highlights)
Dubick and James Matan (see above) make up the perfect combination at attack for DC Express. Matan is the shooter who can score from anywhere, and Dubick is the feeder who can zip a pass into a tiny window to give him a chance to score. A super crafty, high-IQ attackman, Dubick sees the game happen two steps ahead of everyone else and can quickly visually break down a defense. He has elite stick skills and vision, and he's an exceptional fit as a quarterback of the offense type.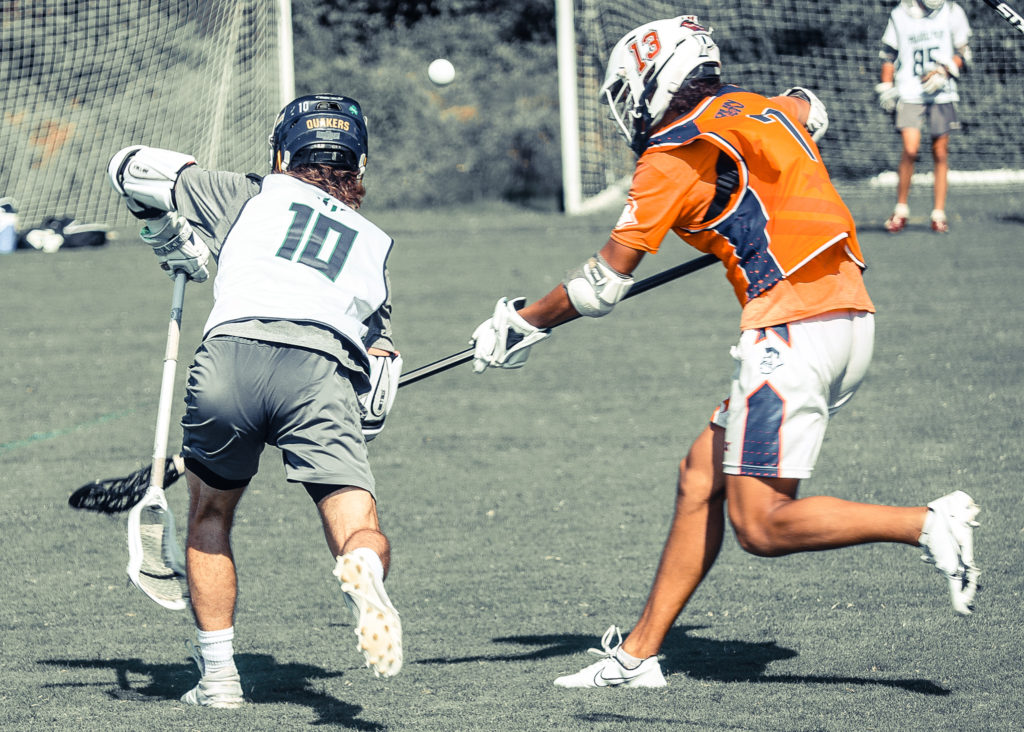 Aidan Fairchild, defense/LSM, Patriot (Va.) / MadLax Capital
Fairchild stands out right away when you see his tall frame and the amount of ground that he quickly covers. The lefty hounded guys all the way to the parking lot and is an opportunistic slider, and watch out when he gets in the open field. His hockey background definitely helps him handle the ball well with a pole, and he did a really nice job of throwing accurate checks without playing out of control and losing positioning.
Sean Gallagher, LSM/defense, Garnet Valley (Pa.) / Big 4 HHH (Highlights)
Gallagher was a second-team all-Central League pick in one of the top public school leagues in the country as a freshman in 2019, and had he been able to play this spring, there's a good chance he could have improved on that. A tall, rangy athlete who's been consistently excellent in the early part of the summer, he was great at getting the ball off the ground, showed that he's got the hip fluidity to turn and run with anyone, and he has a knack for getting his stick on opponents' stick and causing havoc.
Paul Garza, midfield, St. John's (D.C.) / Annapolis Hawks (Highlights)
Chances are that if you put a brick wall in front of Garza, he'd still think that he could dodge through it. He thrives on initiating contact and knocking his defender out of position, and once he gets his hands free, it's over. He tallied seven times for the Hawks, but also showed his ability to be a provider for the rest of the offense with three assists.
Connor Guerrero, LSM, San Clemente (Calif.) / Crabs (Highlights)
The West Coast Crab isn't shy about throwing checks in the middle of the field, and when they land, he's got a knack for knocking the ball free and scooping it up with advanced stickwork. He's got the quickness and footwork to match up with high-scoring midfielders and did a nice job on a few occasions of being the second man on the ball in a double team. He's not afraid to shoot when given time and space, either.
Charlie Iler, midfield, San Ramon Valley (Calif.) / West Coast Starz (Highlights) NLF No. 42 '22
He's not the biggest midfielder in the class, but there's so much to like about Iler, who stuck the game-winner against the Crabs with a ferocious rip from the wing in the final minute. He's smooth and shifty with the ability to score either righty or lefty, and Iler also showed some great vision with a handful of nifty feeds to his teammates. He's always competing and seems to be the kind of guy that his teammates feed off of, and it's no surprise that he's able to consistently make plays due to his tenacity.
Sean Jordan, LSM, Saint Andrew's (Fla.) / SweetLax Florida. NLF No. 50 '22
Jordan left quite an impression upon first sight, exploding laterally to his left to cover a ton of ground before knocking the midfielder to the ground and slashing him for good measure. The latter earned a flag, but it said a lot about Jordan's temperament and nasty disposition, traits that were continually on display for SweetLax. He has really quick feet for a bigger guy and can also drop down to play close defense, but he's a true difference-maker at LSM with his ground ball skills and shooting ability. Not all LSMs thrive when playing mean, but Jordan makes a living off of it.
Ian Kim, faceoff midfield, Conestoga (Pa.) / Crabs (Highlights)
Kim has been a part of a stout tag team at the X with teammate Griff Shaffer (Vandegrift, Texas) all summer long, and while he's the flashiest faceoff man out there, he's been extremely effective while exclusively using SNG all summer. Kim once again showed that he's explosive and quick to get the ball out, and frequently gets to his own ground balls. He won't be the faceoff guy to try to take every shot in transition, but Kim does a great job of finding the open point man. He was comfortable once again with going forward or backward, or incorporating his wing guys.
Gavin Kelly, attack, St. John's (D.C.) / Annapolis Hawks (Highlights)
It's very clear that Kelly and Race Ripley (see below) have terrific chemistry, with Kelly the dangerous sniper from anywhere on the field off of Ripley's passes. Kelly does a great job of seeking out and finding open space and times his cuts well, and he doesn't need much time to shoot with his lightning-quick release. He was also efficient when changing the planes on his shots, as well as a relentless rider who can blow up a team's clear in a hurry.
Bo Lockwood, attack, Hartland (Mich.) / Cherries (Highlights)
Hooooooo boy. Talk about making a statement. Lockwood and the Cherries as a whole were both terrific, and Lockwood's stock should be on a rocket ship to the moon right about now after a dominant performance. It was hard not to think of this scene and basically just replace, "football," with "lacrosse," and "Boobie Miles," with, "Bo Lockwood."
Lockwood looked so smooth while scoring inside and out, feeding easy passes or skipping them through traffic, riding, etc. He's quick on his feet, has great balance and agility, and was able to muscle his way through slides to score inside. He had a particularly great game in a win over the Crabs, including the goal above and a ridiculous skip pass to Ryan Stadelmeier (Midland, Mich.) for a goal.
Ryan O'Connor, LSM, Springfield (Pa.) / Big 4 HHH (Highlights)
It's a cliché to say that a talented pole can handle the ball like an offensive middie, so let's upgrade: O'Connor handles the ball with a pole the same way that a crafty, skilled attackman handles it with a short stick. O'Connor's stickwork is absolutely uncanny and is a huge reason why he won't last long on the open market come Sept. 1. He's not afraid to throw behind-the-back passes, one-handed passes or anything in between. He's lights-out on ground balls, even in heavy traffic, and guys his size don't move as quickly or as fluidly as he does. O'Connor can give midfielder problems because of his ability to get his stick on hands and disrupt the play, and he will be more than happy to snap one by your goalie in transition.
Race Ripley, attack, Archbishop Spalding (Md.) / Annapolis Hawks (Highlights) NLF No. 28 '22
If you're running the offensive show for such a loaded team, you need to be poised and collected at all times. Ripley does that, and then some. He thinks the game a step ahead and seems to know where the ball's going before it's even in his stick. Ripley understands where the defense is sliding from, who's going to be open and where each teammate wants the ball. He had a particularly nice play against the Florida Crabs where he led Gavin Kelly (see above) perfectly after a great Kelly cut to set up a goal, and he posted a balance six-goal, six-assist stat line on the day.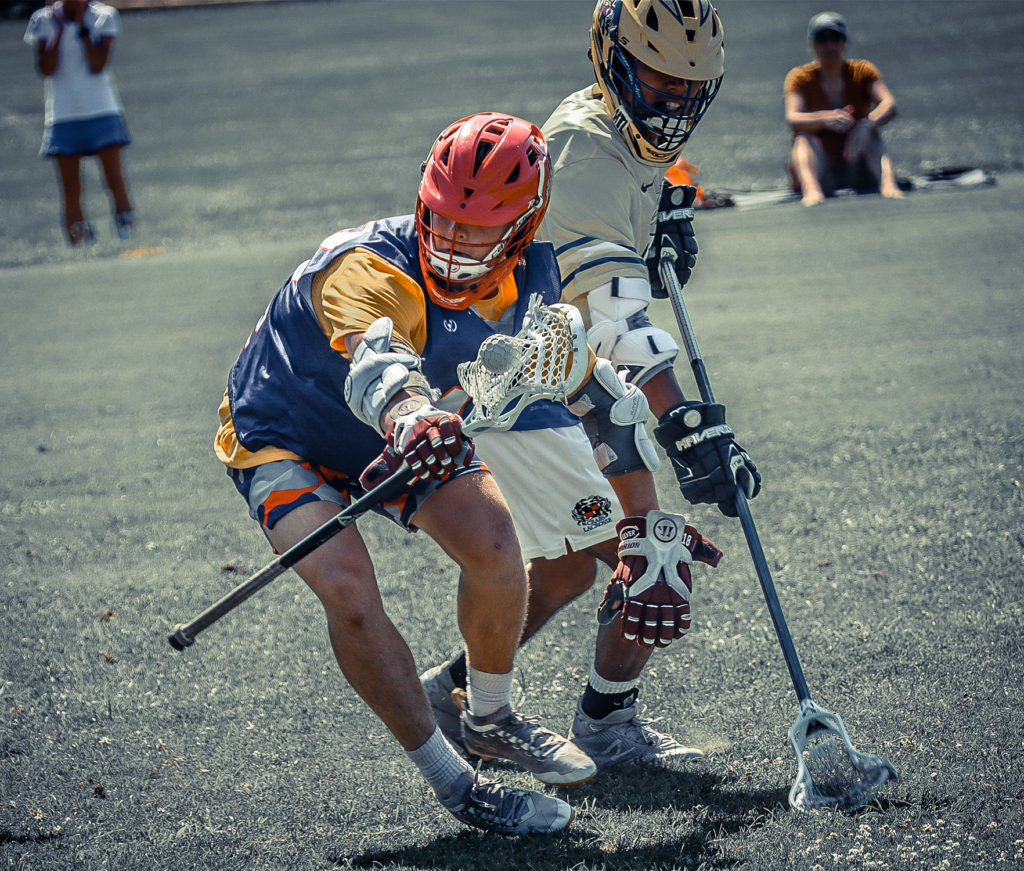 Griffin Scane, midfield, Culver (Ind.) / Cherries (Highlights)
Scane was as dominant out of the midfield as Bo Lockwood (see above) was at attack for the Cherries. He's got plenty of quickness and agility that help him beat his man and draw a nearly immediate slide, he can score lefty or righty, and defenses really couldn't figure him out. He's got the requisite toughness, too, showing on multiple occasions that he'll go into a scrum for a ground ball for his squad. Scane also held up his end of the bargain on the defensive end, consistently denying his man a clean look down the alley.
Rocco Schramm, defense, Monte Vista (Calif.) / West Coast Starz
Schramm is a physical specimen that stands out on the hoof, and it's no surprise to hear that he was a sophomore starter at linebacker for Monte Vista football. He loves to mix it up physically and can push anyone around with his extremely strong lower body. On the flip side, he can also run by guys in the open field with relative ease. Schramm was very aggressive with his 1v1 defense and after a possession or two, guys seemed reluctant to go against him.
Grayson Schmidt, defense/midfield, St. Stephen's & St. Agnes (Va.) / MadLax Capital (Highlights)
A bundle of energy whose motor never stops, Schmidt was all over the field for MadLax and consistently made plays as a result of his tenacity. There isn't a spot that Schmidt won't follow his man to, just to make sure he's hounding his guy, and he had a handful of caused turnovers with precise, timely checks. He's particularly aggressive on the wings, too. His positional versatility – he doubles as a short-stick defensive midfielder – will help him garner attention, because the ability to seamlessly transition from shortie to pole and back is one that few have.
Denton Shamburger, defense, Westminster (Ga.) / Thunder LB3 (Highlights)
Shamburger is very good already, but you get the feeling that he's not even close to scratching the surface of his potential. He's already around 6 feet and has good flexibility to get low against his matchup. He's quietly effective on ball – Thunder LB3 switched him on to James Matan to decent results – and has an advanced understanding of what to do off ball. That, plus an exceptional stick and a frame that will allow him to play at around 195 pounds in college, will make him an appealing prospect to many schools.
Landon Whitney, goalie, Starr's Mill (Ga.) / Thunder LB3 (Highlights)
Whitney was particularly stout in the Thunder LB3 cage, routinely coming away with eye-popping saves in tight thanks to his quick feet and excellent stickwork. The lefty doesn't boast great size, but he finds a way to make every save that he should and a few that he shouldn't. He's very poised in the cage and commanded his defense well, and he also made a number of pinpoint passes to jumpstart the clear.
Honorable Mention
Cullen Brown, LSM, Landon (Md.) / DC Express (Highlights)
Sam Cooper, goalie, Santa Fe Christian (Calif.) / West Coast Starz (Highlights)
Richard Checo, defense, St. John's (D.C.) / Annapolis Hawks
Evan Eischelman, goalie, Saline (Mich.) / Cherries
Caleb Fyock '23, goalie, St. John's (D.C.) / Annapolis Hawks (Highlights)
Bryce Horton, midfield, Lassiter (Ga.) / Thunder LB3
Cooper Kistler, LSM, Westminster (Calif.) / West Coast Starz
Quinn Krammer, midfield, Lake Washington (Wash.) / West Coast Starz
Max Kunnath, goalie, Cranbrook (Mich.) / Cherries (Highlights)
Tristan Lenard, goalie, Patriot (Va.) / MadLax Capital
Joey Luczak, defense, Ponte Vedra (Fla.) / Florida Crabs (Highlights)
Trace McDonald, attack/midfield, St. Thomas Aquinas (Fla.) / Florida Crabs (Highlights)
Tim Myers, midfield, St. Anne's Belfield (Va.) / DC Express
Colin Michener, attack, Penn Charter (Pa.) / Big 4 HHH (Highlights)
Ethan Salvia '23, midfield/attack, Shady Side (Pa.) / Crabs
Gunnar Schwarz, goalie, Saint Andrew's (Fla.) / SweetLax Florida
Max Sloat, attack, Sacred Heart Prep (Calif.) / West Coast Starz (Highlights)
Griff Shaffer, faceoff midfield, Vandegrift (Texas) / Crabs (Highlights)
Zachary Walsh, attack, Paul VI (Va.) / MadLax Capital
George Wandoff, defense, Oxbridge (Fla.) / SweetLax Florida (Highlights)
Anthony Wilson, goalie, McDonogh (Md.) / Crabs (Highlights)