NLF Summer Kickoff 2021 Standouts
Follow the NLF on Instagram, Twitter, YouTube and Facebook.
Mason Morel's status as one of the top uncommitted goalies in the country might not last much longer.
Even without the luxury of a junior campaign at Centennial (Ga.), the Thunder LB3 2021 goalie made sure that he was ready to stare down some of the country's top shooters at the NLF Summer Kickoff.
Of course, for as good as those shooters are, they might have been firing popcorn at him, considering the fact that he's been training with and playing against some of the best players in Georgia history.
"The Solomon brothers – Nate and Nicky – live right next to me, so I've been working with them a lot, and I also get shots from (Maryland freshman) Ryan Siracusa, (PLL Waterdogs midfielder) Dan Eipp and (2019 MLL Defensive Player of the Year) Liam Byrnes," Morel said. "That helps a lot."
Morel sure didn't look the part of a guy who missed the season at the Summer Kickoff, and he was arguably the biggest reason why Thunder LB3 took down two-time NLF defending national champion D.C. Express, as well as the West Coast Starz, the team with the most commits in the country. The agile goalie with catlike reflexes and quick hands was all over the place for the Georgia boys, setting the tone by dominating the first half of both games.
"I think beating D.C. Express and the West Coast Starz shows that we can compete with anyone," Morel said. "Everyone was doing their job in front of me, which made it easier."
It's never easy to be uncommitted as the process gets later and later, but that's doubly true for a goalie, a position at which most schools only take one player per class. Despite that, Morel has put himself into an excellent position to be a terrific late add for a program, especially since he's a 4.0 student with a 32 ACT.
"It's just a long waiting process and you just have to be really patient," Morel said. "A lot of my friends are committed and every day, I'm still working to get committed. I just have to be patient in the process because I know it'll eventually happen. I'm just waiting it out and staying patient and looking to get a school's attention and hopefully commit."
Other 2021 Standouts
Will Angrick, midfield, Georgetown Prep (Md.) / DC Express / Notre Dame (Highlights) NLF No. 31 '21
Angrick was a crucial part of DC Express' run to a second straight NLF national title last summer, and he looks even better now. He's a legitimate two-way midfielder who doesn't cheat anyone defensively, and he was an issue yet again in transition. Noticeably bigger and stronger, Angrick scored four goals in an early win, showcasing a couple of different ways to score. It's very fair to surmise that Angrick could be the top midfielder in the IAC as a senior.
Tyler Barnett, attack, St. Mary's (Md.) / Annapolis Hawks (Highlights)
It's extremely surprising that Barnett has lasted this long on the open market, but it's hard to envision a scenario where that lasts much longer. He can play a variety of roles at attack, from creative and effective shooter to feeder or even as a potential midfielder with his ability to scrap for ground balls. Barnett is aggressive and tenacious, and he showed the ability to both score and hit open men off of double teams. A tough cover for anyone and one of the best uncommitted attackmen left in the class.
Michael Bath, LSM, Gonzaga (D.C.) / MadLax Capital / Princeton (Highlights) NLF No. 15 '21
First of all, look at the preposterous goal above. One of the meanest things you'll ever see a pole do to a goalie. Simply outrageous. Bath's stickwork is that good, and it's a huge reason why he was such a high priority for Princeton last fall. He's elite offensively and in transition, and while he takes high-risk, high-reward chances defensively, the reward usually outweighs the risk for Bath. He's elite at wreaking havoc in the middle of the field and has the gamechanging ability to dictate what the opposing offense does.
Evan Beland, goalie, Granite Bay (Calif.) / West Coast Starz / Siena (Highlights)
Somewhat under the radar on a team with as much, well, star power, as the Starz have, Beland was outstanding in the cage on both days. He made a fantastic save with 20 ticks to go to preserve a win over the Annapolis Hawks (see above), that was a microcosm of his performance over the two days. Beland is an agile, athletic 'keeper who has the skill to routinely come away with tough saves.
Zack Brenfleck, defense, Academy of the New Church (Pa.) / Big 4 HHH / High Point 
A four-year starter for the Friends' League dynasty, Brenfleck is a 6-4, athletic defenseman with a penchant for always putting himself in the right spot. He's a very good cover guy who can stay stride for stride with just about anyone, and he's tough to play against because he rarely cedes an inch and can use his size to steer attackmen to where he wants them. 
Jack Clark, attack, Springfield (Pa.) / Big 4 HHH / Drexel (Highlights)
It was more of the same for Clark, who's a well-known commodity on the NLF circuit as Big 4 HHH's top scoring threat. The lefty is a highly-productive, tough attackman with a nose for the cage. He's not afraid – at all – to take a hit if it means the scoreboard changes, and for a guy who scores as much as he does, Clark has continually improved his ability to find open men, particularly on double teams.
Chance Cook, defense, Haslett (Mich.) / Cherries (Highlights)
The uncommitted Cook has made major strides since joining the Cherries, and he continued that ascent with a big-time performance, doing an excellent job in coverage against some elite attackmen. He's not super flashy but covers a lot of ground, in addition to bringing some sandpaper to the Cherries' defense and being a vocal leader.
Jack Dunn, midfield, Woodward (Ga.) / Thunder LB3 (Highlights)
How do you not like a defensive midfielder who LOVES to be a defensive midfielder? You have to have the right mindset and selflessness to truly embrace the SSDM role, and Dunn does all of that and then some.
"He does not make mistakes," Thunder LB3 coach Rick Lewis said.
Dunn is great between the lines, takes every wing on every faceoff and does a terrific job of protecting the ball when tasked with handling it. He showed that he's not afraid to shoot when given the chance, but he won't be the one trying to go hero ball through three defenders, preferring to smartly dump it off to the offensive guys around him.
Jack Dudas, midfield, McDonogh (Md.) / Crabs / Bucknell
Dudas moves very well for a bigger midfielder, especially when he's looking to get top side on defenders. You don't expect him to buzz around that well, and then he's slipping by and snapping home a goal. He paired a hat trick against the West Coast Starz with two more against the Cherries, the product of improved accuracy on his shots and better athleticism than before. You can tell that he's also worked to improve his defense, too.
Dewey Egan, attack/midfield, Torrey Pines (Calif.) / West Coast Starz / North Carolina. NLF No. 22 '21.
Egan looks like the kind of player that you come up with in a lab when designing the prototypical attackman. He's around 6-4, 220 pounds and a standout football player, but he's got the quickness and body control of a 5-10, 180-pounder. Don't believe us? Look at the video above. Physically, that doesn't make any sense. There's nothing you can really do about that defensively. Egan was part of a super-skilled Starz offensive group, and he's a mismatch wherever he lines up with his shooting stroke and ability to get inside. He's gotten noticeably quicker mentally, as far as knowing how to quickly move the ball around to get guys out of position.
Dylan Farley, faceoff midfield, Westminster (Ga.) / Thunder LB3 / Williams
Williams got itself an absolute steal in Farley, a faceoff man who is already thriving with the new SNG approach. He's relatively new to the position, having only faced off since coming into high school after being a midfielder his entire career, and there's a ton of untapped potential with him. He was outstanding in a win over the West Coast Starz and battled top-ranked faceoff man Chase Mullins (St. Christopher's, Va. / North Carolina) hard in Thunder LB3's eye-opening win over the two-time defending NLF national champion DC Express. Farley is quick off the whistle and can chase down his own ground balls, and that midfield background serves him well in tracking down the ball down and battling it out in a scrap.
Garrett Glatz, attack, Boys' Latin (Md.) / Crabs / Navy
You can set your watch to Glatz finding a way to be productive for the Crabs. The Navy commit is so quick around the cage that he's constantly causing defenders to second-guess themselves, and the underhand shot connoisseur uses that split second to unleash shots with his quick release. He's got a lot of creativity in his bag, and he and current and future teammate Henry Tolker (see below) work well with each other.
Jack Gray, midfield, Culver (Ind.) / West Coast Starz / Duke (Highlights)
If Gray decided to give goalie a shot, he'd probably find a way to be one of the best in the country at it. There's really nothing he can't do, from his ability to play tough defense and get ground balls to helping spark the offense the other way. It'll be interesting to see what kind of offensive role he plays at Duke with all of the firepower that the Blue Devils have coming in the '20 and '21 classes, but he's the type of player that can adapt to any role, and you need a Jack Gray to win championships. He seems to relish the task of playing defense and is very good at it, and nobody seemed to be able to slow him down in transition.
Alex Holmes, midfield/attack, Potomac (Md.) / MadLax Capital (Highlights)
A 6-2 offensive weapon with a frame that will allow him to pack on size in college, Holmes is a well-rounded player who found a way to get on the stat sheet through both his shooting and passing. He does a nice job of finding the open man on his dodges and also showed the ability to get after tough ground balls. Holmes had a couple rips where he went down the alley high-to-high near pipe, which isn't the easiest shot in the world, and he's able to find the skip pass on his rollbacks, too.
Wyatt Knust, goalie, Plant (Fla.) / SweetLax Florida / Cornell (Highlights)
Knust was somewhat of a later pickup, relative to the rest of the goalie market, after the Big Red lost Alex Zepf (Chaminade, N.Y. / Long Island Express) to Notre Dame, but he's no consolation prize. He's the real deal, and he was SweetLax's most consistent player throughout the two days. Knust brings a ton of athleticism to the crease and makes a ton of saves, and he routinely makes tough saves look like child's play. A very confident, assertive goalie with plenty of poise, Knust tossed out dime after dime in the clearing game, too, routinely leading guys the other way and out of trouble with his passes.
Tyler Kuehl, defense/LSM, Bullis (Md.) / DC Express / Penn (Highlights) NLF No. 27 '21
DC Express' usual starting LSM, Matt Brille, is a Brown hockey commit who's focusing on hockey this summer, so the team simply moved a top 30 prospect nationally to his spot. Sure, that's a thing that this team can do, which hardly seems fair. The 6-2, 185-pound Kuehl was a force to be reckoned with, causing a bunch of turnovers, burying a couple of goals in transition and generally causing headaches for offenses. He's an outstanding cover guy with his footwork, too.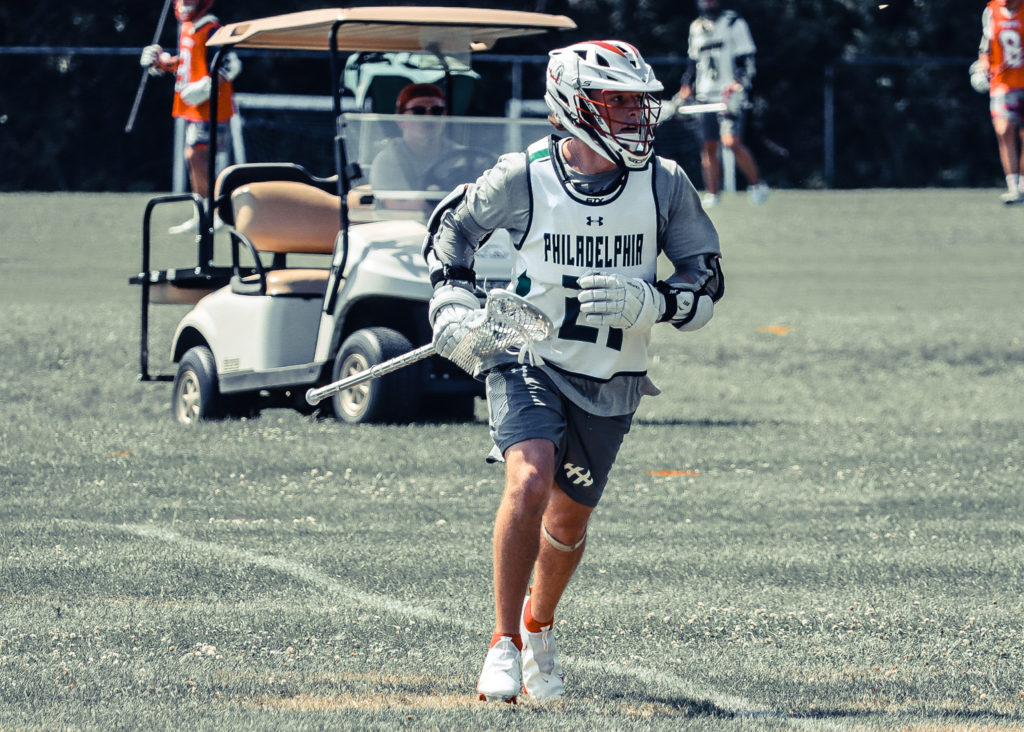 Mason Lenart, midfield, Wilson (Pa.) / Big 4 HHH
A product of arguably the top program in Central Pennsylvania's District Three, Lenart was all over the field for Big 4 HHH, showing an improved offensive arsenal. The uncommitted two-way midfielder's defense and transition work were their usual fine selves, but it was Lenart's ability to score goals lefty and righty that showed an improvement in his game. It wouldn't be much of a surprise if a school snapped him up soon.
Jake Marek, goalie, American Heritage Plantation (Fla.) / Shells (Highlights)
Marek has top-of-the-line athleticism for a goalie and great reaction speed, and he was particularly stout against a stacked West Coast Starz squad, keeping the Shells in the game when they were badly outshot. Marek did an excellent job against outside shots and gobbled up a few impressive saves in tight.
Ben McKelvy, defense, DeMatha Catholic (Md.) / Annapolis Hawks (Highlights)
McKelvy adds a lot of toughness and grit to the back end for the Hawks. He's scraping the 6-5 mark and brings the requisite big, hard, heavy checks to the table. He was tasked with going up against a couple of bigger attackmen and as a whole, came away with a decisive victory. McKelvy also does quietly effective work on his slides, seemingly always moving into the right position off ball.
John Morgan, attack/midfield, Forest Hills Eastern (Mich.) / Cherries / Michigan (Highlights)
Defending Morgan these days is a lot of, 'choose your adventure,' with no option seeming very appealing. He's shown a ton of improvement and can give defenses problems as both a midfielder and attackman with his comfort in dodging from anywhere. The future Wolverine embraces and initiates contact on his dodges and continues to increase his shooting range.
Gabe Swanser, midfield, Apex (N.C.) / MadLax Capital / Air Force (Highlights)
Blessed with a big frame at 6-2, 200 pounds, Swanser has been a consistent force out of the MadLax midfield this summer, and he continued his great play with a couple of hat tricks for a MadLax team that went unbeaten. He's got zone-busting shooting range and can get down the alley and uncork a heavy shot on the run. He was particularly good against Thunder LB3, helping his team claw back from a deficit with a couple of goals to kickstart the comeback.
Henry Tolker, attack, Loyola Blakefield (Md.) / Crabs / Navy (Highlights)
A consistent force at the lefty attack spot for the Crabs, Tolker has been omnipresent on the stat sheet all summer long, and he kept up that consistency for the Crabs. He buried the game-winning goal in overtime against a good Cherries squad, and the quick lefty can burrow his way to the cage, but also let it fly from the wing. Throwing big checks on Tolker doesn't faze him one bit. He'll sit there and soak up whatever you want to throw at him, then burn your defense and find the back of the net.
William Upchurch, attack, Lawrenceville (N.J.) / SweetLax Florida (Highlights)
If you're going to essentially be a one-trick pony, make sure that one trick is scoring goals. An accomplished inside scorer, Upchurch doesn't need directions to find the back of the net. He has a Canadian-ish playing style that lends itself to doing damage inside of eight yards, and his slick hands help him create separation inside before scoring. He did a nice job of contorting his body to get the slightest bit of separation inside to get his shots off.
Honorable Mention
Zack Antoniou, defense, Plant (Fla.) / SweetLax Florida (Highlights)
DJ Batton, attack, Apex (N.C.) / MadLax Capital / Mercer (Highlights)
Luke Catolico, LSM, Pope (Ga.) / Thunder LB3 / Sacred Heart (Highlights)
Bradley David, attack/midfield, Mount St. Joseph (Md.) / Annapolis Hawks (Highlights)
Trace Davidson, midfield, Gulf Coast (Fla.) / SweetLax Florida / Maryland (Highlights)
Nino Dominguez, LSM, St. Thomas Aquinas / Shells 
Logan Gutzwiller, midfield, Torrey Pines (Calif.) / West Coast Starz (Highlights)
Tyler Guzik, goalie, Springside Chestnut Hill (Pa.) / Big 4 HHH (Highlights)
Scotty Hilgartner, defense, McDonogh (Md.) / Crabs / Brown
Colin Honroth, midfield, Johns Creek (Ga.) / Thunder LB3 (Highlights)
Dylan Hsu, attack, Georgetown Prep (Md.) / MadLax Capital (Highlights)
Jackson Kane, attack, St. Ignatius Prep (Calif.) / West Coast Starz (Highlights)
Lawson Laverty, defense, Episcopal (Va.) / MadLax Capital (Highlights)
Joe Miller, faceoff midfield, Detroit Country Day (Mich.) / Cherries (Highlights)
Luke Raymond, attack, Gonzaga (D.C.) / Villanova (Highlights)
Ethan Till, defense, Bullis (Md.) / DC Express / Penn (Highlights)
Jackson Tuma, midfield, Salisbury (Conn.) / Big 4 HHH (Highlights)