NLF National Championships 2021 Standouts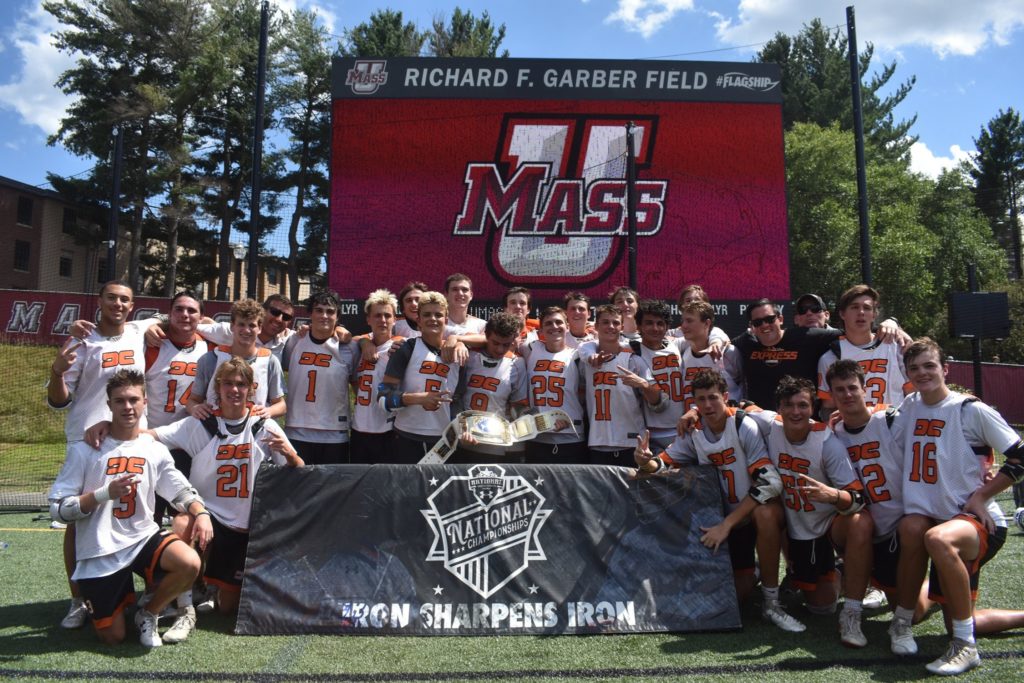 Follow the NLF on Instagram, Twitter and Facebook. Click here, here and here for Facebook photo galleries. Standouts are listed in alphabetical order. '22 standouts were only chosen from the championship game. 
Defending NLF 2021 national champion DC Express had already clawed its way back from a three-goal deficit to hold a one-goal lead over Big 4 HHH in the 2021 national title game, but it wasn't quite done in its efforts to repeat.
The Philly boys got the ball back in the final minute and got a good look to tie the game to send it in to overtime… and then DC Express made the type of play that everyone has to come to expect from the country's top 2021 team. Goalie Jack Fracyon (Bullis, Md.) came up with an in-tight save, his defense corralled the ball and launched it down to the other end, and just like that, DC Express had cemented its back-to-back titles with a 7-6 win.
"It was a little unsettled. There was a ground ball going all over the place, and when the guy picked it up, I didn't expect him to shoot it," Fracyon said. "I got my body on it and it was all good. I was just hoping to make that last save. I was thinking about making that save all day."
It certainly wasn't an easy road for DC Express, which came out of the tournament's toughest division unscathed and battle-tested after close wins over Prime Time and SweetLax Florida before edging West Coast Starz and 2 Way in a pair of low-scoring battles in the playoffs. When you've got the talent that DC has, though, it's just a question of staying even-keeled and composed long enough to have your guys make the plays you need to win.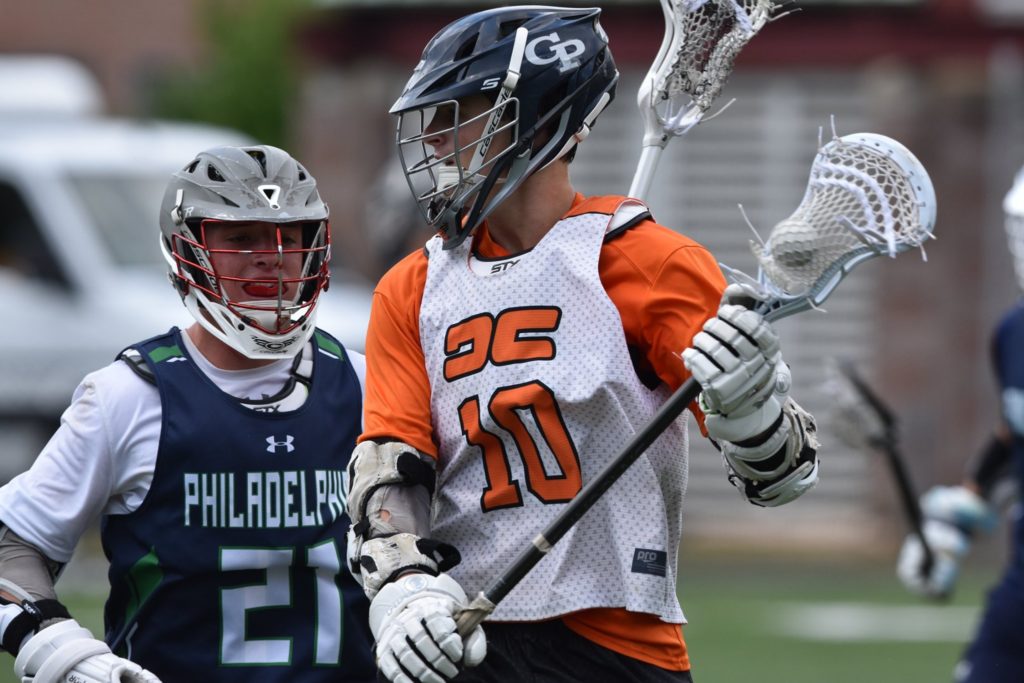 "We love the competition, and it's great to be playing against the best players in the country," midfielder Will Angrick (Georgetown Prep, Md.) said. "This is what we come together for: to play the best of the best, and it's a great experience. We had a few one-goal games and that definitely prepared us for these late-game situations. I feel like we were mentally and physically prepared for it. A lot of us have been playing together for a while, so we've built this really great team chemistry that allows us to play and know each other's strengths and weaknesses, and we've really worked toward playing those strengths and weaknesses to the best of our abilities."
Combine talent and chemistry, and you've got a pretty good recipe to come away with wins. Angrick is an exceptional two-way midfielder who can find the back of the net with ease. Fracyon is a top goalie in the '21 class who is already a starter at Bullis, one of the top powerhouses in the country. Faceoff man Chase Mullins is considered by many to be the crown jewel of the '21 faceoff group, and they're far from the only ones that will be in high demand on Sept. 1. It also helped DC's comeback efforts to have Mullins take over at the X in the second half.
"When we were down by three, I had to do something to get momentum back, and having guys like Will and (Bullis') Connor (Davis) getting goals just motivated me to keep on attacking, go a little faster and be more aggressive."
It helps to have been in those situations before, and it's what keeps the DC Express boys pushing themselves when they know that everyone is coming for them.
"Everybody loves being the best," Fracyon said with a smile.
Charles Balsamo '22, attack, Chaminade (N.Y.) / Long Island Express – As soon as the Express got the ball in overtime of the championship game, you knew it was going to be Balsamo's opportunity to be the hero. Lo and behold, the Chaminade sophomore delivered by twisting off of a defender and burying it five-hole. Balsamo is extremely quick and smooth, and his flashiness matches the substance in his game. He can shoot it from anywhere and he's got the feet to get open against any defender. He's got all the goods to be the next great Chaminade attackman.
Samuel Bellomy, goalie, Hingham (Mass.) / Laxachusetts Black – Bellomy made some incredible stops throughout the weekend for LXC, but his positioning and anticipation are so good that he's able to make tough saves look routine. Communication and running the defense aren't problems for him. He's always in charge, and his performance in the quarterfinals against MadLax Oregon helped push the Boston boys into the semis.
Ben Bonafede, midfield, Chaminade (N.Y.) / Long Island Express – Bonafede is a very tough, hard-nosed midfielder who constantly finds a way to get ground balls. There's little doubt that he'll be able to make an impact at Chaminade because of how he plays the game with a bit of an edge and plenty of grit. Despite playing injured, he also found a way to score, particularly in transition, and he's a well-versed all-around threat.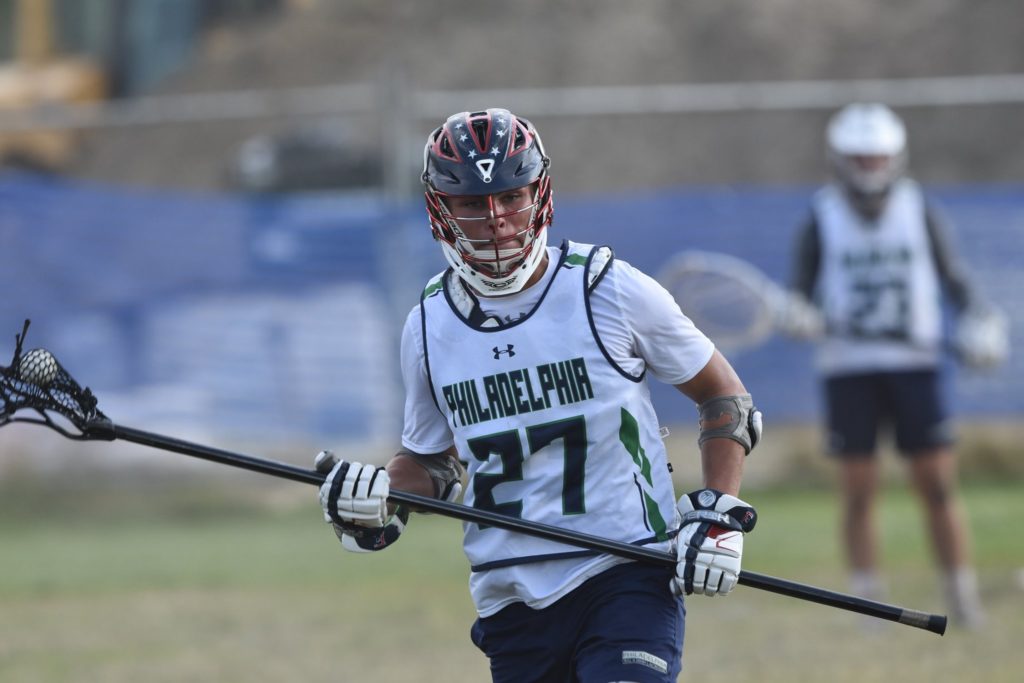 Evan Bullotta, defense, Central Bucks East (Pa.) / Big 4 HHH – DC Express won the 2021 championship, but you could make a great case that Bullotta was the best player on the field for either team. He had an incredible sequence where he caused a turnover, got the ground ball, got the ball slashed out of his stick and, in one motion, immediately scooped it back up and swam through two guys to start transition. He was putting the ball on the turf all tournament long and showed off elite athleticism and the ability to turn and run with anyone.
Ryan Cohen, attack, Avon Old Farms (Conn.) / SweetLax Florida – A lefty with exceptional vision, Cohen dodges to feed first and second, and probably third if it's there. He has the ability to turn the corner if nobody slides to him, but he'd much prefer to be the provider to the guys around him. He checks off the IQ and toughness boxes off in spades, and he also had a very nice assist to Joey Taraboletti in overtime to beat Prime Time.
Andy Demopoulos, goalie, Darien (Conn.) / Eclipse – The big 'tender is among the elite goalies in the class, and he seems to add to his skill every time out. For a big man, he's seemingly improved his flexibility and can take away low shots very well. He carries himself with the poise of a collegiate goalie, and even though Eclipse lost in the quarters, Demopoulos made a handful of very impressive saves.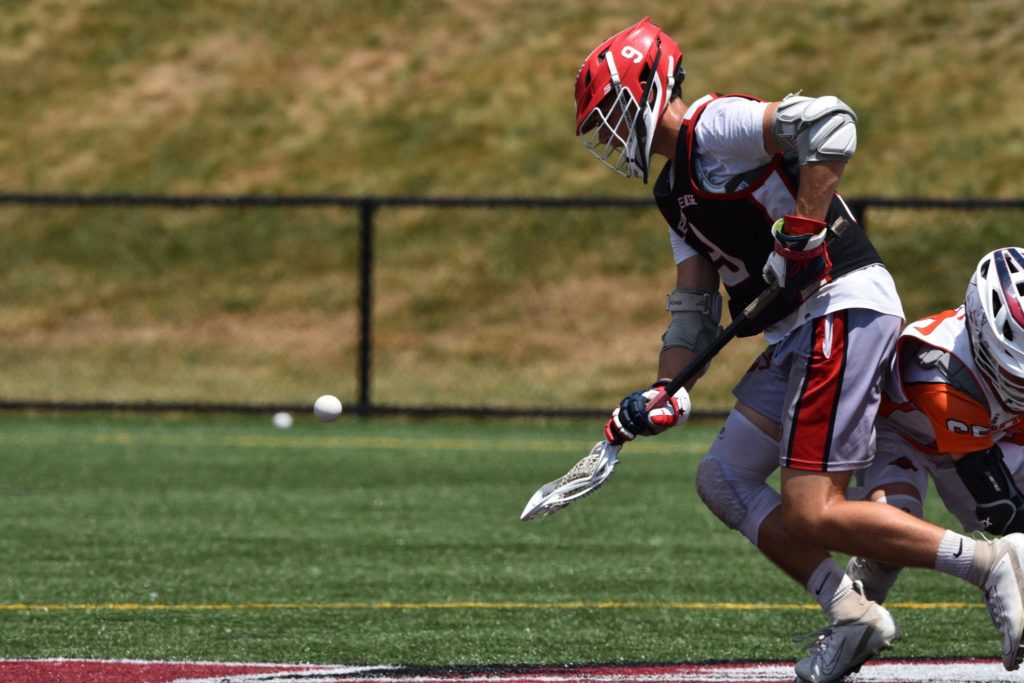 Luke Engelke '22, faceoff midfield, Pingry (N.J.) / Leading Edge – The younger brother of Saint Joseph's 2019 commit and Leading Edge alum Jake Engelke, Engelke is going to be one of the most sought-after faceoff men in the class after Sept. 1, 2020. He was incredible in the '22 national title game, routinely winning it forward to himself and even adding a really nice goal in traffic. Engelke is coming off of a great freshman campaign where he constantly beat upperclassmen, and there's little doubt that he's the top faceoff man in New Jersey for the 2022 class.
Jack Fried, goalie, Mamaroneck (N.Y.) / 2 Way – Fried was a brick wall in goal, helping a defensively-minded 2Way team only allow six goals in three-round robin games and never allowing more than four goals in a game, including an eyebrow-raising 5-4 win over last year's finalist in Eclipse in the quarterfinals. He finds a way to come up with highlight-reel save after highlight-reel save, and it never seems like anything ever fazes him.
Jack Gray, midfield, Culver (Ind.) / West Coast Starz – Gray was a second-line midfielder as a sophomore for the top-ranked team in the country this spring, so he must be doing something right. In this case, "something right" basically means, "everything right." Gray is a glue guy midfielder who can do anything that's asked of him. He takes both offensive runs, defensive runs and faceoff wings, and he's got gamebreaking speed. His role figures to expand this year at Culver, where he'll really be able to take off.
Cody Hart, midfield, Lakeridge (Ore.) / West Coast Starz – Hart was the offensive engine for the Starz all weekend long, showcasing terrific shooting ability with top-of-the-line athleticism. A natural scorer both inside and outside, he can dodge by anyone to get his hands free, and the tournament was a fitting end to a summer where he was consistently excellent.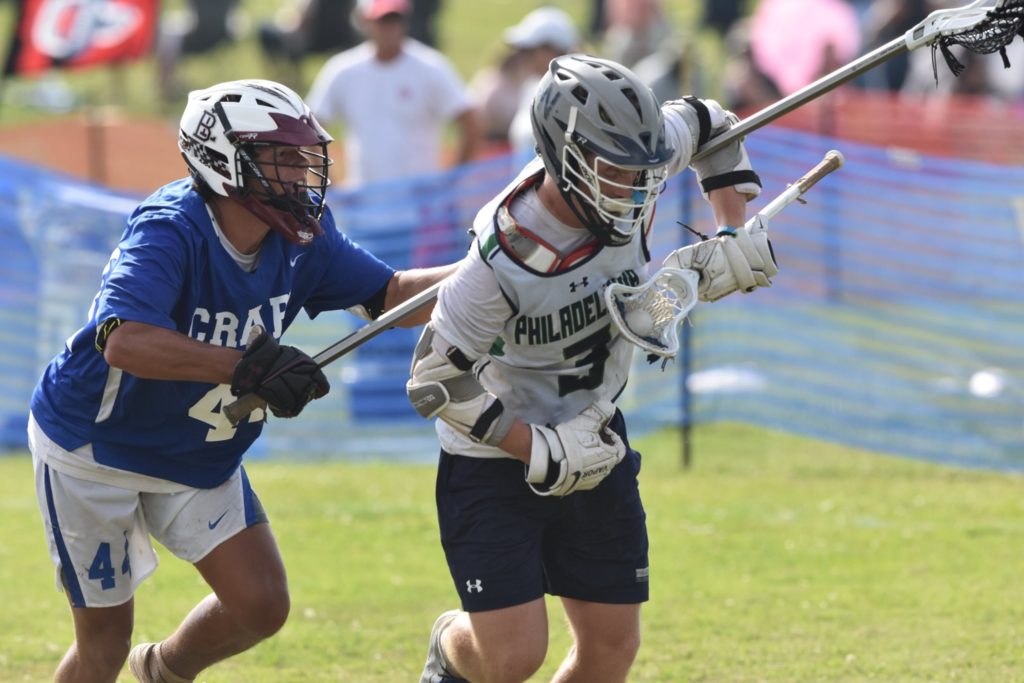 AJ Hernandez, LSM, Boys' Latin (Md.) / Crabs – You couldn't throw a rock five feet without hitting a college coach that was enamored with Hernandez's play throughout the weekend. There is precisely zero lack of aggression in his game, he fears absolutely nobody and if you follow the ball, No. 44 is probably not very far from it. He had a very entertaining matchup with Big 4 HHH's Luke Walstrum in an overtime game, and his active stick, ability to cause problems for offenses and tenacity will make sure that he should invest in a good phone charger in time for Sept. 1.
Leo Johnson, attack, Avon Old Farms (Conn.) / Eclipse – With every passing event, it becomes harder and harder to imagine anyone besides the silky-smooth Johnson as the No. 1 attackman in the class. No, he doesn't have prototypical size, but it doesn't matter. The lefty is so efficient in his movements and never even looks like he's trying, but he's snapping off inch-perfect passes and turning the corner with ease to score. He's always in total command of the offense, and he'll be one of the most sought-after recruits in the class.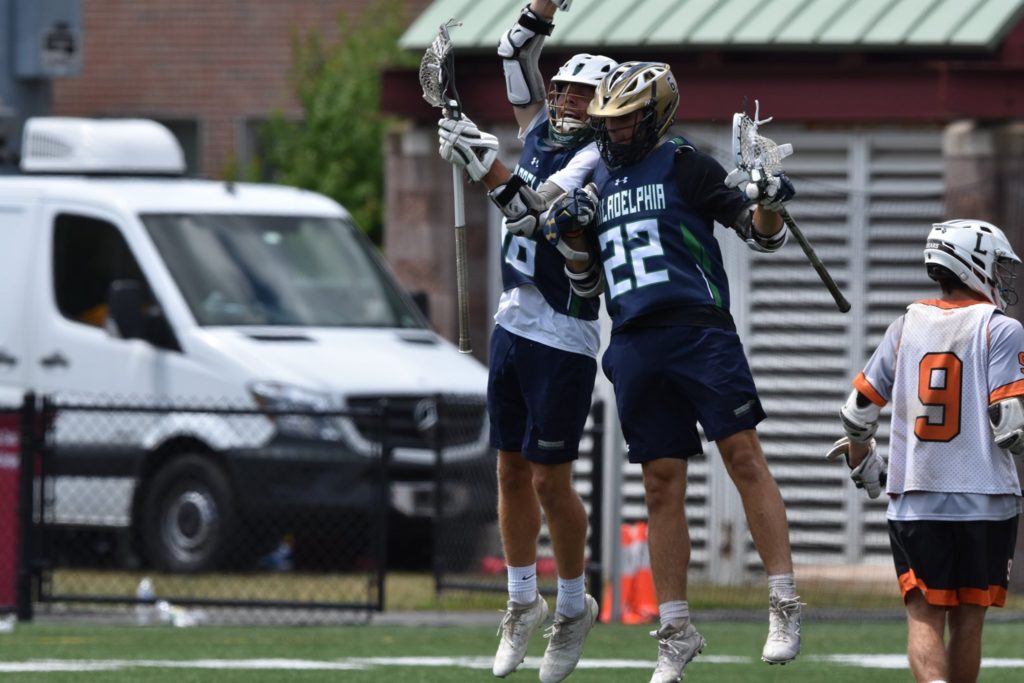 Mason Lazasz, midfield, La Salle (Pa.) / Big 4 HHH – Lazasz helped La Salle to a state title this spring, and he was a presence for Big 4 HHH in the tournament, particularly in the championship game against DC Express. He had an impressive hat trick by scoring three different ways. On the first, he showed incredible stickwork in tight by dodging through three defenders before dunking it in. He then added a low rip on the man-up and cranked one from way out in transition when he came out of the box. Lazasz has the offensive ability to be a game-changer at the next level.
Dillon Magee '22, midfield, Lovejoy (Texas) / Long Island Express – A big, strong alley dodger with a strong outside shot, Magee was a force in the championship game for the Express. He's a tough midfielder who comes out of scrums with tough ground balls, and he showed a penchant for scoring key goals.
Andrew McAdorey, midfield, St. Anthony's (N.Y.) / Team 91 Crush – McAdorey played up with the '20 champion Team 91 Crush, but he's in here to keep all the '21 standouts together. There aren't many better midfielders in the country in any class, let alone the '21 class, than the St. Anthony's one-man clearing machine. It's ludicrous to think that anybody can top him on the clear. In the '20 final, he broke one attackman's ankles on a clear early in the game, and his shiftiness, speed and quickness are rivaled by very few. McAdorey also plays a ton of box, which is apparent in how he handles and moves the ball, and he is also an excellent defensive midfielder.
Aidan Murnane, defense, Briarcliff (N.Y.) / Prime Time – Murnane does a great job of getting the ball off the ground, particularly in traffic, and you can tell that he's the field general that puts defenders around him in the right place. He won't be one playing whack-a-mole on an attackman's arms, but he does a great job of throwing timely takeaway checks.
Jack Norton, midfield, Gonzaga (D.C.) / MadLax – The big, lefthanded midfielder was a constant scoring threat all weekend and all summer long for MadLax. He's a hockey player, too, and that toughness shows up in spades on the lacrosse field. He's getting close to 200 pounds but can still run up and down the field with ease, and word has it that he's a very high-academic prospect.
Kyle O'Donoghue, midfield, St. John The Baptist (N.Y.) / Team 91 Blaze – O'Donoghue is tailor-made for the shot clock era, thanks to his ability to play defense on an island and move the ball up and out in transition. He's the type of midfielder that every team needs, and while he doesn't get a ton of offensive looks on a Blaze team loaded with big-time scoring midfielders, he's capable of snapping home goals and driving and dishing. O'Donoghue's speed, agility and explosiveness, as well as his toughness, helped him stand out throughout the weekend.
Jake Oliver, goalie, Archbishop Spalding (Md.) / Crabs – The starter at Spalding this year, Oliver has been seeing a ton of rubber all summer long as the Crabs only have one goalie. Despite that, he finds a way to constantly make saves, thanks to his athleticism and mobility. He's very active outside the cage, where he also makes good outlet passes, and in the cage, you can always hear him.
Kevin Parnham, defense, Pingry (N.J.) / Leading Edge – Parnham's been a consistent force on the defensive end for Leading Edge all summer long, and he kept that up with another lights-out performance last weekend. The lefty is aggressive and mean, and he doesn't back down from anyone. He loves to initiate contact and does a nice job of staying low and steering his matchup away from the cage. There won't be a shortage of calls for him on Sept. 1.
Grant Pierce, defense, Radnor (Pa.) / Big 4 HHH – The younger brother of Delaware midfielder Connor Pierce, Pierce was a very active presence on the back end all weekend long for Big 4 HHH. The lefty found ways to get his stick in passing lanes and did a nice job of coming up with first-time ground balls. A starter for a traditional powerhouse in the spring, he's got good height and the athleticism to get up and down the field.
Jerry Reen, midfield, Iona Prep (N.Y.) / 2 Way – Reen embraces a physical, two-way mindset and he was a consistent presence for 2 Way. He loves to try to bully his way through defenders on the dodge, and he also has the long-range shot to keep them from backing off of him.
Hunter Sancetta '22, midfield, Seton Hall Prep (N.J.) / Leading Edge – Sancetta was a key factor in Leading Edge reaching the '22 finals. He's got shiftiness and quickness for days, and he has the handle to make plays in tight spaces. He's not the biggest middie out there, but he shoots like it, with plenty of range on his outside shot.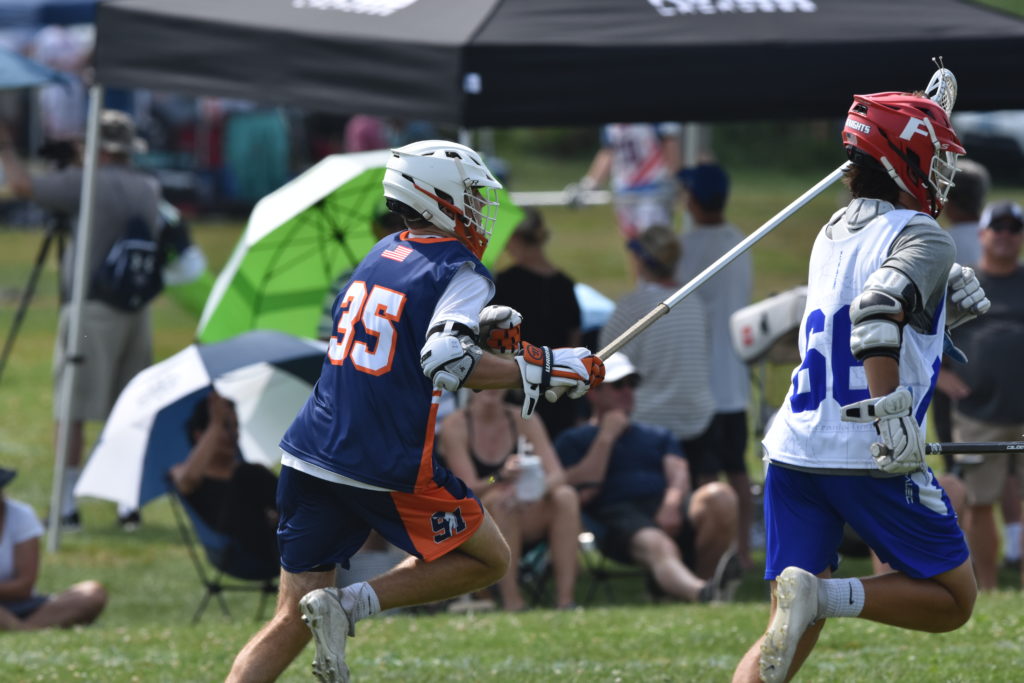 Tyler Schwarz, LSM, Shoreham-Wading River (N.Y.) / Team 91 Blaze – An outstanding athlete with the temperament that everybody wants out of their LSM, Schwarz is going to be in high demand on Sept. 1, alongside his twin brother, Johnny, a midfielder. Schwarz constantly creates problems for offenses in the middle of the field, he has great stick skills and has the height and size to match up with anyone. A starter on SWR's state champion team this spring, it's rare to see him get beat 1v1.
Joey Taraboletti, midfield, Ponte Vedra (Fla.) / SweetLax Florida – Taraboletti collected a state title for Ponte Vedra this spring, playing alongside fellow SweetLax Florida standouts in Carter Parlette (Notre Dame) and Dylan Hess (Georgetown), and it's clear that he picked up a few tips along the way. He's a good two-way midfielder who's excellent defensively, but can also keep defenses guessing at the other end. He buried a Ryan Cohen feed in OT to beat Prime Time, and given time and space, he can sling it.
Joey Terenzi, midfield, Manhasset (N.Y.) / Long Island Express – Terenzi backed up his already sterling reputation as one of the best '22s in the country with another outstanding tournament. Despite being sick for some of it, he found a way to come up with big plays, including a ludicrous behind-the-back goal in a win over Prime Time. Terenzi, who put up 36 points as a freshman and scored the game-winning goal in the Long Island Championship, has the ability to change a game in a split second, and you'll never find him lacking in effort.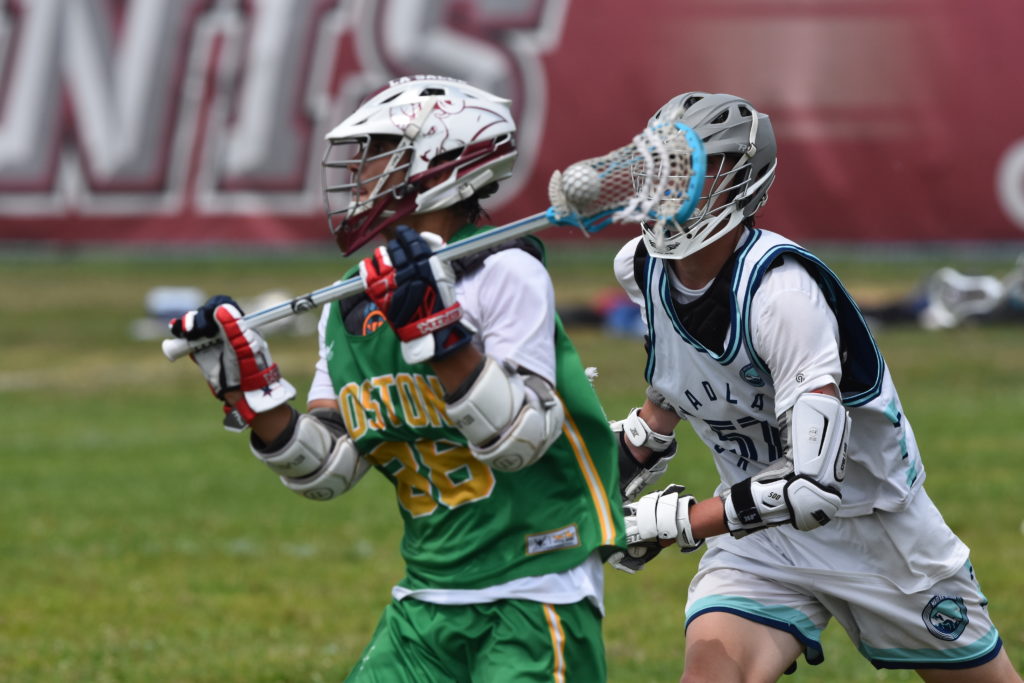 Antonio Topouzis, midfield, LaSalle (R.I.) / Laxachusetts Black – Topouzis has the ability to let it rip with either hand as he gets down the alley on his dodges. He's tough to slow down physically once he gets his feet moving downhill, but giving him time and space isn't ideal, either, as he excels as a stepdown shooter. He was particularly impressive in an overtime win over MadLax Oregon.
Cole Van Meter, midfield, Noble and Greenough (Mass.) / Laxachusetts Black – If Van Meter is even or has a step on you in the open field, pack up shop and turn around, because there's a zero percent chance that you're catching him. A true midfielder who excels at either end of the field, his athleticism and shake stand out right away, and he made some very impressive yet simple plays. The righty can really uncork some hard shots when he's on the move, and he was excellent in a semifinal loss to Big 4 HHH, making plays everywhere on the field.
Honorable Mention
Danny Caddigan, attack, Smithtown West (N.Y.) / Team 91 Blaze
Chris Canet, midfield, New Canaan (Conn.) / Eclipse
Chris Cataldo, defense, Greenwich (Conn.) / 2 Way
John Cataldo, attack, Greenwich (Conn.) / 2 Way
Brendan Cina, midfield, Sparta (N.J.) / Leading Edge
Dewey Egan, attack, Torrey Pines (Calif.) / West Coast Starz
Matt Fritz, faceoff midfield, Wissahickon (Pa.) / Big 4 HHH
Wyatt Knust, goalie, Plant (Fla.) / SweetLax Florida
Ryan McLaughlin '22, LSM, Mountain Lakes (N.J.) / Leading Edge
Jameson Moore, midfield, Darien (Conn.) / Prime Time
Matt Nunes, goalie, The Woodlands (Texas) / West Coast Starz
Conor O'Neill, goalie, Riverview (Fla.) / SweetLax Florida
Evan Richardson, goalie, Watertown (N.Y.) / SweetLax Upstate
Michael Scharfenberger, goalie, Deerfield (Mass.) / Long Island Express
Riar Schell, midfield/attack, Boys' Latin (Md.) / Crabs
Ben Smith, attack, Boys' Latin (Md.) / Crabs
Ryan Spilman, midfield, Boys' Latin (Md.) / Crabs
Luke Walstrum, attack, Council Rock North (Pa.) / Big 4 HHH
Chris Zara, defense, St. Anthony's (N.Y.) / Team 91 Blaze
Alex Zepf, goalie, Chaminade (N.Y.) / Long Island Express