NLF Fall Invitational 2022 Standouts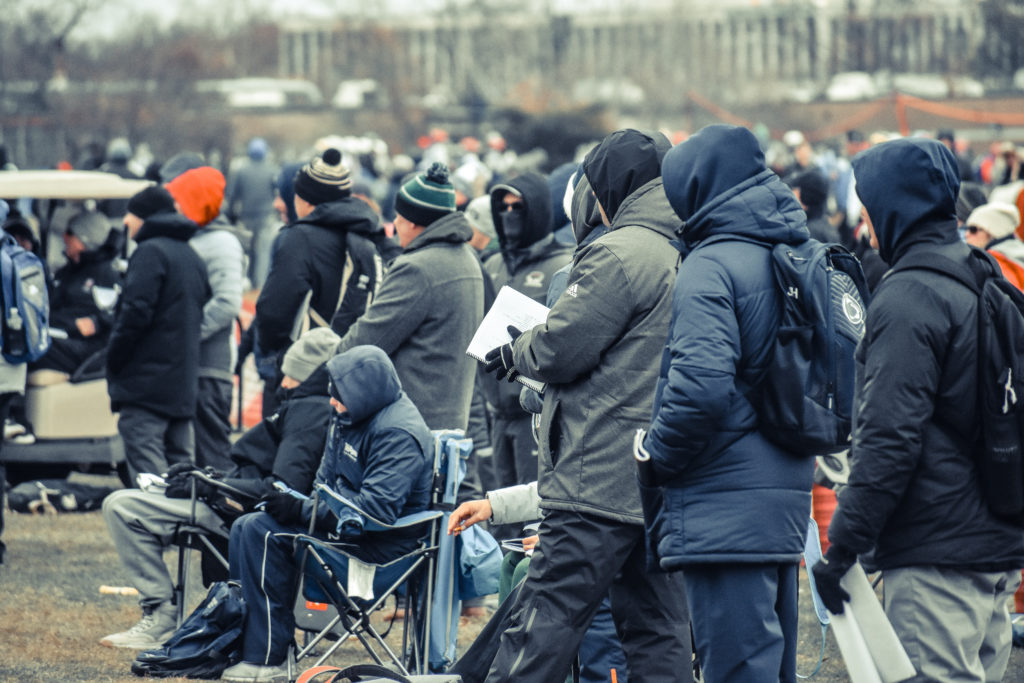 Follow the NLF on Instagram, Twitter, YouTube, Facebook.
The next wave is here, and it's the class of 2022's time to shine.
While they're not eligible to be recruited until next Sept. 1, the 2022s are starting to get their names out there. This weekend, they did more than just that, playing in front of a record-breaking amount of college coaches as the NLF Fall Invitational/My Lacrosse Tournaments Fall Classic Weekend brought out a whopping 339 college coaches.
Here's a look at some of the top 2021s from the day, and read below for some of the best '22s.
2022 Standouts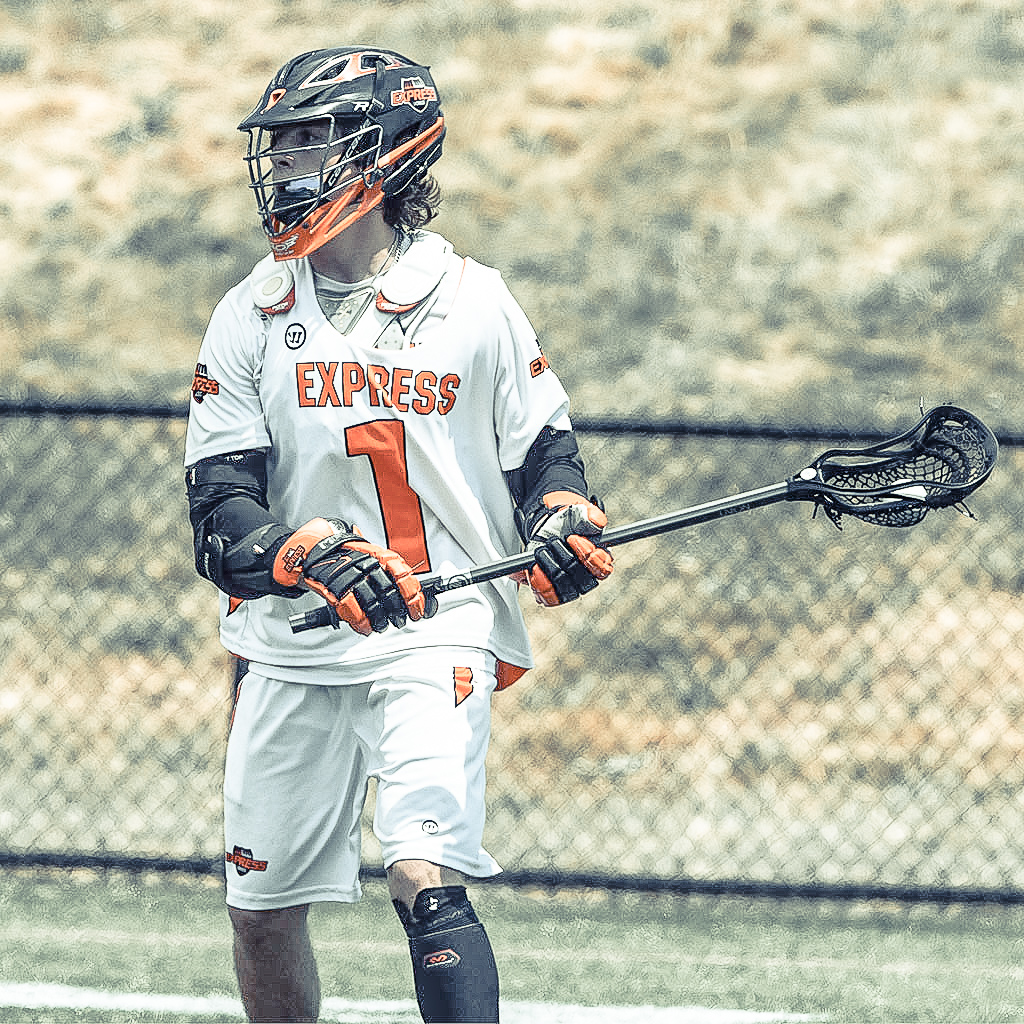 Charles Balsamo, attack/midfield, Chaminade (N.Y.) / Long Island Express Channy
Tough as nails with an alpha mindset, Balsamo is a big-time scorer and has the ability to effortlessly slide in at midfield or attack. The NLF No. 4 '22, he's an excellent on-ball defender with the ability to run by guys in the open field and set teammates up in transition. He showed that he's very accurate with his shots and doesn't need much time to get them off.
Kevin Barrett, goalie, St. Anthony's (N.Y.) / Team 91 Smash 
Barrett's stock has been on an upward ascent of late. The stopper was excellent for the Smash, making a ton of key stops to give Smash the opportunity to pull away from an Eclipse in an early-morning game. He mirrored sticks well, particularly in tight, and gobbled up everything from distance.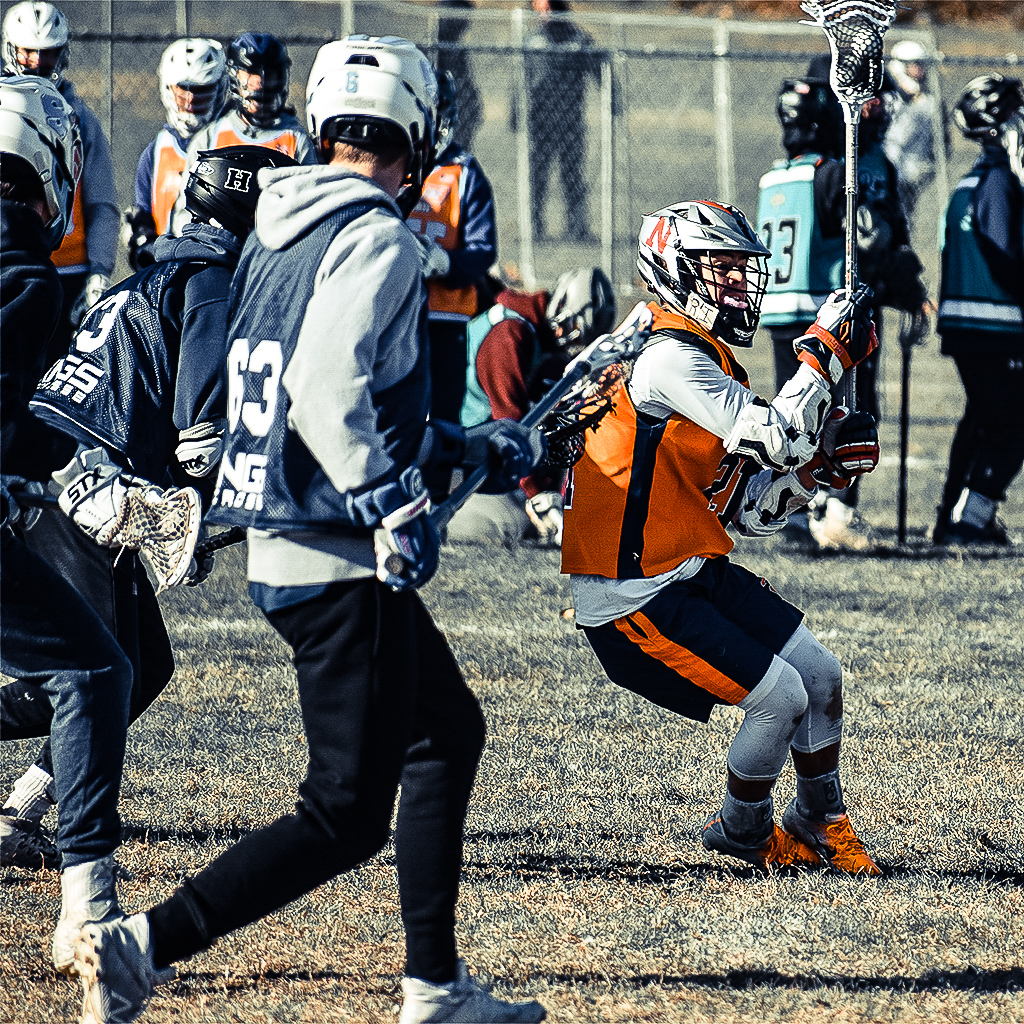 Brock Behrman, attack, Niskayuna (N.Y.) / Team 91 Smash (Highlights)
The Ankle Collector. Behrman might be the single shiftiest, hardest-to-stay-in-front-of attackman in the class. It's hard to figure out what to do with him because venturing out to play him is a risky proposition, but he can also bury shots from distance if given time and room. He broke down defenses a ton over the weekend, and he's got an impressive handle in tight when he gets to the rack.
Zachary Bleil, midfield, Hopkins (Conn.) / Express North 
6-1 high school sophomores will always stand out on the hoof, but Bleil compounds that with an impressive ability to get up and down the field. He has a heavy, hard shot, particularly once he gets going downhill, and he's got all the tools to be a top-flight Division I midfielder.
Charlie Box, midfield, Marple Newtown (Pa.) / Mesa (Highlights)
An elite athlete who can do everything, Box excels in transition and on the defensive end. Also an outstanding football player as a do-it-all type for the Tigers, he carries that versatility over to the lacrosse field. Offensively, he's at his best when he can shoot on the run, and on the other end, he can easily wipe out your best midfielder.
Max Busenkell, midfield, Garnet Valley (Pa.) / Big 4 HHH (Highlights)
A starter on the Jaguars' football team that made another deep postseason run, Busenkell is just getting his lacrosse legs back, but he's still an elite prospect. The No. 13 prospect in the class, he has a lot of similar skills to fellow Garnet Valley product and Virginia star Matt Moore as a big, uber-skilled player with the ability to both score and set teammates up. He also popped a bunch of goals by simply being bigger and more athletic than a lot of defenders and powering his way to the cage.
Chuckie Cacciutti, goalie, Haverford School (Pa.) / Mesa (Highlights)
Cacciutti's play is slowly but surely working him into the conversation as one of the best goalies in the class. A very fiery, in-your-face type of goalie, he's smart and vocal, and if he's dialed in, you're not scoring on him. His technique is excellent, and he helped Mesa to a 3-0 day with some terrific saves.
Henry Caponiti, attack, Brunswick (Conn.) / Prime Time (Highlights)
Caponiti continues to play up with the '21s, and he continues to be a major force even a year up. He is a massive lefty attackman with the nimble feet of a quicker, smaller X guy. When he posts up and leans on you, chances are that you'll be fishing the ball out of the net pretty soon. The NLF No. 3 '22 does an excellent job of changing planes and shooting over and around defenders, but he can also draw a slide and deftly drop a pass off to an open teammate.
Aidan Cunningham, defense, Rye (N.Y.) / Express North (Highlights)
Take a look at Cunningham's frame and you might just think that he's a big guy who can't run, but he's got the speed and agility to be able to match up with smaller, quicker guys while also being able to push bigger bodies around. His agility is a major selling point as he blanketed attackmen, and he can also take the ball away and push transition.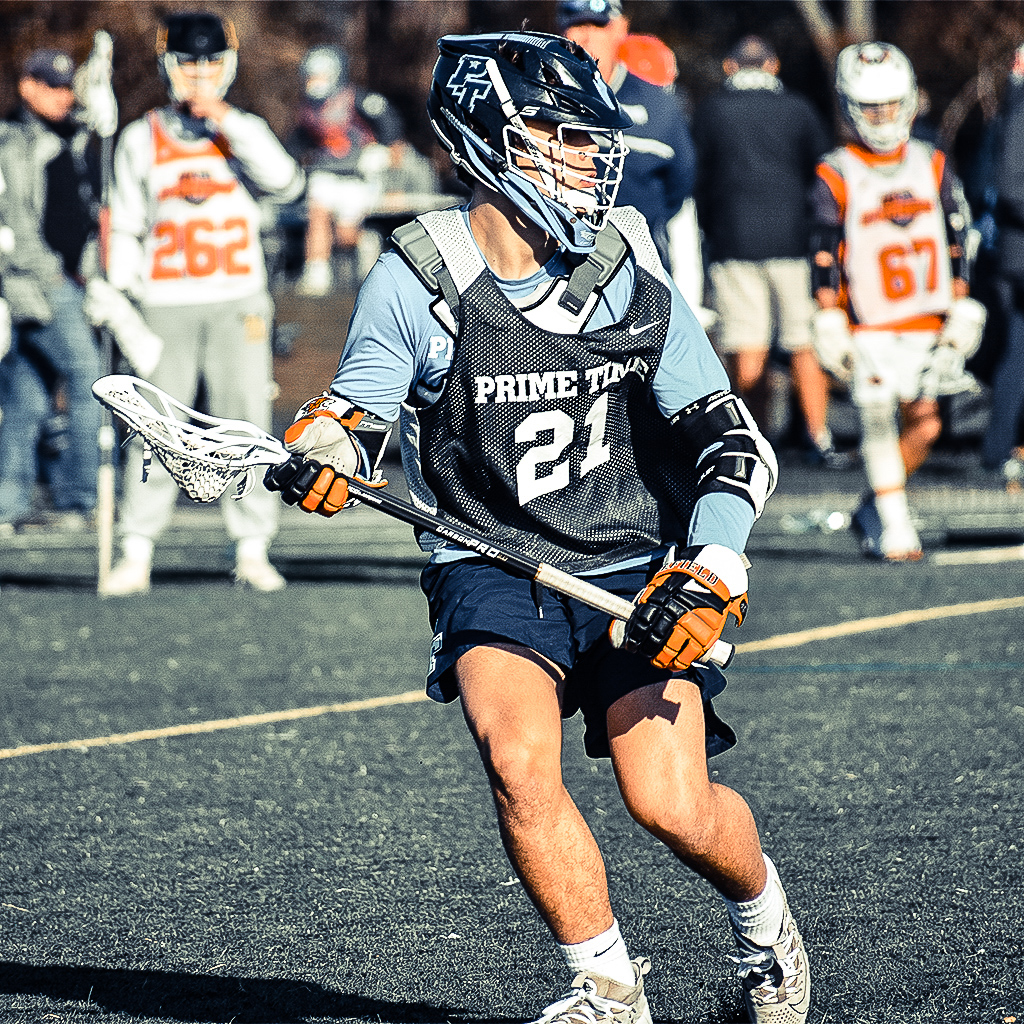 Josiah DeGrasse, midfield, Ridgefield (Conn.) / Prime Time (Highlights)
DeGrasse has pieced together an outstanding fall, and it's not hard to notice and appreciate everything that he brings to the table. He's a true two-way midfielder with good size who does all of the dirty work. He seems to enjoy playing defense and working his matchup out of the picture, and he's also proficient at the other end, where he buried a handful of goals.
Joe Dougherty, goalie, Malvern Prep (Pa.) / Big 4 HHH
Dougherty has been excellent in the HHH cage all fall and he continued that with another big day. He's got very good size for a goalie and moved around the cage well to put himself in a position to cut down angles. He also has outstanding outlet passes and hits guys right in stride.
Luke Engelke, faceoff midfield, Pingry (N.J.) / Leading Edge (Highlights)
The NLF's No. 6 '21 and the top-ranked faceoff man in the class, Engelke was his usual dominant self for Leading Edge. He's technically sound and has counters to his counters, but he's also a plus athlete who could be a legitimate midfielder even if he never takes a faceoff. He did a nice job of scooping up ground balls and putting defenses on their heels on the fast break.
Charlie Iler, midfield, San Ramon Valley (Calif.) / West Coast Starz 
Iler was a consistent scoring threat from start to finish for the Starz. Another dynamic, athletic midfielder out of the West Coast, he slashed his way through defenses and did a nice job of finishing at the net.
Isaac Korus, midfield, Taft (Conn.) / Prime Time (Highlights)
Korus' athleticism stands out right away with his ability to move around fluidly and effortlessly. He can run for days, getting up and down the field over and over, and he showed off a nice split dodge that's really hard for opposing middies to stay with.
Harry Laferriere, goalie, Kent School (Conn.) / Leading Edge
The lefty was absolutely phenomenal in the cage, helping Leading Edge to a 2-1 day. He is exceptionally fast and quick, and he made a bunch of incredible saves in tight. An outstanding stopper with tremendous athleticism, his upside is through the roof.
Scot Mackie, faceoff midfield, Iona Prep (N.Y.) / Express North (Highlights)
Express North went 3-0 on the day with a goal differential of +21, which tells you that they had the ball a whole lot. Mackie was a massive reason for that. He constantly won his battles with a variety of moves, and he also proved to be a transition threat off the win. On the rare occasions where he lost, he was more than capable as a d-mid.
Aidan Maguire, midfield, St. Sebastian's (Mass.) / Laxachusetts Black 
Part of a loaded '22 group at St. Seb's – teammate Jack Rideout is below in this recap – Maguire showed off the skills and athleticism to be considered an elite '22 midfield recruit. A first-line middie at St. Seb's as a freshman, he has elite skills down both alleys and absolutely hammers the ball on the run. Maguire demonstrated that he can break down most defenders off the dodge, too.
Matt McCarthy, defense, Episcopal Academy (Pa.) / Big 4 HHH
You can't miss McCarthy. He's the 6-4 defenseman who can run with the smaller, quicker attackmen, which make him a major problem for offenses. A starter as a freshman for the Churchmen – who always seem to have at least one difference-maker on the back end – he also showed a good stick and the ability to get the ball off the turf on the first crack.
Konrad Miklaszewski, LSM, Montclair (N.J.) / Leading Edge (Highlights)
A natural LSM, Miklaszewski is constantly causing problems for offenses in the middle of the field. He has an exceptional combination of speed, power and finesse, and he has a knack for finding the ball and making life uncomfortable for opponents. He also showed a penchant for taking the ball away with timely, accurate checks.
Jack Rideout, faceoff midfield, St. Sebastian's (Mass.) / Laxachusetts Black
Rideout is one of the best faceoff men in the class, but it's his ability to be a threat after the win that will help him become highly recruited. He'll win the faceoff, swap sticks and then score a goal, or if he's at the other end, he's more than capable of playing good defense. A second-line midfielder for the Arrows' nationally-ranked team as a freshman, Rideout is athletic enough to be a major part of the transition game.
Troy Donaghy, midfield, Wantagh (N.Y.) / Team 91 Smash
Donaghy is the type of midfielder that every coach loves and every team needs. He's a tough customer who takes faceoff wings and mixes it up on the defensive end. He relishes contact on defense and looks to mash on his opponent. "Attack the shorty" doesn't really work with Donaghy.
Will Snyder, goalie, St. Anthony's (N.Y.) / Long Island Express Channy (Highlights)
Snyder is massive, checking in at about 6-4 or so, and he owns the net by taking up a lot of space. Despite that, he's surprisingly nimble for a goalie his size, and he found a way to come up with some outstanding saves throughout the day. He also stood out for his great work in the outlet game.
Joey Terenzi, midfield, Manhasset (N.Y.) / Long Island Express Channy
The NLF No. 2 '22 came back from a concussion suffered during football and looked every bit the part of the top midfield prospect in the country. He's got good size and makes everything look so smooth and easy. He can shake his man with ease and he's a threat as both a shooter and a feeder off the dodge.
Wilson Van Buren, faceoff midfield, Blessed Trinity Catholic (Ga.) / Thunder LB3 (Highlights)
The No. 14 prospect in the class and the No. 2 faceoff man, Van Buren is another complete faceoff midfielder who can threaten defenses off the win. He's well-built and can put the ball wherever he wants, and he's scrappy and tough enough to win ground balls in a scrum. He fared very well against some top-level competition.
Kale Watts, midfield, Strake Jesuit (Texas) / Team 91 Texas
Watts has wheels for days, to say the least. He's able to create plays all over the field with his next-level speed, particularly on one-man punt return clears where he's able to draw a slide and find the open man. He's an excellent on-ball defender who can score in a variety of ways.
Honorable Mention
Hudson Carter, midfield, Blessed Trinity Catholic (Ga.) / Thunder LB3 (Highlights)
Hugh Conrad, goalie, De La Salle (Calif.) / West Coast Starz (Highlights)
Pat Crogan, midfield, Lexington (Mass.) / Laxachusetts Black (Highlights)
Matt Dollive, midfield, Wall (N.J.) / Leading Edge
Jack Helrigel, midfield, Northport (N.Y.) / Long Island Express Channy
Leo Hoffman '23, midfield, Brunswick (Conn.) / Team 91 Smash
Teddy Malone, attack, Haverford School (Pa.) / Mesa
Kevin O'Brien, defense, St. Joseph's Prep (Pa.) / Mesa
Aidan O'Neil, attack, Tabor (Mass.) / Laxachusetts Black (Highlights)
Austin Oppenheim, faceoff midfield, Mount Sinai (N.Y.) / Team 91 Smash
Jack Ricciardi, attack, Briarcliff (N.Y.) / Prime Time (Highlights)
Hunter Sancetta, midfield, Seton Hall Prep (N.J.) / Leading Edge (Highlights)
Louis Varsames, LSM, Iona Prep (N.Y.) / Express North