NLF at IMG 2023 Standouts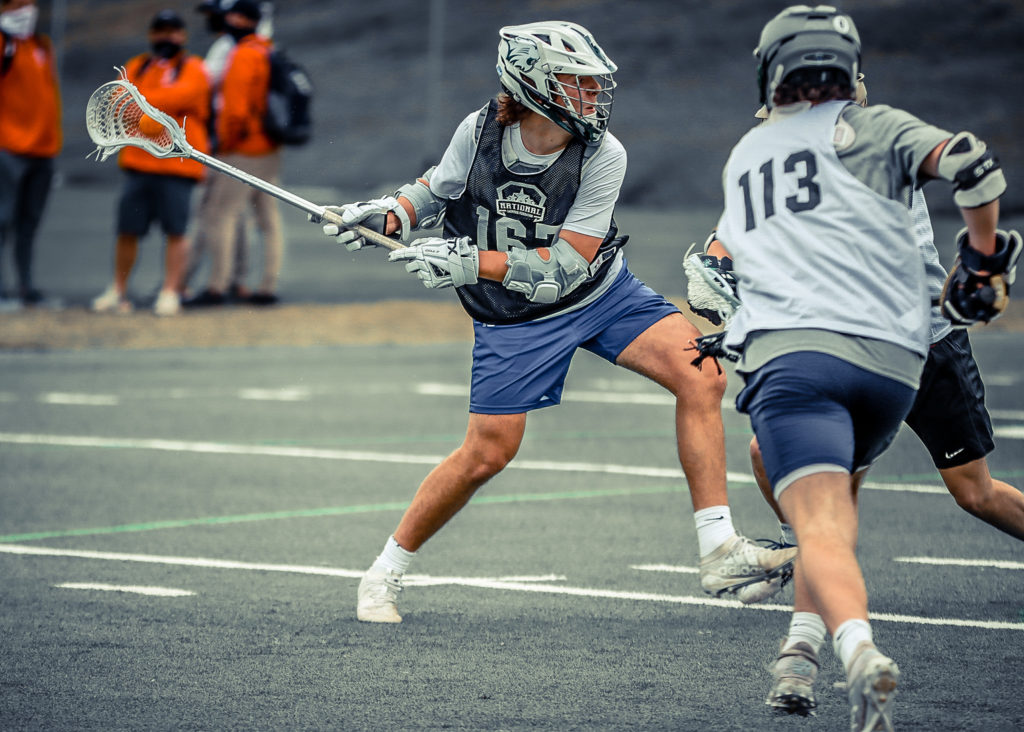 Follow the NLF on Instagram, Twitter, YouTube and Facebook.
It seemed like you couldn't miss Aidan Wooley no matter where you looked while watching Team 3 take home the NLF at IMG 2023 championship.
The Thunder LB3 and Westminster (Ga.) midfielder was a constant presence on the field, and he found a way to make an impact in every aspect of the game. Offensively, he scored goals lefty and righty and also consistently found teammates with open feeds. He had a goal and two assists in the championship game and three goals in the 2023 All-Star Game, a microcosm for his offensive diversity. Defensively, he made it a point to erase his man and he loved to enter the mix to come away with a ground ball.
All part of the plan for Wooley, who thrives off of being a do-it-all midfielder. He earned tournament MVP honors for his efforts.
"I try to play two ways," Wooley said. "I start on the wings and try to get a ground ball. If I get stuck on defense, I try to lock it up and maybe get a save and a clear. Get down the field, get my head up when I'm dodging or try to get inside off-ball. I like to push it in transition a lot. If I see a matchup, I'll take it and 6 on 6, I'm always trying to find a seam and put the ball in the back of the net."
Wooley stood out even in a crop of some of the most skilled 2023s in the country. The eight teams were jam-packed with players that will be hot commodities on the recruiting circuit this September, but Wooley was arguably the most consistently dominant player on the team that took home the championship.
Count on him being a force this summer for what should be a strong Thunder LB3 '23 team, and beyond that, there's little doubt that he'll emerge as an in-demand midfielder on Sept. 1.
2023 Standouts

CLICK HERE for All-Star Game standouts. Other than Wooley, we opted to mention different players than in the ASG recap. 
Wells Bergstrom, defense, Manheim Township (Pa.) / Big 4 HHH (Highlights)
Bergstrom isn't the tallest defenseman, but he brings a very strong, powerful built that allows him to stand up to just about any attackman. Team 2's coaching staff often tasked him with shadowing the opponent's best attackman, a task that he performed admirably. More of a quiet cover guy than a flashy takeaway artist, Bergstrom rarely overextended and did an excellent job of matching feet and keeping his man at bay, and he also stood out for his stickwork on ground balls and clearing ability.
Jack Burdge, goalie, Milton (Ga.) / Thunder LB3 (Highlights)
A smaller but very athletic goalie, Burdge used that athleticism to make some highlight-reel saves, in addition to making the stops he was expected to make. Burdge also excelled in the clearing game, getting the ball up, out and in his teammates' sticks in a hurry after saves. He made some big saves in key situations for the Team 3 champions, and often kept his team in games late with those key saves.
Jake Engel, LSM, Georgetown Prep (Md.) / DC Express
Engel was omnipresent around the ball all weekend long, doing so many of the things that an elite LSM should be able to do. He pressed out and got all over his man's hands, denying any easy plays, and he created a ton of chaos in the middle of the field. Engel's timing on double teams stood out, something that helped him cause turnovers a couple of times per game. He also did a nice job of spearheading transition with his speed and athleticism.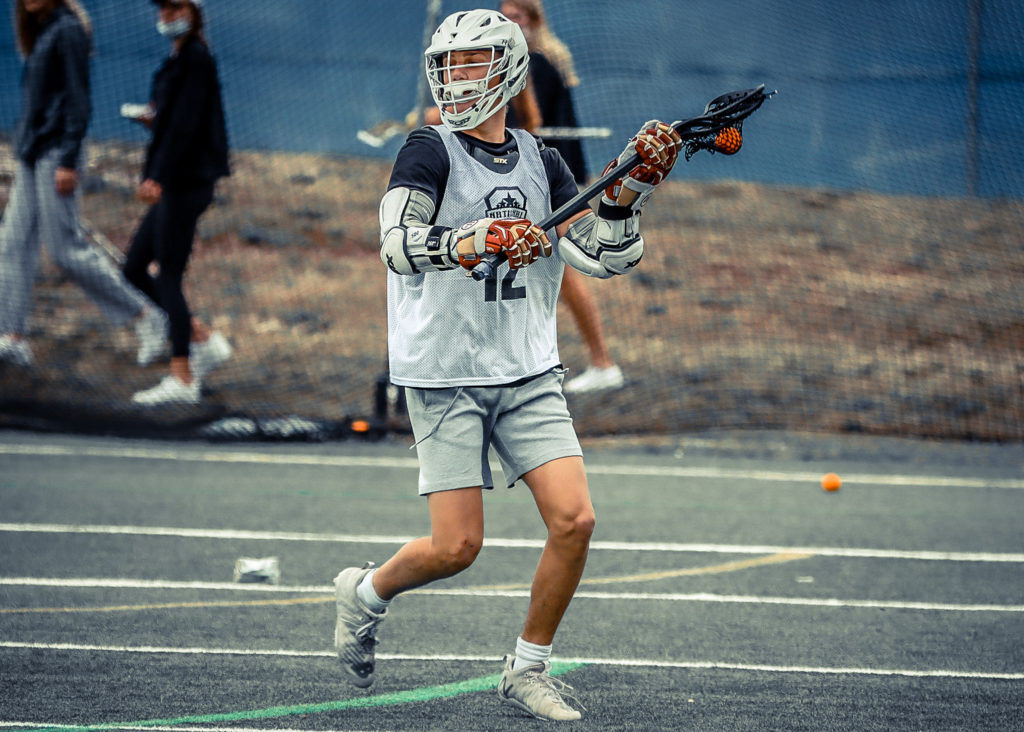 Ronan Fitzpatrick, attack, Sayville (N.Y.) / Team 91 Warriors (Highlights)
There can't be many '23 attackmen who shoot the ball harder than the Team 91 lefty does. Fitzpatrick can absolutely hum it with the best of 'em, but he showed improvement in his all-around game with a handful of eyebrow-raising plays. His best of the weekend was a 30-yard skip pass in transition to the back pipe for an easy tap-in, an impressive play for anyone, but especially for one who's been known as a pure sniper. The All-Star had a number of really nice off-ball cuts that led to goals, cranked a couple bombs home and also a silky smooth BTB in the All-Star Game to highlight his vast shooting repertoire.
Connor Foley, goalie, Thayer (Mass.) / Laxachusetts (Highlights)
The Laxachusetts standout earned a well-deserved All-Star nod with his play, but it's hard not to love his character and jovial personality even more. He's constantly chatting on the field, encouraging his teammates, and few players get more fired up for their teammates when they make good plays than Foley. Teammates are drawn to his magnetic personality, and he's got the game to go with it, too. He's got exceptional footwork, chases down missed shots as well as anyone, and makes a ton of jaw-dropping 1v1 saves. The lefty certainly isn't afraid to venture out of the cage on the clear, either. He'll be one of the most coveted goalies in the country on 9.1.
Andrew Kohlbrenner, attack, Christian Brothers (N.Y.) / Orange Crush
A big righty who uses his body well to gain leverage, Kohlbrenner continues to diversify his game, and he's a threat to score from just about anywhere. He scored on a ridiculous shot from the wing in the championship game, one that pinged the far-side elbow and dropped in. He also scored another one on a hard take to the rack where he absorbed contact to score. Kohlbrenner doesn't need much time or space to finish, but he also showed that he could feed, zipping a deft pass to the middle to set up a goal in the title game.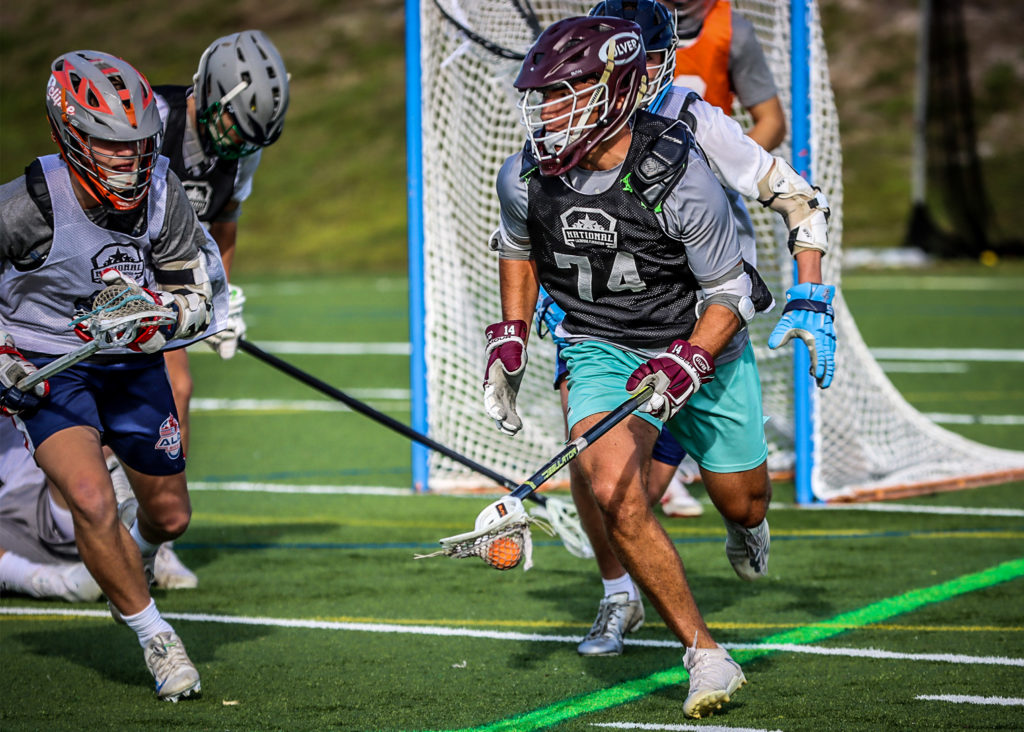 Zach Mesa, defense, Culver (Ind.) / SweetLax Florida (Highlights)
Mesa has plenty of nastiness and physicality to his game, and he carries that prickly disposition over to every single play. He was constantly around the ball, frequently causing turnovers for the champion Team 3 squad. Team 3 often used a lethal 10-man ride, and Mesa was often in the thick of it, relishing the opportunity to use his aggressiveness to his advantage against unsuspecting attackmen. Mesa did a really nice job of getting the ball off the carpet. He's not afraid to let his matchup know what he thinks of him, but also has the game to back it up.
Luke Michalik, LSM, Brunswick (Conn.) / Prime Time (Highlights)
Any defensive player from Brunswick and Prime Time is usually really good, and Michalik is no exception. He's played close defense a lot before, but performed admirably as an LSM at IMG. Michalik has to be flirting with 6-3 with a frame that will allow him to add size with ease, and he's also got the footwork and running ability to stay with smaller, slick offensive middies. He did an excellent job of staying low when covering his man – not an easy task for a bigger man – and regularly vacuumed up ground balls. Cracking the lineup at a loaded Brunswick squad is a tall task for any sophomore defenseman, but Michalik has the skill set to be a rare early contributor for the Bruins.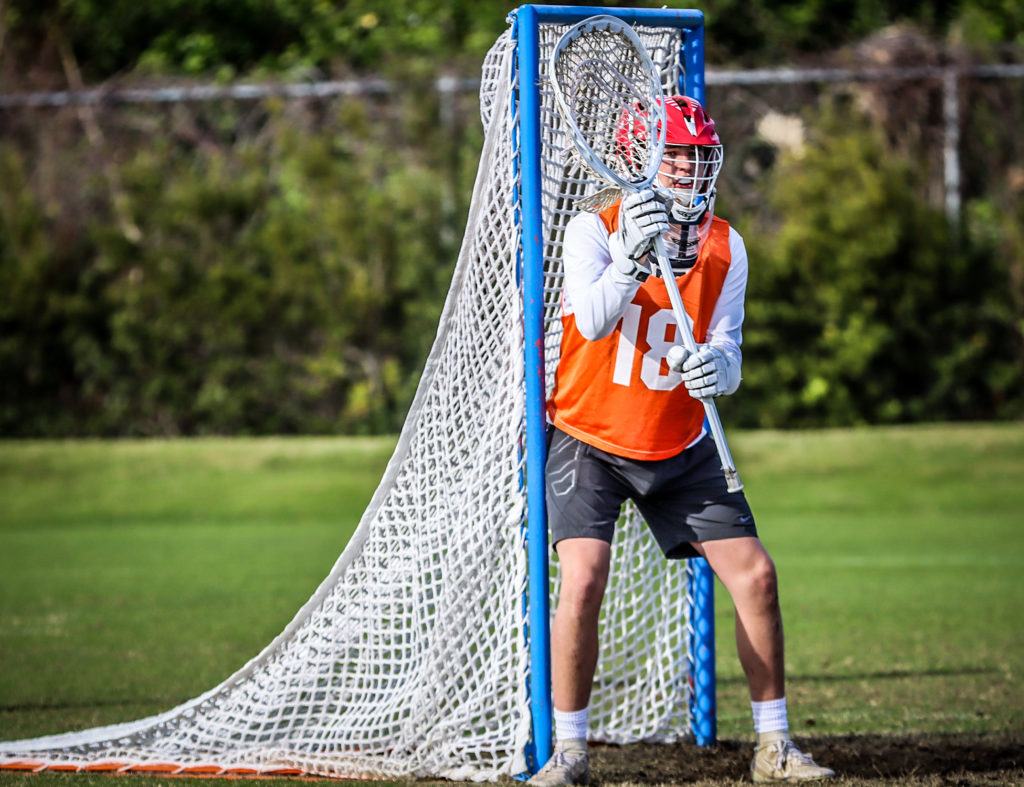 Walker Hunter, goalie, Shore (N.J.) / Leading Edge (Highlights)
A consistent force in the cage for Team 2, Hunter was flat-out dominant for the majority of the time, scooping up an All-Star nod. He made a ton of difficult saves look routine and constantly commanded the defense and made sure everyone was on the same page. He was positionally sound and put himself in the right spot to cut down angles, and he used his very quick hands to repeatedly take away shots.
Mac McGahren, defense, Darien (Conn.) / Eclipse (Highlights)
McGahren has all the makings of a top-flight Division I defenseman, marrying a big, strong frame with a nasty edge to his game. He thrived as a 1v1 cover man, routinely erasing his man and denying topside, and he pestered his matchup by keeping his stick on gloves nearly all the time. McGahren also did a superb job off the ground, snaring ground balls and getting transition going the other way.
Tyler Owings, midfield, Boys' Latin (Md.) / Crabs
A tall, athletic midfielder who looks smoother while running than he should for his size, Owings was able to make a ton of plays all over the field for Team 1. It was his pinpoint feed that set up Hill Plunkett's game-winning goal in the 2023 All-Star Game, and he was a presence as both a scorer and feeder. He looked to be a willing and able 1v1 defender, using his size and footwork to stay between his man and the cage, and it's hard not to like the toughness he showed in the title game, shaking off an ankle sprain to keep playing and staying effective.
Jacob Pacheco, midfield, Valor Christian (Colo.) / Crabs (Highlights)
Pacheco already looks the part of a Division I midfielder and he's got the skillset to thrive at the next level. His big frame, agility and motor make him such an enticing prospect. The All-Star was everywhere for Team 6, routinely digging up ground balls, roasting guys in transition, scoring goals and everything in between. He plays wings, loves the defensive aspect and showed a hard, heavy shot. Undoubtedly one of the top midfielders in the class.
Hill Plunkett, attack, Roswell (Ga.) / Thunder LB3 (Highlights)
Plunkett scored the overtime winner in the All-Star Game with a sweet cut to the middle to set up his finish, but it was more than his goal scoring and skill that stood out. His coaches absolutely raved about his compete level, intensity, positive energy and willingness to work to make a play.
"He just outworks everybody," Team 8 coach Dan Chouinard said. "He must have gotten us five or six extra possessions throughout the weekend with his work on the ride. He works so hard and his compete level is off the charts."
He can score goals in bunches, too.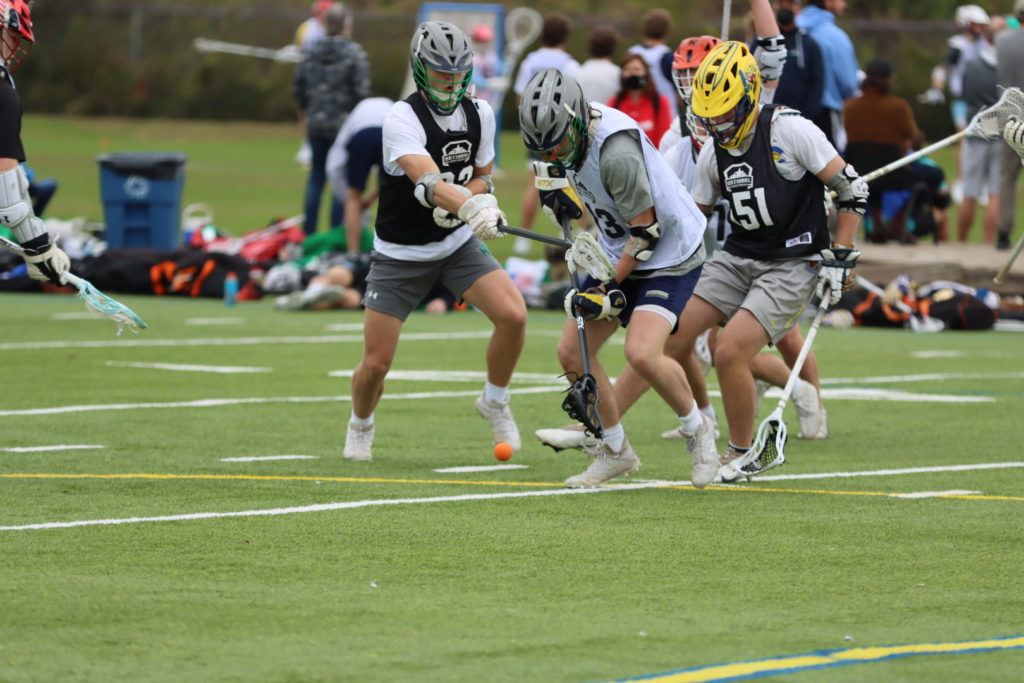 Walker Schwartz, LSM, Germantown Academy (Pa.) / Big 4 HHH (Highlights)
An outstanding lefty pole who's also a terrific hockey player, Schwartz wasted no time in leaving an impression. On one of the first possessions of the opening game, he caused a turnover, effortlessly grabbed the ground ball and dusted the ride to kickstart transition. He's more than willing to go into crowded areas to mix it up physically and pulled away more than his fair share of ground balls as a result. The All-Star's smooth stick and footwork will make him a sought-after recruit.
Julian Targete, midfield, IMG (Fla.) / Laxachusetts (Highlights)
Simply put, it's hard to deny that Targete has the highest upside of any player in the 2023 class. Already 6-3, he's got the frame to get bigger without slowing down, and players with his size shouldn't have his shake and footwork. He got to the middle of the field pretty frequently and wasn't shy about letting his shots fly, but he also made a couple of nice passes that showed improved vision and showed more of a desire to get involved defensively. If he can refine his consistency, the All-Star has unlimited potential. 

Jackson Wolfram, attack, Brunswick (Conn.) / Prime Time
A high IQ player with very good change-of-direction ability, Wolfram was at home at X and around GLE, thriving as a quarterback of the offense type. He had a number of impressive passes through traffic, shot the ball with a ton of confidence and a nice job in the riding game. He's a legitimate scoring and passing threat at any time with the ball in his stick and projects as one of the better QB types in the class.
Honorable Mention
Matthew Dineen, goalie, Paul VI (Va.) / VLC (Highlights)
Ryan DiRocco, attack, Haverford School (Pa.) / Mesa (Highlights)
Owen Dixon, attack, Loyola Blakefield (Md.) / Crabs (Highlights)
Jack Elliott, defense, Forest Hills Central (Mich.) / Cherries (Highlights)
Grafton Ely, LSM, Darien (Conn.) / Eclipse (Highlights)
Henry Fleckner, midfield, Dominion (Va.) / VLC
Charles Hazard, defense, Belmont Hill (Mass.) / Laxachusetts
Kris Henning, midfield, Garnet Valley (Pa.) / Big 4 HHH (Highlights)
Maddox Johnson, midfield, Ponte Vedra (Fla.) / SweetLax Florida
Niko Karetsos, attack, Pace (Ga.) / Thunder LB3 (Highlights)
Quintan Kilrain, defense, Lawrenceville (N.J.) / Crabs
Owen Umansky, faceoff, St. John's Prep (Mass.) / Laxachusetts (Highlights)
Evan Suh, attack, Lambert (Ga.) / Thunder LB3 (Highlights)
Lorenzo Varona, midfield, Somerville (N.J.) / Leading Edge (Highlights)
Zack Waxman, attack, Dexter Southfield (Mass.) / Laxachusetts (Highlights)
Cameron Wietfeldt, faceoff, New Canaan (Conn.) / Eclipse (Highlights)