Leading Edge / Long Island Express / Team 91 Play Day Standouts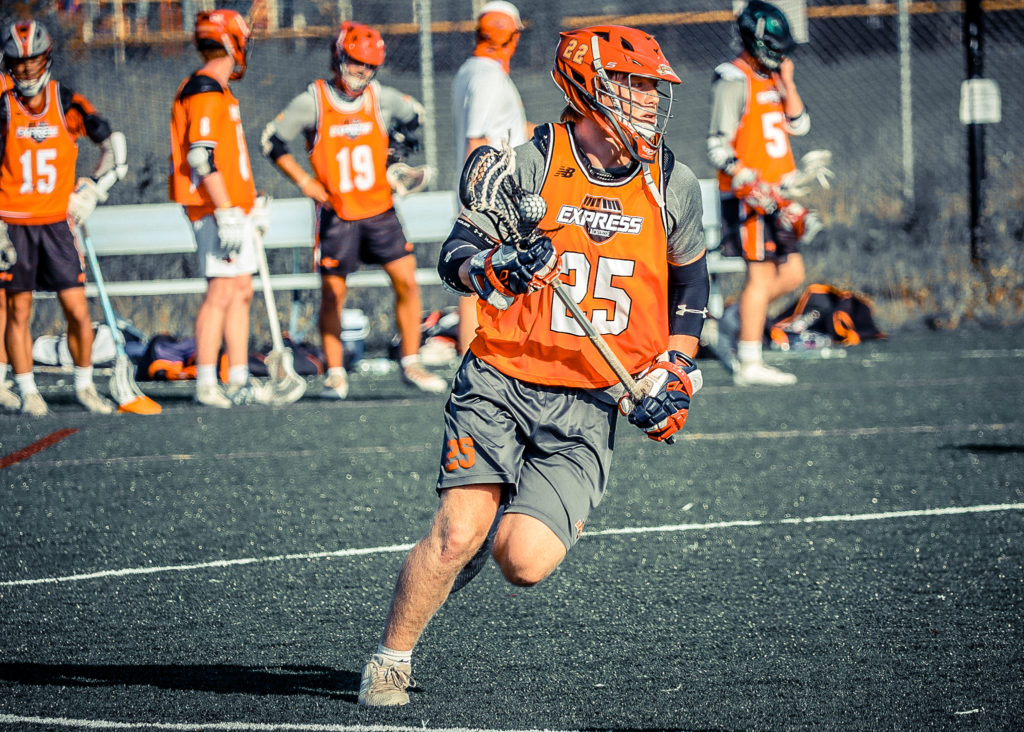 Follow the NLF on Instagram, Twitter, YouTube and Facebook.
Will Lynch has always been a complete midfielder who also happens to be one of the class of 2021's elite faceoff men, but that didn't prevent him from being a little bit disappointed when he heard of the NCAA's plan to move faceoffs to standing neutral grip.
Despite the fact that the Long Island Express 2021 and Chaminade standout is probably the most athletic and well-rounded faceoff man in the class, he was reluctant to embrace the move.
"I was a little bummed at first because I'd been doing knee-down and mastering it for five years, so I was still practicing knee-down a lot, but I really locked down on it when the rule went through last week," said Lynch, a Notre Dame commit ranked NLF No. 21 class of 2021 prospect. "Knee-down is definitely different because when you get the initial clamp, you have a better first step on the guy. With standing up, it's a lot tougher to go forward because the guy just has to take a step to the right to slow you down, so I'm learning to box them out with my butt and back and flipping the ball back door to myself."
If anything, Lynch's stock figures to only go up with the new rules. For a guy who's relatively new to the SNG game, he was flat-out dominant in wins over fellow NLF founding members Leading Edge and Team 91 Blaze. He still has exceptional hand speed, and he's got the wheels, toughness and tenacity to chase down ground balls in traffic. Lynch and fellow Express product James Ball (Yale / NLF No. 6 '20), along with Team 91 Blaze's Machado Rodriguez (Yale / NLF No. 43 '21) would have comprised a lethal trio at the X for Chaminade this spring, with Ball and Lynch figuring to also earn significant minutes at offensive midfield. Going up against that kind of talent every day has its significant advantages, which Lynch credits in helping his development into an elite prospect.
"I couldn't ask for anything better," Lynch said. "Guys in different parts of the country only go against the top kids if it's the summer, but going up against those guys all year long contributes to my success. I'm really close with James and train with him a lot, and practicing against Machado, who's one of the top kids in the country for my class, along with good trainers, helps so much."
Lynch was an early verbal to the Irish and remains steadfast in his commitment despite renewed overtures from other top schools, and it wasn't hard to see why Notre Dame made him a priority as it dipped back to its Chaminade pipeline. He was dominant against all comers at the play day, winning his first eight faceoffs of the day to set the tone for a highly-productive day. He had a particularly impressive goal to fend off a 91 rally when he popped it forward to himself, outran everyone and snapped a low-to-high laser. It sure seems like Lynch could make a major impact in South Bend even if he doesn't take a faceoff,
"When I first started playing lacrosse, I was strictly a midfielder, so I feel like I'm built to be able to handle the ball because I learned midfield faceoff fundamentals first," Lynch said. "When I transitioned to faceoff, all of those skills came with me, and I think it really benefits me and helps me separate myself. A lot of guys don't have the ability to be a scoring threat and defenses don't respect them, but I feel like I'm a threat."
Whether it's out of the knee-down or SNG.
2021 Standouts
Chris Barry, midfield, East Meadow (N.Y.) / Team 91 Blaze
Barry has always been somewhat unheralded on a Blaze team with some big-name commits. He's changing that unheralded part this summer, though, as he put together a strong all-around day. He's an eraser defensively, capable of shutting down elite midfielders, and he continues to be a great between-the-lines middie as well as an asset on the faceoff wings. He looks significantly more comfortable offensively and showed that he could find the back of the net.
Griffin Kology, defense, Chatham (N.J.) / Leading Edge / Richmond
It's hard not to like what Kology brings to the table, even though all of those things don't necessarily show up on first viewing. He's just so quietly effective and does a tremendous job of simply staying between his man and the net, smoothly covers a ton of ground and is the type of defenseman that can blanket a top scorer without much fanfare or highlight-reel checks. Kology has continually improved over the past year and projects to be even better in college as he adds size. He showed a good handle off the turf, too.
Matt Keegan, attack, Sachem North (N.Y.) / Team 91 Blaze
The lefty has been consistently producing at a high level this summer, and that continued against Express and Leading Edge. He's always had good shooting ability, but he's turned it up a notch this summer, something that's coincided with a noticeable growth spurt. He changes planes well and loves to park shots right under the bar and can also finish in a variety of ways. It wouldn't be surprising to see a Division I program make him a late addition to its '21 class.

Robert Moore, midfield, Westhampton Beach (N.Y.) / Long Island Express
Moore was a major problem for defenses as a downhill alley dodger who favored overhand bouncers through the five-hole throughout the day. Even when his man knew where Moore wanted to go, the uncommitted middie was able to get there anyway, using shiftiness and quickness to get himself free. He did a good job of understanding his range and pulling up before taking a bad shot, and on a couple of occasions, made some nice passes to open guys in the the heart of the defense.
Tyler Schwarz, LSM, Shoreham-Wading River (N.Y.) / Team 91 Blaze / North Carolina (Highlights) NLF No. 10 '21
Schwarz and his brother and fellow Carolina commit, Johnny, both had good days for the Blaze, and it was the lefty pole that gave offenses fits whenever they tried to go at him. Schwarz had a particularly impressive sequence where he baited an Express player into a pass on a 6v4, only to knock it down, scoop it up and outrun the two top guys on the Express EMO down the field. He has elite offensive skills and definitely warrants a slide in transition, but it seems like he's gotten even better in coverage, and trying to run around a 6-2, 180-pounder with his stick skills is an unenvious situation.
Jack Turner, attack, Ridge (N.J.) / Leading Edge (Highlights)
Turner played his best lacrosse of the summer with a big day for Jersey's finest. He's at his best when he's got time and room to unleash a hard, heavy shot and he found the back of the net on a couple of occasions, but he also did a good job of working to find open space to get involved in the offense. Shooting wise, Turner can absolutely stretch out a defense with his range, and he showed again that he's particularly dangerous if he gets involved early.
Colby Plotts, LSM, Sparta (N.J.) / Leading Edge / Utah
Plotts has been terrific all summer long for Leading Edge, and a big part of that has been his ability to harness his aggressiveness and desire to make a play every single time he's near the ball. He's become significantly more judicious with his decisions while still showing the game-altering playmaking ability that endeared him to the Utes. There was one sequence in particular where the tall, athletic Plotts outran everyone down the field – not necessarily a surprise – and could have pressed for a low-quality shot. Instead, he jammed on the brakes and dumped the ball off to an attackman, a decision that might not necessarily have happened last summer.

Alex Zepf, goalie, Chaminade (N.Y.) / Long Island Express / Notre Dame (Highlights)
Zepf was unranked in the inaugural NLF '21 top 50. There's little chance of that happening again, because he's been a consistently outstanding force in the Express cage since last fall. The lefty has vaulted his way onto the short list of top '21 goalies with his ballstopping ability, poise in the cage and command of the defense. He's not the guy who's usually going to try 40-yard outlet passes, but he makes smart, quick decisions with the ball in his stick. No matter how good the situation looks against Zepf, don't assume that you've got a goal, because he's got gamebreaking ability with how he comes up with tough stops.
Honorable Mention
Will Ferraro, midfield, Seton Hall Prep (N.J.) / Leading Edge / Providence
PJ McGoldrick, defense, West Islip (N.Y.) / Long Island Express / Fairfield NLF No. 47 '21
Jimmy O'Connell, attack, Carey (N.Y.) / Long Island Express / Boston U (Highlights)
Kyle O'Donoghue, midfield, St. John The Baptist (N.Y.) / Team 91 Blaze / Navy (Highlights)
Logan Peters, attack/midfield, Wall (N.J.) / Leading Edge / Rutgers
Johnny Schwarz, midfield, Shoreham-Wading River (N.Y.) / Team 91 Blaze / North Carolina (Highlights) NLF No. 11 '21

2022 Standouts
Charles Balsamo, attack/midfield, Chaminade (N.Y.) / Long Island Express Channy (Highlights) NLF No. 4 '22
Balsamo got mixed reviews at a showcase earlier this summer, but there's plenty of credence to the idea that he's just not a showcase guy. When he's running the show for the Express with guys he's familiar with, there really aren't many better offensive players in the class. Balsamo is tough as nails, plays with the aggressiveness and tenacity that everyone loves, and he can fill up the stat sheet in a hurry. He popped off for three goals and two assists against Team 91 and added four more points vs. Leading Edge, a product of his lightning-quick release, accurate shot and ability to feed at both lefty attack and from up top as a midfielder. It's hard to think of a more versatile offensive player in the class, and his ability to elevate the play of those around him will make him a wanted man come Sept. 1.

Brock Behrman, attack, Niskayuna (N.Y.) / Team 91 Smash (Highlights) NLF No. 46 '22
Behrman had two points and five ground balls against Leading Edge, but he really popped off in the Express game, torching them for five goals and two assists. He works well with Joey Spallina, and the two of them connected on a couple of nifty goals off of each other. Behrman has elite change-of-direction and quickness, and he's recently added some size, which makes him a tougher cover. He showed great vision on a superb skip pass to Jameson Smith (Bayport-Blue Point, N.Y.) for a stepdown goal, and he added a sweet dive goal out of the corner to help cement the Smash win.
Christian Bockelmann, attack, Rumson-Fair Haven (N.J.) / Leading Edge (Highlights)
Bockelmann was productive all day for Leading Edge, including a two goal, two-assist performance against Smash. He came out of the corner and rifled a high-to-high missile and buried a great Hunter Sancetta (Seton Hall Prep, N.J.) skip feed, set up Tyler Marmo (Avon Old Farms, Conn.) for a 1v1 transition goal and later added a gem of a pass to Willem Albert (Episcopal, Va.) across the crease for a tap-in that tied the game late in the fourth. Bockelmann can make plays with either hand and has good vision and the ability to finish from inside of 10 yards.
Matt Caputo, attack, St. Anthony's (N.Y.) / Long Island Express Channy
Caputo was omnipresent on the stat sheet for Express, collecting hat tricks in both games and adding an assist against Smash. The lefty has a knack for finding the soft spot in the defense and converted on a couple of opportunities inside, including one EMO goal on a nifty feed from Charles Balsamo before later adding a sweet hockey rebound goal in front. He's aware of what his shooting range is and doesn't really try to extend it too much, and he likes to get in the mix for a ground ball.

Ethan Costanzo, faceoff midfield, Taft (Conn.) / Long Island Express Channy (Highlights)
Costanzo was dominant against Smash, pocketing 21 of 26 faceoffs, and while he didn't have the same success against Leading Edge that he had the week before, he did manage to win a pair of fourth-quarter faceoffs to help Express break the tie. Costanzo's hand speed and variety of exits gave his opponents problems, and while he never pressed too much on the fast break, he did a nice job of finding the point man on his wins.
David Link, attack, Delbarton (N.J.) / Leading Edge (Highlights)
Link is the type of attackman that will probably be criminally underrated for the duration of his career. He does all of the little things right, whether it's being in the right spot to back shots up, grab ground balls or ride it back hard. He did manage a couple of goals, including a pinpoint low-and-away shot while running up the hash against Express, and he's got both finishing ability and vision.
Bryce Pang, goalie, Deerfield (Mass.) / Team 91 Smash NLF No. 27 '22
Pang and Kevin Barrett (St. Anthony's, N.Y.) were an extremely effective tag team for Smash, with Barrett shutting the door twice in the final minute to seal a win over Leading Edge. Pang was great in the second half of the Express game, including a 1v1 save on the doorstep and a trio of saves against Express' top weapons in Charles Balsamo and Dillon Magee. He's got quick feet and tracks shots well, positions himself in a spot to cut down angles, and he sure doesn't mind venturing out of the cage to chase balls down or start the clear.
Joey Spallina, attack, Mount Sinai (N.Y.) / Team 91 Smash (Highlights) NLF No. 1 '22
The country's top recruit backed up that lofty title yet again, this time by hitting Express for four goals and three assists and Leading Edge for five goals, including whatever *THAT* in the video above. Spallina's stickwork is unmatched, and when you think you've got him figured out, he's got a counter to your counter. He has the ability to beat you in so many different ways, whether it's loading up on assists off of double teams or feasting on single coverage. Armed with an ultra competitive alpha mindset, Spallina knows that he's the best player on the field in every game, but works like he's the last man on the depth chart, and nobody rides as hard as he does.
Jaz Zanelli, goalie, Seton Hall Prep (N.J.) / Leading Edge (Highlights)
The model of calm and consistency this summer for Leading Edge, Zanelli has been excellent in every game this summer, making all of the saves he should and some that he shouldn't. He's a little bit more athletic than in the past and the hard work that he's put in is evident. Zanelli puts his guys in the right spot and makes good outlet passes, and he made a combined 10 saves in his two halves, including an eye-popping pipe-to-pipe stop against the Express.
Honorable Mention 
Ethan Ackerman, LSM, Seton Hall Prep (N.J.) / Leading Edge (Highlights)
Christian Alacqua, midfield, Chaminade (N.Y.) / Long Island Express Channy
Kevin Barrett, goalie, St. Anthony's (N.Y.) / Team 91 Smash (Highlights)
James Carretta, midfield, Mount Sinai (N.Y.) / Team 91 Smash (Highlights)
Luke Engelke, faceoff midfield, Pingry (N.J.) / Leading Edge (Highlights) NLF No. 22 '22
Gavin LoCascio, midfield, Bayport-Blue Point (N.Y.) / Team 91 Smash
Max McCarthy, defense, St. Anthony's (N.Y.) / Long Island Express Channy
Konrad Miklaszewski, LSM, Montclair (N.J.) / Leading Edge (Highlights)
Ryan Monfort, defense, St. Anthony's (N.Y.) / Long Island Express Channy
Dylan Sageder, LSM, Mount Sinai (N.Y.) / Team 91 Smash (Highlights) NLF No. 44 '22