Big 4 HHH/Crabs/Leading Edge Play Day Standouts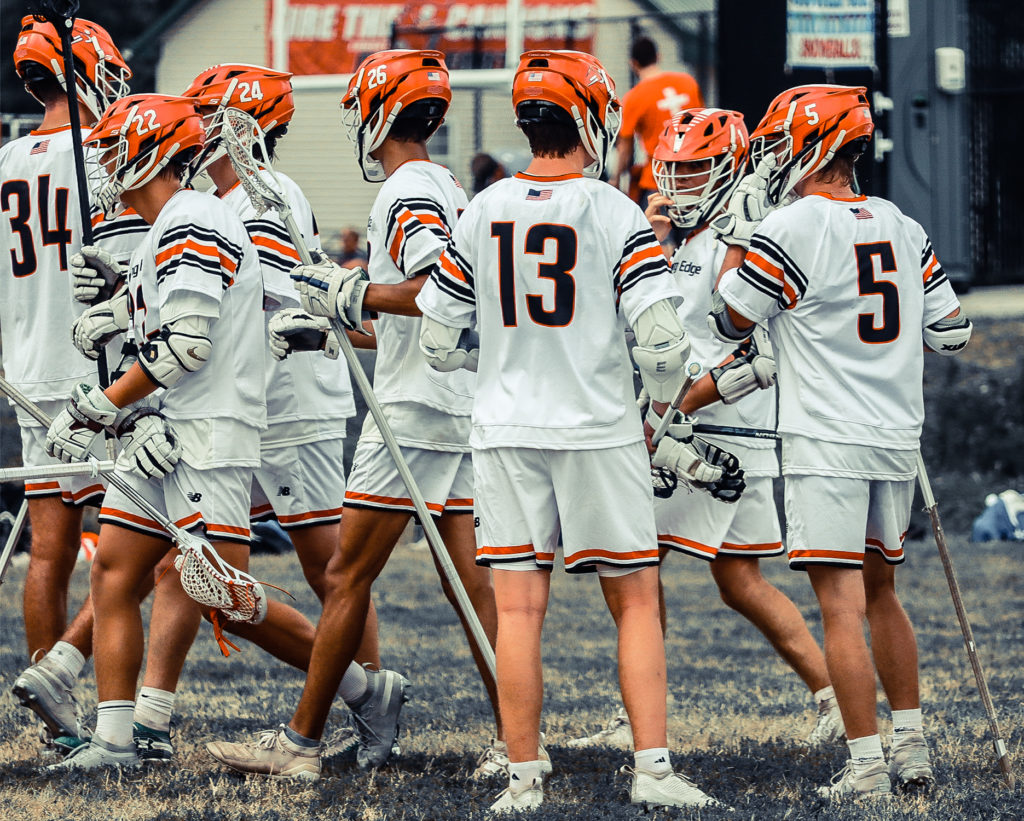 Follow the NLF on Instagram, Twitter, YouTube and Facebook.
No one would have blamed the Leading Edge 2022 team if it came out needing to shake off the rust.
The NLF founding member from New Jersey didn't have the same luxury of others with the state's Covid protocol putting strict limits on when they could practice, then practice with contact. Coming into Monday's Play Day with fellow NLF founding members Baltimore Crabs and Big 4 HHH, Leading Edge had every reason to believe that it might be a little bit behind their counterparts in terms of preparation.
Turns out that the team that reached last summer's NLF National Championship title game is still pretty good. A stingy defense led by Tripp Didden (Deerfield, Mass.), coupled with a balanced offense paced by Tyler Marmo (Avon Old Farms, Conn.) and dynamic faceoff play from Luke Engelke (Pingry, N.J.) paved the way for a 2-0 day for Leading Edge with wins over the Crabs (6-4) and Big 4 HHH (8-6).
"It was a lot of fun to get after it with the boys," Didden said. "We practiced no-contact for a while, just helmets and gloves, and we just recently started going full contact in practices. It was a lot of fun getting out here and let our hard work help us win games. … I'm really proud of this team with how we played. Our goalies both stood on their heads and did their thing in the cage. Defense did their thing and the offense locked it down at the end of the (Crabs) game. It's good to show that we don't just win flashy games. We can win those rough and gritty games, so that was good to see."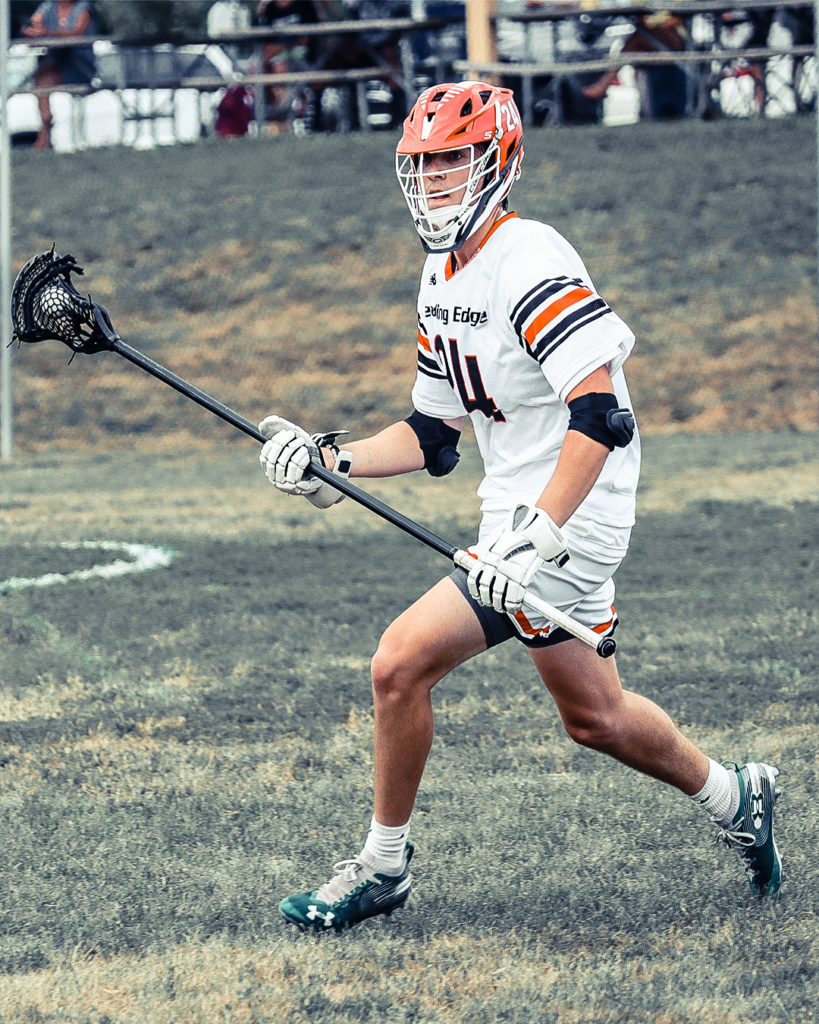 A put-together defenseman at 6-2, 190 pounds, Didden played a significant role for Leading Edge's defense. He was seemingly all over the field causing havoc against his matchup, and he did a very nice job of mostly giving up low-percentage chances to his man. He's also got a good stick, did a solid job on ground balls and showed the ability to get up the field in transition.
Marmo guided an offensive unit that has a ton of weapons, and the depth means that defenses can't just focus on one player. It was Marmo who put the Crabs game on ice by running down the alley, and, seemingly looking away from the net, snapped his wrists and scored on a low shot from 10 yards out. He's got some good range on his shot, especially considering that he's not that big, but he showed that he can also finish inside and toss out some excellent feeds.
"I didn't really know what to expect because it was my first time playing in a while, but I played my hardest, took the shots and didn't try to be too selfish, but if I was open, I took it," Marmo said. "We have a lot of good kids, no one's really selfish, we have two great goalies, unstoppable defense, and we're working on it offensively."
Seemed like a decent first go.
2022 Standouts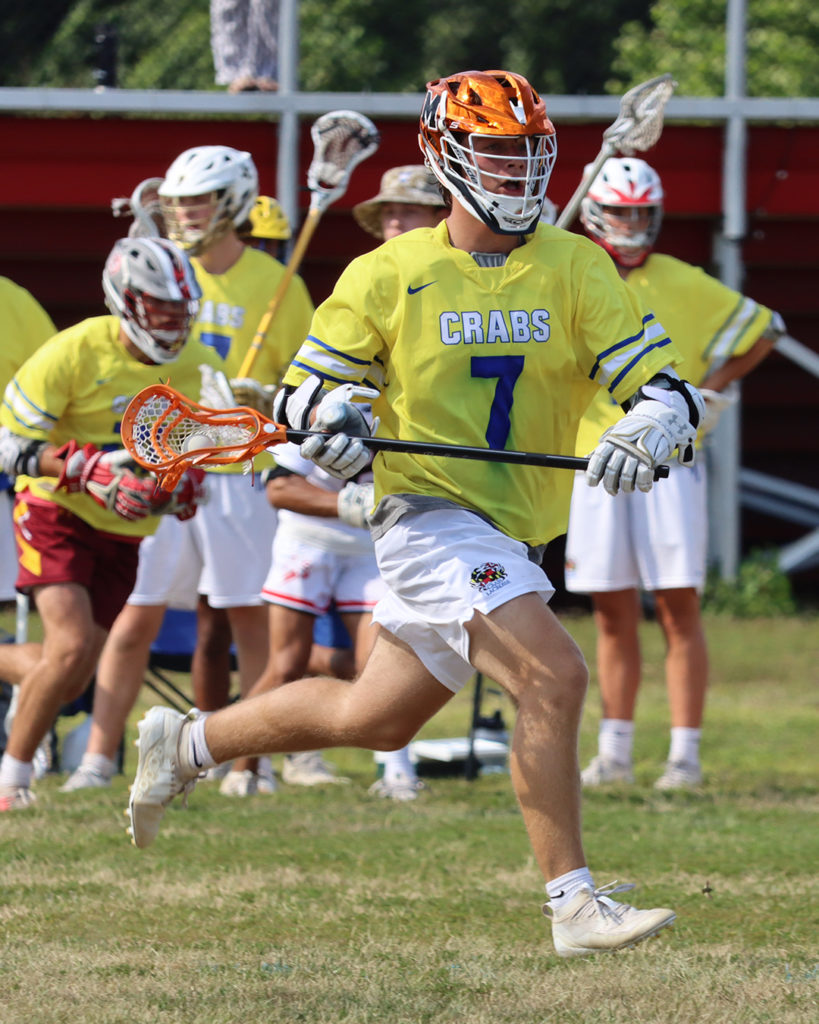 Lucas Baehr, midfield, Crabs / McDonogh (Md.) (Highlights)
This Crabs team is very offensively midfield-driven, especially with three McDonogh standouts in No. 12 '22 Matt McMillen, No. 58 '22 Hugh Brown and Baehr, and Baehr was happy to pick up some of the slack with McMillen out of the lineup. He had a really nice goal against Leading Edge where he beat a couple of defenders before finding the back of the net, and he does a pretty good job of making an impact on defense and in transition, too. He finds a way to make a good amount of plays in the middle of the field.
Max Busenkell, midfield/attack, Big 4 HHH / Garnet Valley (Pa.). No. 13 '22 in NLF rankings. (Highlights)
Busenkell earned comparisons to fellow Garnet Valley product and Virginia All-American Matt Moore early in his career, and while that's a high bar to reach, it's not a crazy comparison. Busenkell, like Moore, is a very good athlete who can play either midfield or attack and does a great job of being a balanced offensive threat. He's very clearly the offensive bellcow for the HHH '22s and isn't afraid to take a shot if it's there, and he's got the confidence to take his man on from anywhere on the field. He had a sequence where he got left on an island against a Leading Edge short-stick, which promptly ended a few seconds later with Busenkell rifling home a high lefty laser. Moral of the story: don't ask your short sticks to cover Max Busenkell.
Luke Engelke, faceoff midfield, Leading Edge / Pingry (N.J.). (Highlights) No. 22 '22 in NLF rankings.
Engelke pitched a perfect first half against Big 4 HHH and finished the game with all of one faceoff loss. He also buried a first-half hat trick, taking advantage of late slides and showing off an impressive lefty shooting stroke. Engelke has the ability to stay on the field and be a first-line midfielder, as well as playing man-up. He did jump a few times in the Crabs game, but when he's locked in, he's awfully tough to stop because of his size and athleticism. He went exclusively with the standing neutral grip and showed that those new rules should be an advantage for him.
Will Gallagher, defense, Big 4 HHH / Radnor (Pa.)
Gallagher had a ridiculous stretch of three straight defensive possessions where he caused turnovers on all three. A tall, rangy defenseman, Gallagher moved really well and covered a lot of ground, and he threw very precise checks without playing out of control. He seemed to consistently understand where to be off the ball, too.
Eli Huggins, defense, Crabs / Episcopal of Dallas (Texas)
There might only be a handful of defensemen in this class who like to hit as much as Huggins does. He's constantly looking to put a body on somebody and he's very aggressive in his 1v1 coverage. He does a nice job of moving his feet to stay with his man and seems to thrive when he's guarding the X attackman, consistently throwing checks and applying on-ball pressure.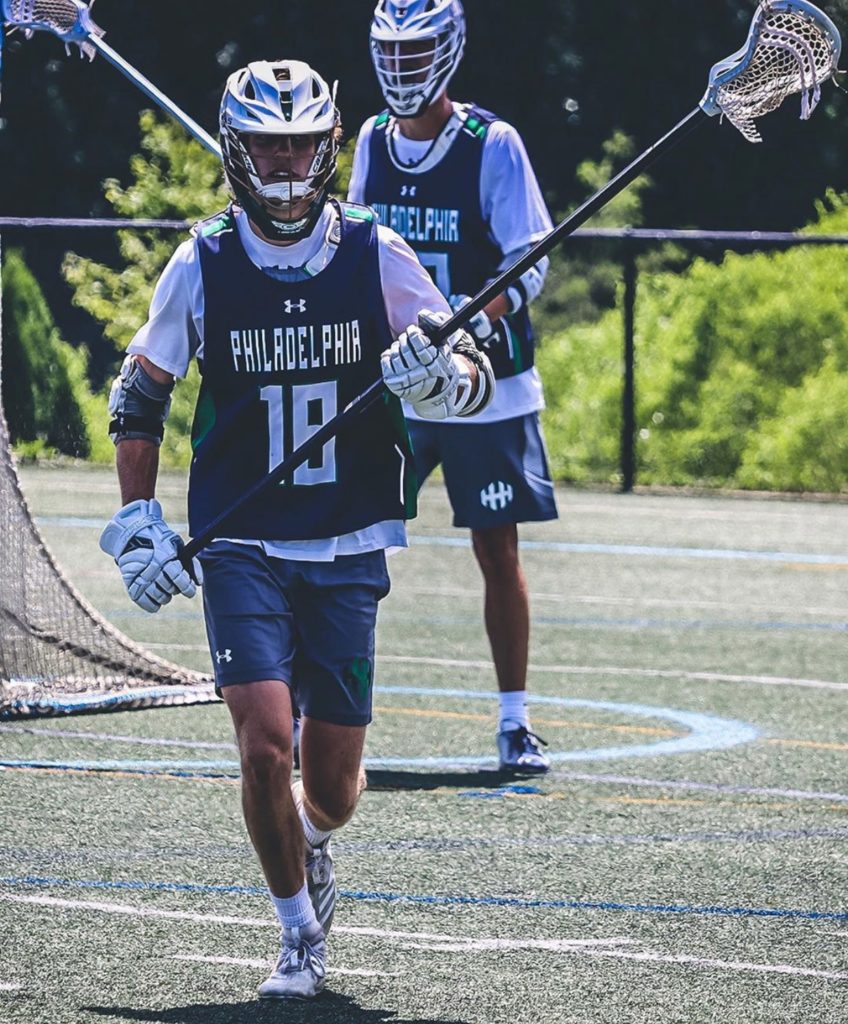 Chuck Kuczynski, defense, Big 4 HHH / Allentown Central Catholic (Pa.). (Highlights) No. 30 '22 in NLF rankings.
Kuczynski will never short change you in the aggressiveness department. The lefty loves to get out and set up camp on attackmen's hands, and if gets beat, has the footwork and speed to recover. Kuczynski is very tenacious and hounds his matchup all over the place, and when tasked with clearing the ball, does a good job of finding open space and running by guys before dumping the ball off. It'll be interesting to see him match up against the elite attackmen in the class, because his style can give a lot of guys problems.
Harry Laferriere, goalie, Leading Edge / Kent (Conn.) (Highlights)
Laferriere has incredibly quick feet and that footwork not only enables him to come up with really impressive saves, but also to beat guys to the endline on missed shots to get possession back. He's not afraid at all to venture out of the cage to start Leading Edge's transition game. Laferriere was terrific in a win over the Crabs, coming away with a handful of particularly impressive saves, and he was super tough to beat low. He and Jaz Zanelli (Seton Hall Prep, N.J.) give Leading Edge a stout combo in the cage.
Griff Shaffer, faceoff midfield, Crabs / Vandegrift (Texas) (Highlights)
Shaffer's stock is definitely on the rise with his play early this summer. He was very good a couple of weeks ago against Team 91 Maryland, and he gave Luke Engelke (see above) a ton of problems at the X, causing Engelke to jump multiple times. Shaffer has lightning-quick hands and great tenacity, refusing to give up on a ground ball, and he's absolutely not afraid to let a shot fly off the win if the defense doesn't slide to him. He's also got the athleticism and foot speed to get out and chase down ground balls. Bonus: he carries a 5.24 GPA, which…
/checks notes
/carries the 4
is pretty good.
Honorable Mention
Christian Bockelmann, attack, Leading Edge / Rumson-Fair Haven (N.J.) (Highlights)
Nicky Brown, attack, Crabs / Boys' Latin (Md.)
Joey Doherty, goalie, Big 4 HHH / Malvern Prep (Pa.) (Highlights)
Brendan Donnelly, goalie, Big 4 HHH / Germantown Academy (Pa.) (Highlights)
Ian Kim, faceoff midfield, Crabs / Conestoga (Pa.) (Highlights)
Ryan McLaughlin, LSM, Leading Edge / Mountain Lakes (N.J.) (Highlights)
Luke Rhoa, midfield, Crabs / St. John's (D.C.) (Highlights)
Jaz Zanelli, goalie, Leading Edge / Seton Hall Prep (N.J.) (Highlights)
2021 Standouts

Noah D'Andrea, goalie, Leading Edge / Christian Brothers (N.J.) / Providence.
The only goalie for the Leading Edge '21s, D'Andrea was tremendous and consistent in both games, coming away with just about every save he should have and adding some impressive saves in tight. He's a very athletic goalie who moved around well and could go post-to-post in a hurry, and his quick hands and explosiveness helped him take away shots in unsettled situations. He was really good against the Crabs and shut the door on some big-time shooters to help cement a 2-0 day for Leading Edge.
Will Ferraro, midfield, Leading Edge / Seton Hall Prep (N.J.) / Providence.
Ferraro looks to have put on some size and he showed more assertiveness and confidence with the ball in his stick, and it paid off with some nice goals, perhaps none nicer than the one in the video above. He's a slippery dodger who showed that he could score down either alley, including one where he simply blew by his man and buried a low rip five-hole. Ferraro got up and down the field with ease, too.
Garrett Glatz, attack, Crabs / Boys' Latin (Md.) / Navy. No. 39 in NLF '21 rankings.
Glatz can make you miss in a phone booth and he's always put defenses in a bind with his athleticism and agility, but he really showed well as a pure shooter against Big 4 HHH, stinging a pair of early goals to help the Crabs kickstart a comeback. Glatz did a nice job of separating from his man before unloading a transition rip, then shortly thereafter, absolutely blasted a far-side ping. He seems to do everything in fast-forward, and when you pair that athleticism with his shooting ability, it's going to be a real bad time for defenses.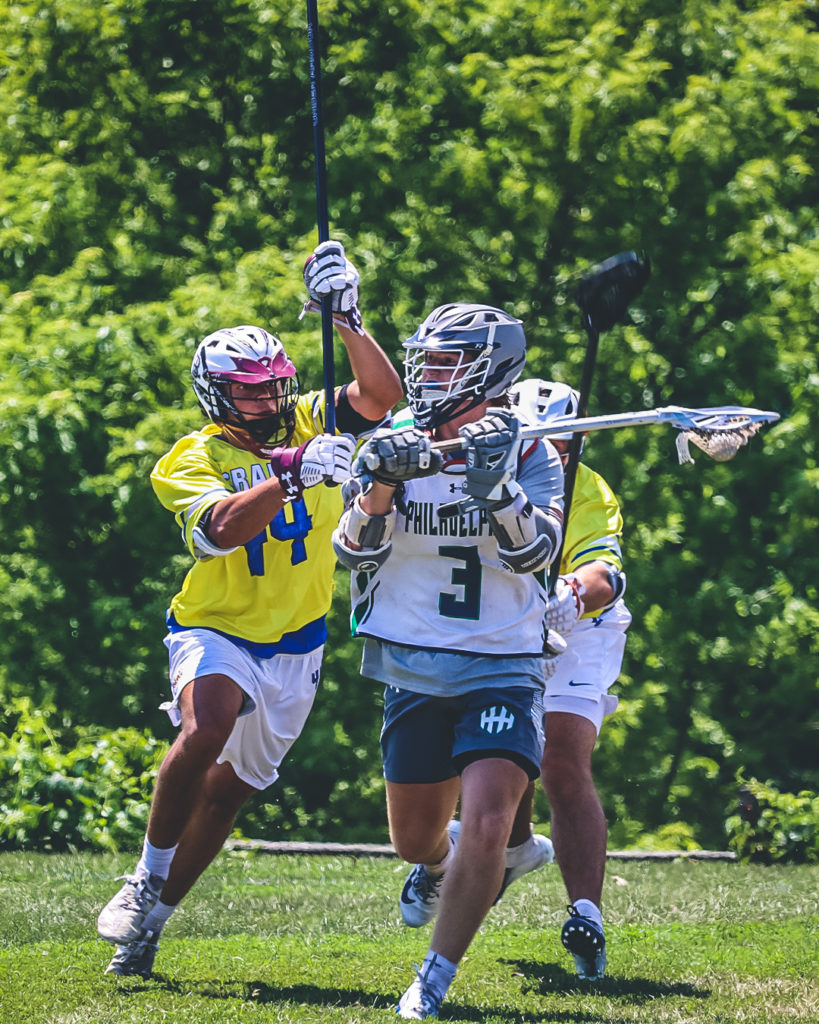 AJ Hernandez, defense, Crabs / Boys' Latin (Md.) / Ohio State. No. 16 in NLF '21 rankings.
Big 4 HHH attackman Luke Walstrum (see below) got off to a hot start with two goals and an assist early, but he was significantly quieter once the Crabs switched Hernandez onto him. The two had a memorable battle last July in the NLF National Championships at UMass and followed it up Monday with Hernandez doing a great job on his future Big Ten rival. The lefty looks to have reined in his aggressiveness a little bit – in a very good way – and looks more controlled and poised. Make no mistake about it, you still don't want to go up against him because he's still got aggressiveness for days, and he did an excellent job with his positioning at X, GLE and on the wings.
Mason Lazasz, midfield, Big 4 HHH / La Salle (Pa.) / High Point (Highlights)
When Lazasz's shooting is on, there's not a whole lot you can do to stop him. The No. 23 player in the class, he can absolutely rifle the ball with ease, and he was a problem in transition against the Crabs, burying a high screamer early before adding another goal in transition (see video above) where he did a great job of protecting his stick in traffic before firing home a bouncer. He's got good shake and athleticism, and he's got zone-busting range if given time and space from outside.
Acceptable. @Crabslacrosse's Ethan Long (Calvert Hall / @pennstatemlax), our No. 34 '21, putting on a show. pic.twitter.com/M1N5MrTdCe

— NLF (@natlaxfed) July 13, 2020
Ethan Long, midfield, Crabs / Calvert Hall (Md.) / Penn State. No. 34 in NLF '21 rankings.
Maybe the most fun player to watch of anyone on the day, Long just makes everything look so easy and effortless. Look at the video above where he's running away from the net, then snaps his wrist and pings the corner high and away. WHO DOES THAT? For as good as that goal was, Long was even better as a setup man, consistently drawing his man and the slide out of position to set his teammates up for great looks from up top or the wings. He had a particularly nice play in the two-man game where teammate Matt Barger (Boys' Latin, Md.) slipped open and snapped home a Long feed.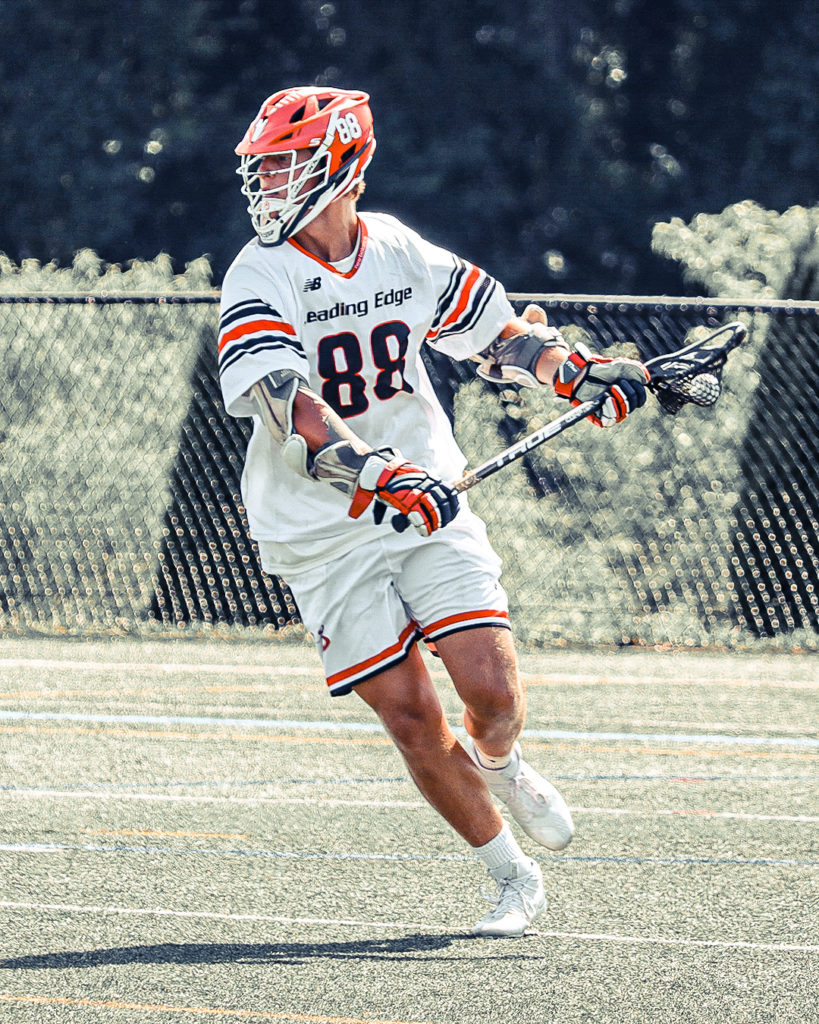 Logan Peters, attack, Leading Edge / Wall (N.J.) / Rutgers.
The big lefty is also Wall football's quarterback, and he showcased that type of QB1 vision all day for Leading Edge, pacing the offense by getting everyone involved as a feeder. He used his size well as a dodger and can even get under defenders' pads when he gets low despite his big frame, but he was tossing out dimes left and right, either up top or side-to-side. Once that slide came, he always knew where to find the open man.
Grant Pierce, LSM, Big 4 HHH / Radnor (Pa.) (Highlights)
It's hard to believe that Pierce is still uncommitted, though you have to think that won't last much longer. The list of uncommitted '21s that are better than him has to be a very short one. A tall, athletic pole who is extremely active in the middle of the field but can also slide back to close, Pierce is omnipresent around the ball, consistently disrupting things for the offense. He was very good in the clearing game, isn't afraid to shoot, and also has the footwork, agility and frame to give his opponents fits. A California transplant whose brother, Connor, plays at Delaware, Pierce will lead what should be an excellent Radnor squad next spring.
Luke Walstrum, attack, Big 4 HHH / Council Rock North (Pa.) / Penn State. No. 41 '21 in NLF rankings. (Highlights)
As confident as ever with the ball in his stick, Walstrum got off to a hot start for Big 4 HHH with two goals and an assist in the Crabs game's first five minutes. First, he drew his man out before hitting Fitz McLaughlin (Springside Chestnut Hill, Pa.) with a feed on the doorstep that McLaughlin promptly buried. Then, he added a pair of goals, including the one in the video above, where he showed that he could get to his spot and be a threat either righty or lefty. The quarterback of the HHH offense, Walstrum is a well-balanced prospect equally adept at feeding or finishing.
Honorable Mention
Jack Dudas, midfield, Crabs / McDonogh (Md.) / Bucknell
Matt Fritz, faceoff midfield, Big 4 HHH / Wissahickon (Pa.) / Ohio State (Highlights)
Cal McPherson, midfield, Leading Edge / Pingry (N.J.) / Holy Cross
Colby Plotts, LSM, Leading Edge / Sparta (N.J.) / Utah (Highlights)
Ryan Spilman, midfield, Crabs / Boys' Latin (Md.) / Richmond
Jackson Tuma, midfield, Big 4 HHH / Salisbury (Conn.) (Highlights)