NLF Opening Weekend 2021 and 2022 Standouts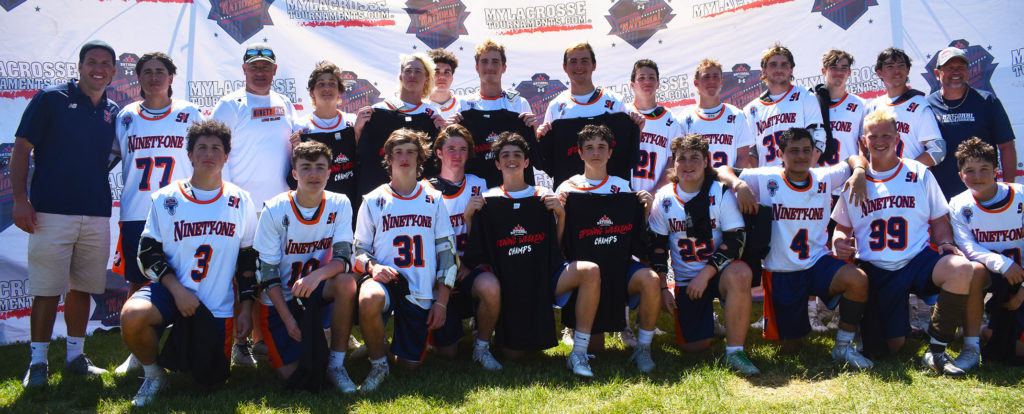 You could say that Johnny Schwarz had a pretty good weekend.
Saturday, he buried a pair of goals to help Shoreham-Wading River win a New York Class C state title with a 12-7 win over Jamesville-DeWitt, putting together the finishing touches on a dominant sophomore campaign in which he went off for 53 goals and 13 assists.
Nobody would have faulted him for resting up after finishing off a grueling high school season, but Schwarz was back at it Sunday for Team 91 Blaze, and that was bad news for 91's opponents. Schwarz and his twin brother, LSM Tyler, defenseman Jake Wilson, goalie Robbie Troyano, gave Brian Spallina's Blaze a team a huge boost just in time to march through the playoffs into the NLF Opening Weekend 2021 title game. There, they took care of Thunder LB3, 10-5, wrapping up a pretty great weekend for the SWR boys.
"It was great to win states because we've been focusing on it all year," Johnny Schwarz said. "Last year, we lost early in the playoffs, and it really motivated us to keep pushing this year. Once we won the county, it gave us confidence, then we came back from down seven goals in the Long Island championship. From there, it was just smooth sailing. (Sunday's win) is a good feeling to have that accolade."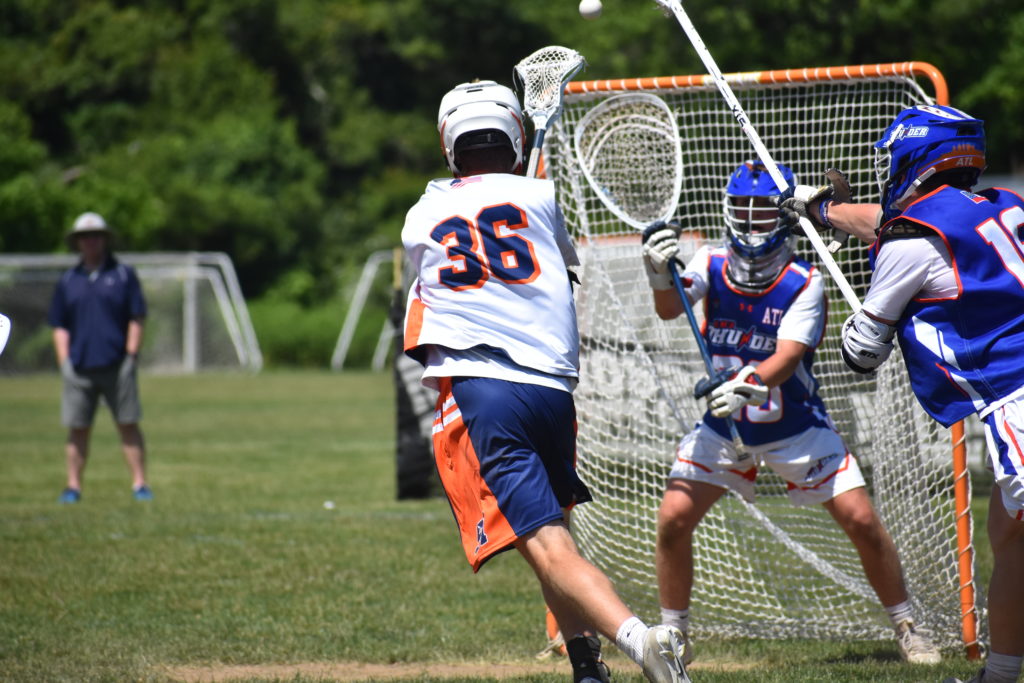 Johnny Schwarz won a state title and an NLF Opening Weekend title 24 hours apart.
It was just that Sunday, too. Schwarz is considered to be a blue-chip midfield prospect in the '21 class, and he showed why. He is a big athlete who can run by guys and ping corners, but he can also feed like an X attackman and play solid defense. There's really not much to nitpick at in his game, and he took over in the final, bagging a couple of goals as Blaze spread the offense around.
"I think the biggest strength of my game is that I try to get feeds to my teammates," Schwarz said. "I try to draw two men and move it one more, get my teammates open and get them looks."
91 wouldn't have been in the position for Schwarz to take over without the play of midfield running mate Tyler Gatz. The Mount Sinai standout, who posted 24 goals and 25 assists for the Mustangs this spring, was uncoverable throughout the tournament. He was scoring multiple goals per game as a dominant alley shooter, torching defenses with multiple bouncers. When teams were sliding early to him, Gatz was all too happy to slide the ball over to open teammates like Danny Caddigan (Smithtown West, N.Y.) for open looks.
"It's nice to get away from school ball a bit and run an open offense," Gatz said. "Dodge, dodge, pass, keep the ball moving and find the net. I think everyone's coming off the varsity season and everyone's sticks are hot, and we just worked well together. It's good to get one like this, especially with all of these college coaches watching."
Chris Zara (St. Anthony's, N.Y.) was part of a dominant defensive unit at the other end. A leader on the back end, Zara earned lofty praise from Spallina for his toughness and ability to cause turnovers. He's fleet of foot and can cover just about anyone, and he's a vacuum for loose balls once they're on the ground.
"It's all about communication on defense," Zara said. "Team defense, that's what gets the job done. Slides, rotations, helping each other out. That's why we have a big impact on the game."
So much so, in fact, that they came away with the first NLF title of the summer.
2021 and 2022 Standouts from the NLF Summer Showcase
Bryan Anderson '21, LSM, Roxbury Latin (Mass.) / Laxachusetts Black – Highlights
Laxachusetts has a pair of elite LSMs in Anderson and Ronan Doherty (Groton, Mass.) and they're an absolute force together, especially since LXC was double-poling every faceoff. Anderson was a constant, taking every wing, and it's not hard to see why. He's excellent off the wings and a superb communicator, and he's a fast, aggressive pole who can take the ball away in 1v1 situations. When he gets the ball in his stick, he leaves opponents behind in a flash and he made good, smart decisions with the ball in his stick.
Charles Balsamo '22, attack, Chaminade (N.Y.) / Long Island Express
Balsamo is an incredibly productive attackman who also dabbles as a midfielder, and he was filling up the net in a hurry all weekend long. He earned a spot on Chaminade's JV as a freshman – no small feat – and he can break a defense down with his dodging from anywhere on the field. Balsamo's ability to get to his spot and let it fly gives defenses serious problems.
Anthony Bartolotto '22, midfield, Miller Place (N.Y.) / United
The younger brother of Cornell LSM Joe Bartolotto, the United midfielder is already staking out a reputation for himself as one of the '22 class' top middies. He had a ridiculous sequence against Big 4 HHH where he saved a ball going out of bounds, dusted his matchup, drew two players and dumped it off to the back side for an assist. An intense, team captain type, he's drawing a slide on every dodge and knows how and when to move the ball.
Sean Byrne '21, goalie, Allatoona (Ga.) / Thunder LB3 – Highlights
A rare sophomore goalie All-American in Georgia, Byrne is a terrific athlete who has few flaws in his game. He cut down on angles well, showed good feet and was awfully tough to beat low with his terrific lateral agility. He came up with some significant saves in close because he rarely bites on fakes, and he was a big reason why Thunder LB3 made the championship game.
Trey Brown '21, defense, Belmont Hill (Mass.) / Laxachusetts Black
Stop us if you've heard this before, but LXC has a big, strong and mean defenseman on its hands. Brown is the top cover guy for his team, and it's not hard to see why. A physically put-together kid, he does just about everything well, from matching feet to getting physical and putting the ball on the ground. It's hard to envision a scenario where he doesn't come flying off the board quickly in September. He's just that good.
Henry Caponiti '22, attack, Brunswick (Conn.) / Prime Time
A big-bodied attackman with exceptional body control and superb stick skills, Caponiti played up for the '21s and still produced at a high rate. He plays center in basketball and middle linebacker in football and sure looks the part. Caponiti, who saw a little bit of time on Brunswick's nationally-ranked team this spring, showed that he could get inside and finish in tight spaces.
Noah D'Andrea '21, goalie, Christian Brothers Academy (N.J.) / Leading Edge Elite – Highlights
D'Andrea and Henry Blake (Brewster, N.H.) were a formidable duo in the cage for Leading Edge, and D'Andrea came through with a handful of very impressive saves in tight. Leading Edge's first-half goalie set the tone for a team that reached the '21 semifinals with some big saves and his command of the defense. A sophomore starter at CBA, D'Andrea showed poise in the clearing game, too.
Sam Erickson '21, LSM, Darien (Conn.) / Prime Time – Highlights
You want your LSM to be active in the middle of the field, and that's Erickson to a T. He had an impressive sequence against Team 91 where he caused a turnover, caught the ball on the fly and zipped past pressure to dump the ball off to an attackman. Soon after, he laid a big hit on an unsuspecting middie near the midline. His aggressive temperament and quick feet make him a perfect fit for the LSM spot.
Fisher Finley '21, midfield, Milton (Ga.) / Thunder LB3 – Highlights
If you let Finley get rolling downhill, just kind of hope for the best and that he'll miss the cage. He stood out in Friday's showcase and again over the weekend, combining his size and shooting ability to be a major scoring threat for Georgia's finest. He's almost automatic with either hand down the alley, and at 6-5, 200 pounds, it's not easy to stop him from getting to where he wants to go. He loves his rollbacks, too, and it's another dependable way for him to get his shot.
Garrett Glatz '21, attack/midfield, Boys' Latin (Md.) / Crabs
Glatz had a breakout year for perennial power Boys' Latin this spring, often coming out of the box as a utility midfielder. He continued that strong play last weekend, routinely working the two-man game with fellow BL standout Ben Smith. Glatz has plenty of shiftiness to create his own shot, and he's got an accurate shot to boot.
AJ Hernandez '21, LSM/defense, Boys' Latin (Md.) / Crabs
Don't even think of trying to get comfortable around Hernandez, because he's all about disruption. He was constantly flying around and getting right up on opponents all weekend long, and he's scrappy and tenacious on ground balls. Already a starter at Boys' Latin, he has the skillset to turn defense into offense really quickly.
Graham Hertzberg '21, attack, Landon (Md.) / DC Express – Highlights
You know you're pretty good when you score 41 goals for Landon as a sophomore, so it's no surprise that Hertzberg was finding the back of the net with regularity this weekend. He does a great job of getting his lefty shot from above the cage, where he unloads a heavy, accurate shot, and he works hard to get open off-ball. Defenses can't take their eyes off of him for a minute because if he gets his hands free, it's over. A big, strong attackman, he showed that he can get his shots even through contact.
Chris Kavanagh '21, attack Chaminade (N.Y.) / Long Island Express – Highlights
Kavanagh carved out some time as a sophomore on Chaminade's loaded squad, so you know he must be decent. He's an athletic attackman who can do a little bit of everything, but goodness, can he shoot. There's nowhere inside the midline where you should feel comfortable against him defensively, because he can uncork some rockets from anywhere on the field. He also had a nice dip and dunk just off of GLE, which lends credence to the theory that he's more than just a shooter.
Will Lynch '21, faceoff midfield, Chaminade (N.Y.) / Long Island Express – Highlights
The 2021 class looks like it has some legitimate faceoff guys, but it's hard to imagine that many are more well-rounded than Lynch. He's got quick hands and scraps hard at the X, but he really shines when he gets the ball in his stick. He flies out of his stance with the ball in his stick and morphs into the best midfielder on the field in most games, buzzing around and taking defenders to the rack on offense and willingly throwing his body around defensively. Lynch, who was Chaminade JV's top midfielder this spring, had a particularly impressive house call against SweetLax Florida.
Jack McGorry '21, midfield, Allentown Central Catholic (Pa.) / Big 4 HHH – Highlights
McGorry continued his emergence as HHH's best midfielder with an extremely productive weekend. He filled up the stat sheet in style, showing that he's a major threat in transition and that he can dodge from both the wing and down the alley. McGorry isn't lost on defense, either, and he showed on a few occasions that he can definitively win his matchup.
Shane Murphy '21, attack, Long Beach (N.Y.) / Long Island Express
A 27-goal scorer as a sophomore for Long Beach, Murphy has quick hands and feet and he's nearly automatic as a finisher. He was productive all tournament long for the Express, finding ways to get open without the ball and quickly burying passes.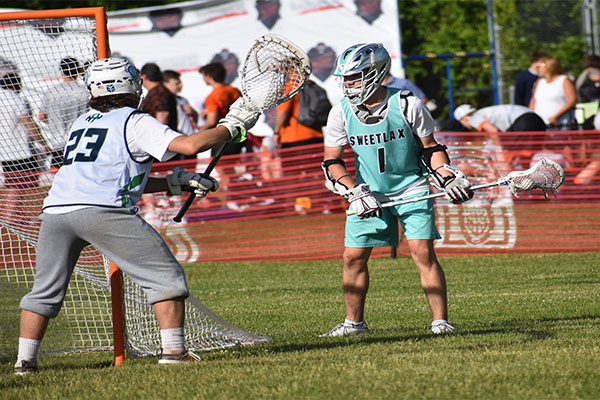 Tucker Mullen '21, attack, Taft (Conn.) / SweetLax Florida – Highlights
A fearless and creative player, Mullen had a sick goal on a dive early on, and he followed it up by finding different ways to produce. He made a couple of eye-opening passes, and he was astute on the ride, picking off a pass at the midline and setting up a goal shortly after. Mullen also repeatedly showed that he could find dead spots in coverage to create chances.
Chase Mullins '21, faceoff midfield, St. Christopher's (Va.) / DC Express – Highlights
It's hard to have a more dominant weekend than the one Mullins pieced together for a stacked DC Express squad. He was perfect in his opening game against Leading Edge despite being triple-poled for most of the game. No, seriously, triple-poled. He was 37-for-38 in his first few games, with the only loss coming when he jumped. Mullins used his thick, powerful frame to overpower his opponents, but his lightning-quick hands also helped him win nearly every clamp. Also a wrestler, Mullins has a solid stick and showed that he could even bully his way to the rack on a few occasions.
Austin Oppenheim '22, faceoff midfield, Mount Sinai (N.Y.) / Team 91 Smash
Oppenheim's play in the semifinals and title game was a major reason why Smash took home the '22 title. He battled hard at the X against two elite faceoff men that he'd previously struggled with and won more than his fair share of draws to give Smash's high-powered offense the rock. He was able to beat guys with his hand speed, but also showed the ability to get after ground balls and body opponents out of the way.
Kevin Parnham '21, defense, Pingry (N.J.) / Leading Edge Elite
A 1v1 matchup with Parnham seems like a real bad time for attackmen. Already a two-year starter at Pingry, the lefty is a force to be reckoned with. He's got the aggressive, mean disposition that everyone wants in a No. 1 defenseman, but he also has the stickwork and effort level to go with it. Parnham was almost unbeatable throughout the weekend, rocking guys back with great checks without playing out of control.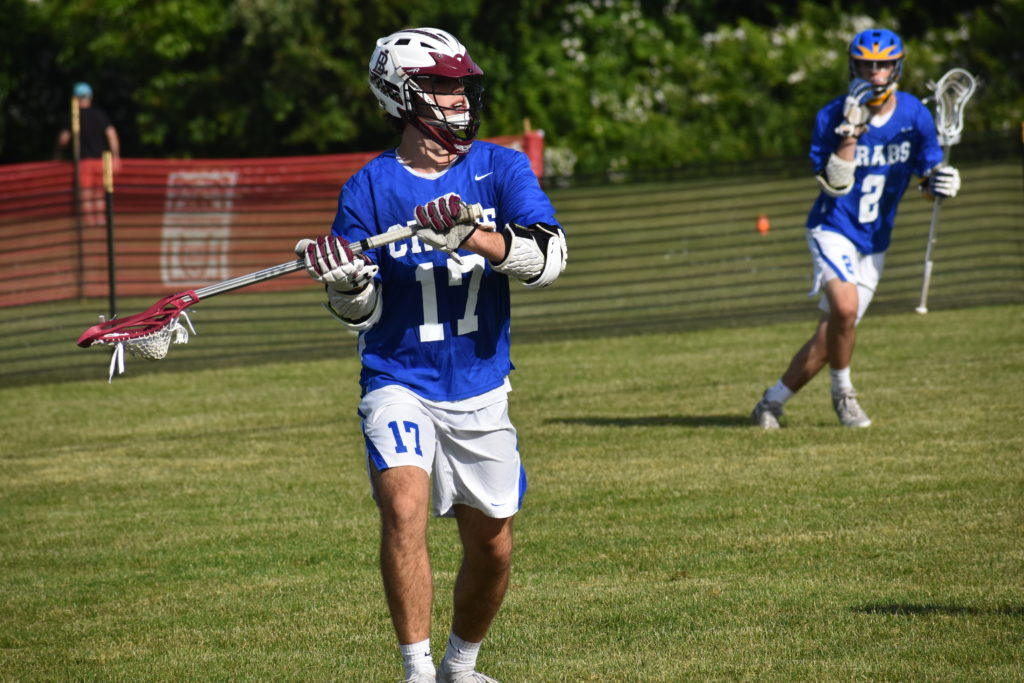 Ben Smith '21, attack, Boys' Latin (Md.) / Crabs
Rare are the sophomores who have already started for two years at BL, but Smith isn't your usual sophomore. He has all the skills to be a dominant No. 1 attackman and was the second-leading scorer for the Lakers this spring. He showed that he can carry the ball well and demonstrated excellent vision, but he also works hard off the ball to find open spots and kept goalies busy all weekend long as a result. As a bonus, he's also big in the riding game.
Joey Spallina '22, attack, Mount Sinai (N.Y.) / Team 91 Smash
Look, Spallina is already good enough when he's playing up with the '20s. Putting him against guys his own age is simply unfair, and basically a cheat code for Smash. He was tossing out some absolute dimes early in the tournament, including a show-stopping inch-perfect pass in traffic to Mount Sinai and Smash teammate Gavin Takacs for a goal. He put up 65 goals and 66 assists for Mount Sinai this year, recording All-American and Suffolk County Attackman of the Year honors, and it's easy to see how that happens. There can't be more than two or three players, if any, in the entire country at any age who have his lacrosse IQ. His stick skills are ridiculous and his creativity is off the charts. It's no surprise that Smash came up with the championship with him in the lineup. He's good enough to lift an already very good team to elite status.
Joey Terenzi '22, midfield, Manhasset (N.Y.) / Long Island Express
There are plenty of people who believe that Terenzi is the top midfielder in the '22 class, and he did nothing to change that opinion this weekend. The freshman scored the game-winner in OT in the Long Island Championship for Manhasset in a season where he had 23 goals and 13 assists, and he's a force all over the field. He has an obvious killer instinct and he goes 100 percent all the time. He has a nose for the goal and has good shooting fundamentals, and not sliding to him early is playing with fire.
Jack Turner '21, attack, Ridge (N.J.) / Leading Edge Elite
Turner found twine early and often throughout the weekend, showcasing an extremely quick release with the ball in his stick. A tall righty who bagged 28 goals this spring for Ridge, he finishes everything in sight and also rides hard. He had one game where he blew the game open with a couple of man-up goals.
Zach Travaglini '21, attack, Belmont Hill (Mass.) / Laxachusetts Black – Highlights
Travaglini led Belmont Hill this spring with 21 assists, but it was his scoring ability that stood out this weekend. The lefty is excellent at finishing inside and cutting off the ball, but he can also step back and let it rip from the outside. He was a constant scoring threat for LXC, finishing with multiple goals in seemingly every game. He has the quickness to beat his man from X and turn the corner, where he's just as good as a feeder as he is a scorer.
Luke Walstrum '21, attack, Council Rock North (Pa.) / Big 4 HHH – Highlights
The quarterback of the offense, Walstrum is at home at X, where he's equally adept at scoring and feeding. He's a strong versatile scorer with a thick lower body, which allows him to absorb contact on his way to the net. His quickness is nothing to sneeze at, either, as he showed that he could dust more than one defender on a regular basis.
Honorable Mention
Will Angrick '21, midfield, Georgetown Prep (D.C.) / DC Express – Highlights
Henry Blake '21, goalie, Brewster Academy (N.H.) / Leading Edge Elite – Highlights
Evan Bullotta '21, defense, Central Bucks East (Pa.) / Big 4 HHH – Highlights
Danny Caddigan '21, attack, Smithtown West (N.Y.) / Team 91 Blaze
Jake Cohen '21, defense, Landon (Md.) / DC Express – Highlights
Ronan Doherty '21, LSM, Groton (Mass.) / Laxachusetts Black – Highlights
Oran Gelinas '22, goalie, Middlesex (Mass.) / Laxachusetts Black – Highlights
James Gurr '21, midfield, Walton (Ga.) / Thunder LB3 – Highlights
Tyler Guzik '21, goalie, Springside Chestnut Hill (Pa.) / Big 4 HHH – Highlights
Curren Johnson '22, attack, Bellport (N.Y.) / United
Isaac Korus '22, midfield, Taft (Conn.) / Prime Time
Colby Kudla '21, LSM, Berkeley (Fla.) / SweetLax Florida – Highlights
Gibson Linnehan '21, LSM, Princeton Day (N.J.) / Leading Edge Elite – Highlights
Grant Litchfield '21, LSM/defense, Belmont Hill (Mass.) / Laxachusetts Black
Ethan Long '21, midfield/attack, Calvert Hall (Md.) / Crabs
Aidan Maguire '22, midfield, St. Sebastian's (Mass.) / Laxachusetts Black
Tim McNamara '22, goalie, Tabor (Mass.) / Laxachusetts Black
Diego Rodriguez '21, faceoff midfield, Gulliver (Fla.) / SweetLax Florida
Michael Scharfenberger '21, goalie, Deerfield (Mass.) / Long Island Express
Brandon Ventarola '21, midfield, Mount Sinai (N.Y.) / Team 91 Blaze – Highlights