National Championship AA Preview: Leading Edge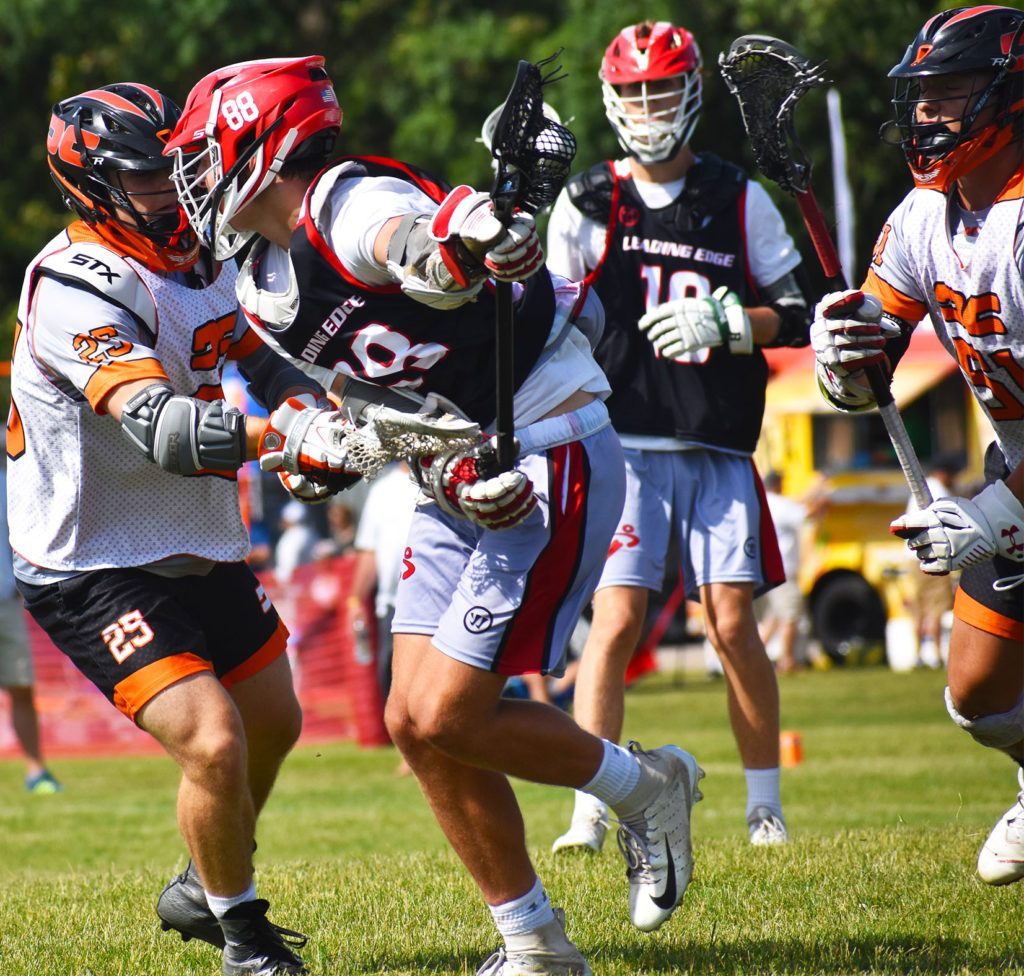 Follow the NLF on Instagram, Twitter and Facebook. This is the Leading Edge 2020 and 2021 preview for the 2019 NLF Club National Championships. We'll be profiling some of the top players from every 2020 AA and 2021 AA teams who will be in attendance. 
2020
Top Commits 
Evan Barr, goalie, Somerville (N.J.) / Duke
Colin Freer, defense, Westfield (N.J.) / Princeton
Cole Krauss, defense/LSM, Delbarton (N.J.) / Duke 
Connell Kumar, midfield, Seton Hall Prep (N.J.) / Virginia 
Kyle Stephenson, midfield, Seton Hall Prep (N.J.) / Michigan 
Top Uncommitted Players 
Aidan Decker, midfield, Chatham (N.J.) – Highlights. A do-it-all midfielder who thrives in any situation, Decker is unselfish with an extremely high lacrosse IQ. He's got intangibles and the ability to play man-up, man-down, on the wing, offense or defense. He put up 32 goals and 67 points this spring for Chatham.
Chris Nichols, midfield, Delbarton (N.J.) – Highlights. Nichols is predominantly a lockdown short-stick defensive midfielder for a loaded Leading Edge team, but he's got the offensive ability to put up points and a very high lacrosse IQ.
"Nichols never complains, he never gets beat, takes every wing, plays man-down and is great off the ground," Leading Edge director Chris Roy said.
Billy Rojack, LSM, Seton Hall Prep (N.J.) – Highlights. A very active, disruptive LSM who constantly makes plays, Rojack started at pole for Seton Hall Prep's nationally-ranked team this year, and the lefty excels off the ground and can jump into the offense off of transition.
2021
Top Uncommitted Players
Drew Friedman, midfield, Lawrenceville (N.J.) – A big, athletic midfielder out that has been lights-out this summer, Friedman chips in all over the field. He played a ton for the Big Red this spring, and he can also contribute off the faceoff wings.
Kevin Parnham, defense, Pingry (N.J.) – An absolute beast of a lefty defenseman, Parnham has been a wrecking ball all summer long. He's on track to be a four-year starter for Pingry, and he's a very aggressive and mean force on the back end. Pack extra elbow pads if he's the guy covering you.
Logan Peters, attack, Wall (N.J.) – Peters made a casual 85-point jump this spring, going from 12 points as a freshman to 52-45-97. A big lefty attackman with the vision and passing ability to easily thread skip passes, the three-sport athlete – football and basketball – also has the inside handle to finish in traffic.