NLF Summer Kickoff Preview: Annapolis Hawks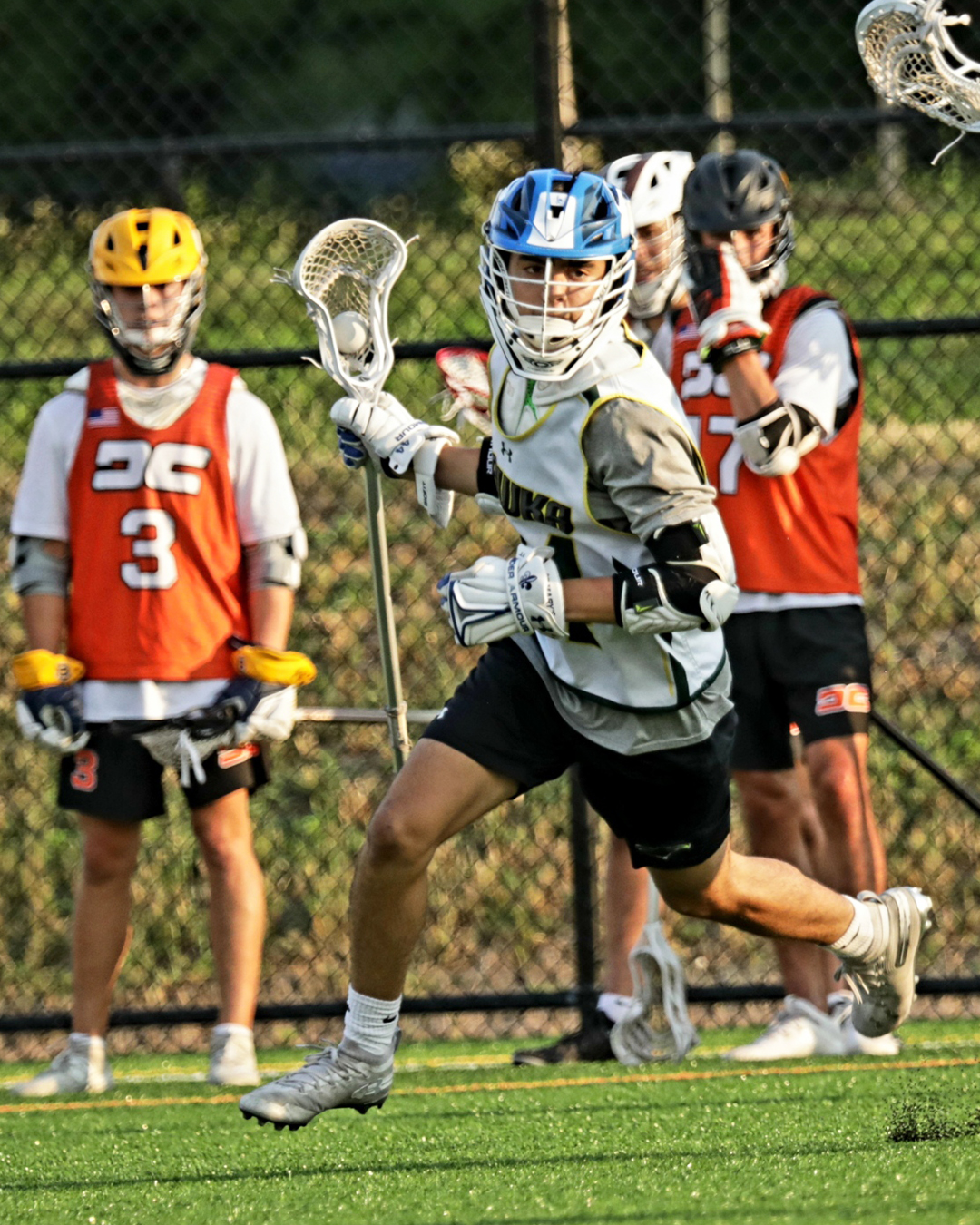 Follow the NLF on Instagram, Twitter, YouTube and Facebook.
The NLF Summer Kickoff takes place Monday-Wednesday at the Kirkwood Soccer Complex. We're taking a look at all of the 2021 and 2022 teams that will be in attendance.
2021
Top Commits 
Jacob Darrow, defense, Severn (Md.) / Navy (Highlights)
Dakota Gunter, defense, Archbishop Spalding (Md.) / Salisbury (Highlights)
Nick Kaufman, LSM, St. Mary's (Md.) / Johns Hopkins (Highlights)
Finn Kelly, attack, Archbishop Spalding (Md.) / Syracuse (Highlights)
Colin Shadowens, faceoff midfield, Severna Park (Md.) / Navy (Highlights)
Top Uncommitted Players 
Tyler Barnett, attack, St. Mary's (Md.) (Highlights)
A crafty lefty attackman with a very slick stick and a bottomless bag of tricks, Barnett has been a matchup nightmare in the early going, popping off for four goals against two-time defending NLF national champion DC Express in a recent game. The lefty can also come out of the box, and even though everyone knows he's going left, it rarely prevents him from getting to his spot. He's your guy if you're looking for a BTB specialist.
Bradley David, attack/midfield, Mount St. Joseph (Md.) (Highlights)
An elite athlete who's also a state champion wrestler, David is all over the field, making plays on both offense and defense. His between-the-lines ability is quite strong, and he's also one of the toughest players around.
Ben McKelvy, defense, DeMatha Catholic (Md.) (Highlights)
A rangy 6-4 defenseman who covers a ton of ground, McKelvy's aggressiveness is also a big plus, and he's often tasked with taking on opponents' top attackman. Because of his size, he's really tough for big, strong attackmen to score on, and he's also a problem on double teams, along with having advanced off-ball IQ.
Top Players 
Riley Figueiras, defense, St. John's (D.C.) (Highlights) NLF No. 26 '22
A terrific cover guy with No. 1 college defenseman potential, Figueiras has done quite well against a bevy of highly-regarded '22 attackmen, and his footwork and fluid hips are a big reason why. He's quite capable of pushing back against big, strong physical attackmen and he'll happily hit you with one of his great wrap checks, too.
Paul Garza, midfield, St. John's (D.C.) (Highlights)
A stocky, powerful midfielder with a hockey background, Garza loves to initiate contact as a dodger, and it's really tough for anyone to move him off his spot. A first-line middie for the Hawks, expect him to keep goalies busy with his shot.
Gavin Kelly, attack, St. John's (D.C.) (Highlights)
Perhaps the best athlete on a very athletic team, Kelly is a super acrobatic attackman with a fantastic quick stick who's money from inside. Toss a pass in his zip code in front and he's got it for a goal with his nose for the cage and inside handle.
Alex Ross, defense, Archbishop Spalding (Md.) (Highlights) NLF No. 17 '22
A 6-2 lefty who might top out at 6-4, Ross has been exceptional in the early going for the Hawks. It's rare to see defensemen that big who can move as well as he does, and he's adding more and more nastiness to his temperament. All of that, plus outstanding stickwork, make him an elite prospect.
Race Ripley, attack, Archbishop Spalding (Md.) (Highlights) NLF No. 28 '22
An extremely productive lefty quarterback type, Ripley isn't very flashy, but you can usually bank on a handful of points from him. He's a pass-first type with good vision to track down open teammates and the ability to finish from inside of 10 yards.