NLF Futures at IMG 2022 Standouts
Follow the NLF on Instagram, Twitter, YouTube, Facebook.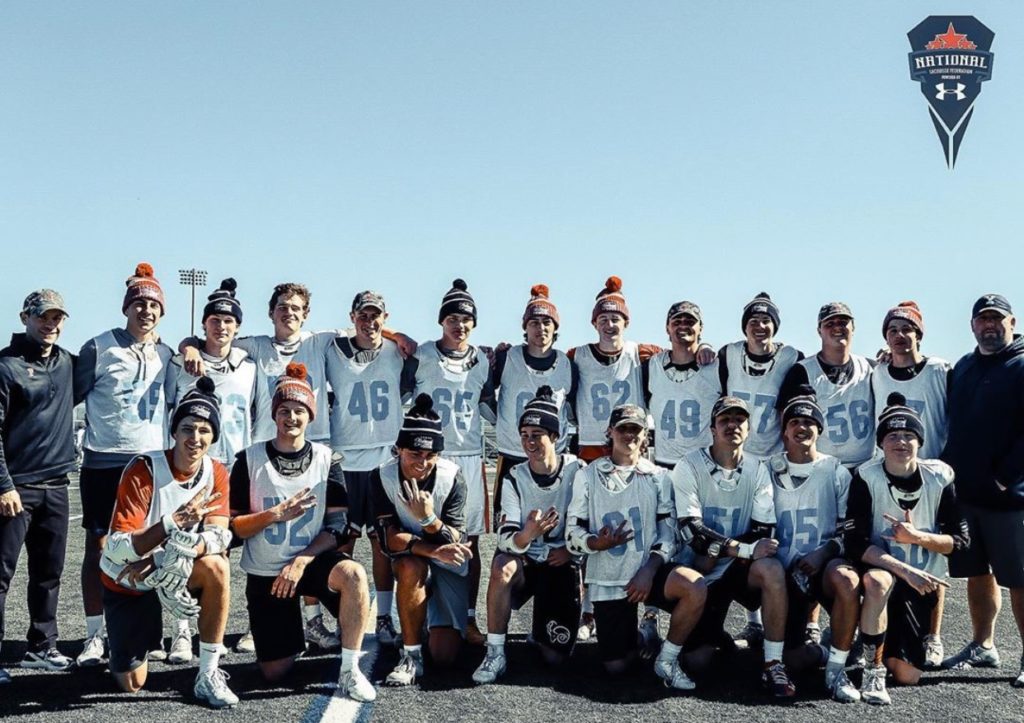 Aidan Maguire eyed up his matchup, then promptly put his foot in the ground and barreled down the right alley. Once he got to the spot he wanted, the Laxachusetts 2022 midfielder by way of St. Sebastian's (Mass.) effortlessly snapped home a high rocket to tie the NLF Futures at IMG 2022 championship game.
On the ensuing possession, Maguire tried his luck with the left alley and ripped a low shot that went five-hole on the goalie to give Maguire's Team 3 a lead it wouldn't relinquish en route to a 9-3 win. Maguire, who also set up Drew Filanowski (Joel Barlow, Conn. / Express North) for Team 3's first goal, later added another marker to finish the hat trick.
It was a dominant performance from Maguire, one that helped continue to prove his status as one of the nation's top '22 midfielders, but it took him some time to get there. He started off the event by not finishing chances that are usually automatic for him, and it took some perseverance to not discouraged and keep shooting.
Good thing he did.
"At first, they definitely weren't going the way I wanted to," Maguire said. "I haven't been shooting a lot lately, but being able to shoot with both hands is definitely a good thing to have. I definitely knew that practicing with both hands is something that will set me up in the future and having two hands is a really big advantage for a midfielder."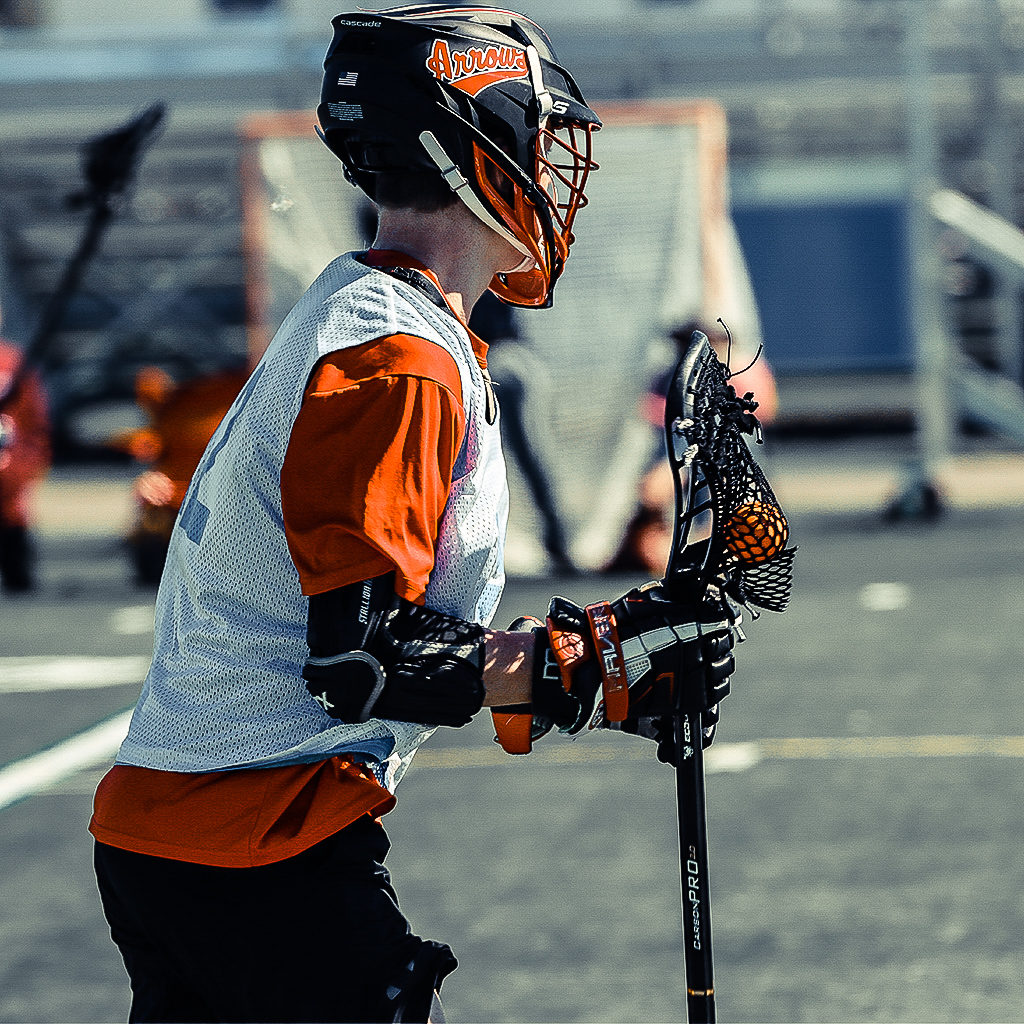 Maguire's two-handedness is one thing that sets him apart from so many players his age, and there's plenty to like about him as a well-rounded midfield threat. He keeps his head up when he dodges and can drop a pass into a tight window for a teammate, and he's got a great first step that allows him to blow by defenders and draw an early slide.
Maguire played first-line midfield for the Arrows' nationally-ranked team last spring, where he put up 16 goals and six assists in 19 games. Expect those numbers to skyrocket this year, and Maguire should expect to get a ton of attention on Sept. 1, when Division I college coaches can first reach out to the 2022 class.
Team 3 also benefitted from a dynamic goaltending duo consisting of Adam Blind (Culver, Ind. / Resolute) and Evan Sharp (Ridge Point, Texas / Team 91 Texas). Blind was particularly outstanding and prompted one college coach on staff to proclaim that, "he might be the best '22 goalie in the country." Blind, who will contend for the Eagles' starting job as a junior after current starter Michael Gianforcaro heads to Princeton, also earned comparisons to Gianforcaro, meaning that Culver's net is in good hands for the next few years.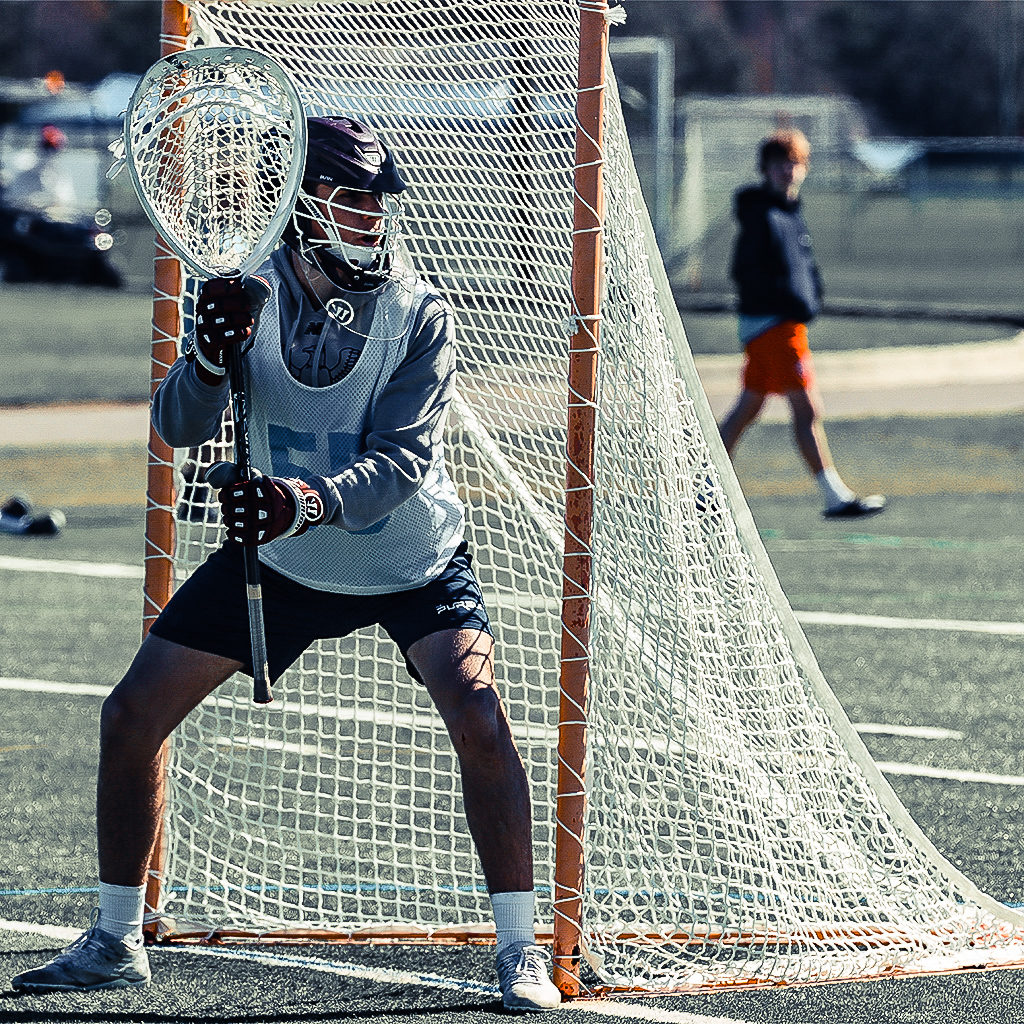 "I've been playing box all winter, so the first few hours, I needed a few shots to get back (to field), but after that, I was fine," Blind said. "I was really lucky to have a great defense on my team. We were able to get in there from the first game with no adjustment period. I consider myself pretty twitchy, but fundamental. I can stay back and wait for the shot, but I'm also not going to sit back on my heels."
Blind did an excellent job of backing up that self-scouting report by putting himself in the right position to make most saves look easy, but he also had a handful of saves that showed his potential as a game-breaking goalie. He, like Maguire, will be highly sought-after on Sept. 1, and they'll both go into the rest of the year having started it off with a title at IMG.
2022 Standouts from NLF Futures at IMG
(Listed alphabetically)
CLICK HERE for a photo gallery from the event
Lucas Baehr, midfield, McDonogh (Md.) / Crabs
Baehr has been a known commodity for the Crabs for some time, and he continued to add to his résumé with another strong showing at IMG. He battled injuries last year, but he showed that when he's healthy, he's a dynamic all-around midfielder with an absolute rocket for a shot. Turn and rake when he gets to step down, but he's also not afraid to put his head down and head to high-traffic areas to make a play, as you can see from the play above. He did a nice job defensively, too, and he's got the size and athleticism to thrive in transition.
Hugh Brown, midfield, McDonogh (Md.) / Crabs
You can't help but love to watch how hard Brown goes all over the field. He never shortchanges his team in the effort department and he's able to make a lot of things happen via his work ethic and ability to always go 100 percent. He's particularly good in transition and unsettled situations, and he showed a couple of times that he can uncork a nice shot on the run.
Brooks Byrnes, defense, Wooster (Conn.) / Prime Time
The Prime Time '22s are absolutely loaded to the gills defensively with Charlie Johnson (No. 5 in the '22 class), Kai Prohaszka (No. 28) and Byrnes, and each guy brings something different to the table. Byrnes announced his arrival to the event with a perfectly-timed detwigging on a double team, and he continued that great play over the weekend. He's not super flashy, but he understands team concepts really well, knows when and where to slide and showed that he could quietly and efficiently cover.
Ryan Colsey, attack, Ridgefield (Conn.) / Eclipse (Highlights)
Colsey posted a very balanced 46-45-91 line as a freshman for Ridgefield, and that offensive IQ was evident early on. He did a very nice job of converting on anything from eight yards and in, and he knows what his range is and doesn't try to overdo it. The lefty also keeps his head up and can squeeze in passes into tight windows, and the son of former pro Roy Colsey has a coach's son IQ and the ability to elevate the play of those around him.
Patrick Crogan, midfield, Lexington (Mass.) / Laxachusetts (Highlights)
Crogan was an absolute joy to watch all weekend as a versatile midfielder who flashed all over the field. He has plenty of offensive potential, but he was at his best as a guy who was excellent defensively and in transition. He was a magnet for the ball on the defensive end, and once he got the ball, there was no chance anyone was catching him in the open field. He creates a lot of his own luck with how hard he plays, and he was also an asset on the faceoff wings with his ability to sneak into the play and grab the ball.
Jojo Dean, midfield, Avon Old Farms (Conn.) / Mad Dog National (Highlights)
Dean was Team 4's top scoring threat out of the midfield, and he is a significant problem for teams once he gets going down the alley, displaying the ability to score almost at will when he got to his spot. He's not just a distance gunner, though. Dean is comfortable in traffic around the cage, makes little subtle moves to bait defenders and protects his stick well. The goal above – the game-winner to send Team 4 to the final – showed a lot of what he can do, particularly if you don't slide to him.
Matt Dollive, midfield, Wall (N.J.) / Leading Edge
Dollive was more or less a lefty version of Brady West – see below – as a big midfielder who could run well and impact the game in a handful of ways. You can tell that Dollive has more confidence about putting together an outstanding fall with Leading Edge, and he understands how to do a lot of little things well, like where to go when getting back in transition, how and when to double team defensively, and being both an initiator and a scorer from up top. Dollive does an outstanding job of finding the backside guy when he dodges from up top. There were times where he could have been more assertive offensively, but showcase settings aren't always easy for everyone. Despite that, he showed that he's got a ton of upside and has all the tools to be a big-time middie.
Colm Flynn, goalie, Chaminade (N.Y.) / Long Island Express Channy (HIghlights)
Flynn wasn't the biggest goalie at the event, but he found a way to make what had to be the most highlight-reel saves on 1v1s in tight. He has ridiculously quick hands and tracks and attacks the ball well, and he moved almost effortlessly when going from post to post. Flynn communicated well with his defense and did a nice job in the clearing game with mostly short, on-point passes. Expect him to start for Chaminade's loaded JV team this year, and he could be next in the Flyers' assembly line of exceptional stoppers.
Charlie Johnson, defense, Brunswick (Conn.) / Prime Time (Highlights)
The No. 5 recruit in the class and the top-ranked defenseman, Johnson continued to cement his status as an elite player who will be one of the most coveted players in the nation on Sept. 1. There aren't any glaring flaws in his game as he's a good-sized, technically-sound defenseman who loves to mix it up physically, and he has a terrific stick to both cause turnovers and snag ground balls. He can bounce around from defense to LSM to cover the other team's No. 1 threat, and he and top-ranked Joey Spallina had an awesome battle in an early game. Johnson isn't shy about getting up and out in transition, and he even had a sick behind-the-back goal to highlight his offensive game.
Jimmy Kohr, attack, Central York (Pa.) / Team 91 Maryland (Highlights)
Goal scorers with exceptional hands are always in high demand, so you can expect Kohr to be a hot commodity with his ability to handle the ball and finish in traffic. While he's a natural righty, he showed that he could consistently make plays as a lefty. Kohr doesn't need much time and room to get a quality shot off, and he placed the ball very well. He didn't carry the ball a ton, so that might be an aspect of his game to work on, but he has to be in the conversation about the best pure finishers in the class.
Chuck Kuczynski, defense, Allentown Central Catholic (Pa.) / Big 4 HHH
A lefty with great size and stickwork, Kuczynski flashed a ton and it's hard not to notice him. He played tenacious on-ball defense and gave attackmen fits with his ability to get his stick on their hands. He also had a couple of clears where he ran by and around guys before finding someone to dump the ball off to. Kuczynski will be a four-year starter for the Vikings, and he's got the temperament and skill to be a major recruit.
Matthew Minicus, attack, Darien (Conn.) / Eclipse
The No. 23 prospect in the class, Minicus makes everything look easy, whether it's when he's handling the ball, dodging defensemen or feeding. He did a good job of popping to open spaces, and he was as adept as a feeder as he was a finisher, and he's just smooth across the board. Minicus is at home when he's got the ball in his stick and can control the offense, and there's no doubt that he's on the fast track to being the next great offensive player from Darien.
PJ McKeigue, LSM, St. Sebastian's (Mass.) / Laxachusetts (Highlights)
Watch McKeigue's team play for about four seconds and you'll notice him. He's a very flashy player who thrived at the LSM spot all weekend long with caused turnovers, clears where he dusted everyone and even some goals. McKeigue is incredibly disruptive in the middle of the field and your stick is never safe around him. He's got good size, can run with just about anyone and did a nice job of covering midfielders, but he really shines as a havoc creator who will torment offensive players. He had a particularly impressive play where he grabbed a ground ball, outran everyone and scored on a bouncer.
Aidan O'Neil, attack, Tabor (Mass.) / Laxachusetts (Highlights)
O'Neil, who was fourth on Tabor in points as a freshman with a 17-16-33 stat line in only 12 games, slotted into the No. 9 spot in the first NLF '22 rankings, and the big attackman more than backed up that lofty billing. He was very much at home at X with the ball in his stick, where he both took his man to the rack with regularity and also dumped off passes to open teammates after drawing double teams. He had a sweet BTB goal in traffic that flashed his creativity, and he's an absolute handful to cover with his combination of size, lacrosse IQ, scoring and feeding ability.
Jack Rideout, faceoff midfield, St. Sebastian's (Mass.) / Laxachusetts (Highlights)
Rideout started at the X as a freshman for the Arrows' nationally-ranked team last year, and St. Seb's is in good hands for the next three seasons with a player who continues to add polish to his game. Rideout was far and away the most dominant faceoff man at the event, using his hand speed, explosiveness and an array of exits to own the dot. He continues to improve his stick and runs really well, and he showed a few times that he warrants a slide when he's barreling down on the goalie by snapping home some goals. Rideout did a nice job of finding his point man on the break, and he'll be a major problem as he continues to improve his dodging.
Race Ripley, attack, Archbishop Spalding (Md.) / Annapolis Hawks (Highlights)
A crafty lefty with a knack for scoring goals, Ripley was great from eight yards and in, and he did an outstanding job of getting a sliver of space in tight to get his hands free. He contorted his body well in small spaces and really understands where to go and how to finish, and it's clear that he's played a good amount of box lacrosse. Ripley also found teammates for open looks, but he's at his best finishing around the cage.
Joey Spallina, attack, Mount Sinai (N.Y.) / Team 91 Smash (Highlights)
Yep, turns out Spallina is still great. After years of predominantly working as an off-ball attackman when playing up two years with Team 91's 2020 Crush team alongside No. 1 '20 Brennan O'Neill and No. 2 '20 Xavier Arline, Spallina slotted into the role that he plays in high school, which is that of a ball-dominant attackman. The No. 1 player in the class loves to post up defenders, which gives him an opportunity to uncork a wealth of different shots – like his preferred BTB rip – but he also does an excellent job of drawing the double team and dumping it off for an easy tap-in. He can overpower defenders with his strength and he only needs a sliver of space to make you pay. To top it off, he LOVES to ride and doesn't give anyone a free clear, and he had a handful of caused turnovers that turned into goals or great chances because of how hard he rode.
Mikey Trepeta, defense, Mount Sinai (N.Y.) / Team 91 Smash
Trepeta, the No. 19 prospect in the class, was on the same team as PJ McKeigue, and he was the perfect complement to the Boston bull in a china shop as a great cover man with an elite stick. Trepeta doesn't throw a ton of checks, but he does an excellent job of mirroring attackmen and making them pass out of the matchup. He did a great job of holding O'Neil off the stat sheet in the championship game in an excellent battle of two of the class' elite, and he also took faceoffs and made grabbing ground balls in traffic look effortless. Expect him to be a major factor for the Mustangs this spring.
Matt Waterhouse, midfield, Briarcliff (N.Y.) / Prime Time (Highlights)
Draw up a midfielder in a lab and he might come out looking a whole lot like Waterhouse. He's got great size at about 6-2, 175 pounds, and he's also got a very explosive first step to go along with almost unlimited shooting range. The No. 17 player in the class is a major problem for defenses once he decides he's getting downhill, and he can also eat checks to make plays in traffic. A varsity starter since eighth grade who popped five goals, including the overtime winner, in the sectional championship game last year, Waterhouse has all the makings of a major recruit.
Brady West, midfield, South Side (N.Y.) / Team 91 Smash (Highlights)
One of the things that really stood out about West was his ability to get involved and make plays all over the field when his shot wasn't finding the back of the net early on. He'd get to where he wanted to go offensively, but had some kind of voodoo magic working against him. It didn't matter, because the big middie was outstanding defensively and in transition, and then eventually, he started to find twine. West impacts the game in so many different ways and is the type of midfielder that every team needs. He can score or feed, play good on-ball and off-ball defense, and he's a load to stop in the open field, as well as as a shooter down the alley. Nobody wins at IMG like he does, either, as he racked up his third straight championship at the NLF Futures event.
Harrison Winter, midfield, Horace Mann (N.Y.) / Long Island Express Channy
Winter helped Team 4 reach the title game as a glue guy that fits in anywhere on the field, but particularly on defense and in a scrum for a ground ball. He has solid size and a knack for coming away with the rock from a pile, and he showed that he could get the ball up and out in transition. Those abilities really popped on the faceoff wings, and if he can add more to his offensive game, he'll be a dynamic two-way threat.
Honorable Mention
Collin Campbell, attack, Sanford (Del.) / Team 91 Maryland (Highlights)
Lucca Cassagrande, defense, Milton (Mass.) / Laxachusetts
Nick Golubov, faceoff midfield, Saint Andrew's (Fla.) / SweetLax Florida (Highlights)
Connor Guerrero, LSM, San Clemente (Calif.) / Crabs (Highlights)
Jordan Ito, midfield, Hudson (Ohio) / Juiced Cherries (Highlights)
Ryan Lyngklip, defense, Detroit Country Day (Mich.) / Juiced Cherries (Highlights)
Tyler Marmo, attack, Avon Old Farms (Conn.) / Leading Edge (Highlights)
Justin McMahon, attack, Chaminade (N.Y.) / Long Island Express (Highlights)
Tyler McCarthy '23, midfield, Connetquot (N.Y.) / Team 91 Bandits
Ryan Nagle, attack, Duxbury (Mass.) / Laxachusetts (Highlights)
Jack Parker, midfield, Porstmouth (N.H.) / 4 Leaf (Highlights)
Luke Rhoa, midfield, St. John's (D.C.) / Crabs (Highlights)
Evan Sharp, goalie, Ridge Point (Texas) / Team 91 Texas (Highlights)
Julian Targete '23, midfield, Belmont Hill (Mass.) / Laxachusetts (Highlights)
Michael Weisshaar, midfield, Archbishop Spalding (Md.) / Annapolis Hawks
Jaz Zanelli, goalie, Seton Hall Prep (N.J.) / Leading Edge
Hopper Zappitello, attack, Sunset (Ore.) / Legends (Highlights)