NLF Opening Weekend 2020 Standouts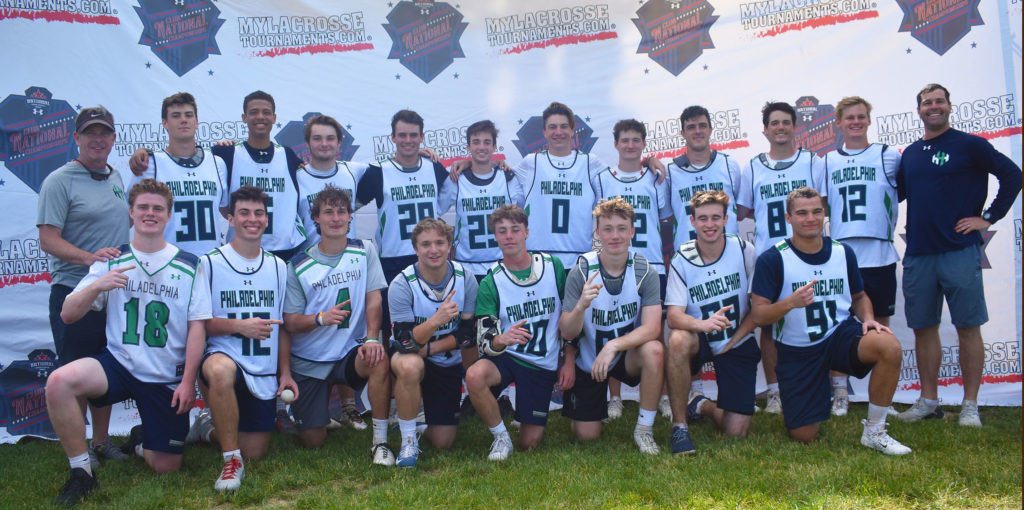 Follow the NLF on Instagram, Twitter and Facebook. 
Jeb Brenfleck had the ball in overtime of the 2020 final of the NLF Opening Weekend with a chance to be the hero and… missed the net.
Given another opportunity to come through, the Big 4 HHH attackman and Saint Joseph's commit didn't make the same mistake twice. He wired home a low shot home to give the Philly NLF original member a thrilling 8-7 win over the Baltimore Crabs to secure the program's first high school NLF title.
"Just before that, I missed one wide of the goal after it got deflected," Brenfleck said. "Then I saw (Holy Ghost Prep's) Ben (Morschauser) at X with a shortie and my defender was slumped in, so when I caught the ball, I was just thinking, 'shoot it around him and hopefully, the goalie won't see it,' and I'm just fortunate."
It was a monumental win for Big 4 HHH, which hadn't threatened for a title before at this age group before bulldozing its way to a championship game after beating Long Island Express in the semifinals. The group came together after losing to Team 91 Crush in the final round-robin game and the Crabs came out of the other side by shocking Crush by a goal and they led early in the final, but Philly's finest marched its way back, thanks to big games from the likes of Brenfleck, his Academy of the New Church teammate Griffin McGinley in goal, Haverford (Pa.) midfielder Jack Leary and Springfield (Montco) midfielder Paul Richardson, among others.
"Over the years, we've had our fair share of losses and we've gotten beat down in past years," Brenfleck said. "Last Saturday, though, we had a mini-camp practice and we were looking sharp in that and we came out ready to go (Sunday). The offense was working it around, the defense held it down and Griff made some amazing saves."
That he did, all tournament long. The lefty three-year starter for the Lions hasn't garnered much recruiting interest yet, but if he keeps playing like he did this weekend, schools will be rushing to get to him. Maybe it's all of the experience that he has, but McGinley never looks rattled and always finds a way to keep his composure in big moments. He cut down angles well and made a bushel of great saves, including one outrageous 1v1 save on the crease to keep a slim lead in the semifinals against Express.
"High school season went pretty late, so I was dialed in. I saw a lot of shots in high school, so that really helped here," McGinley said. "It's not easy going against all of these committed guys, but it's fun, and it's fun when you have a good team. You just have to keep rolling and I'm happy just as long as we keep winning."
It helps to have that good team around him, and one of Billy McKinney's top uncommitted players that should be in high demand is Richardson. A tall, athletic midfielder who can go coast-to-coast in a flash – and did twice against Express – Richardson is a prototypical midfielder in terms of size, speed and athleticism. He showed that he can play defense, too, with a big caused turnover in the final, and there's little doubt that he'd be a fine late acquisition for a Division I program.
"I've mostly been trying to get better all around, but one thing I tried to work on that I think I showed in this tournament was my lefthanded dodging and shooting," said Richardson, who buried 53 goals this year and holds his school's mark for career goals with 135 with a season to play. "A bunch of my goals (Saturday) were lefty and I figured that everyone in this tournament is going to give me my weak hand, so I might as well go ahead and take it."
Might as well go ahead and take that title, too.
 2020 Standouts from the NLF Summer Showcase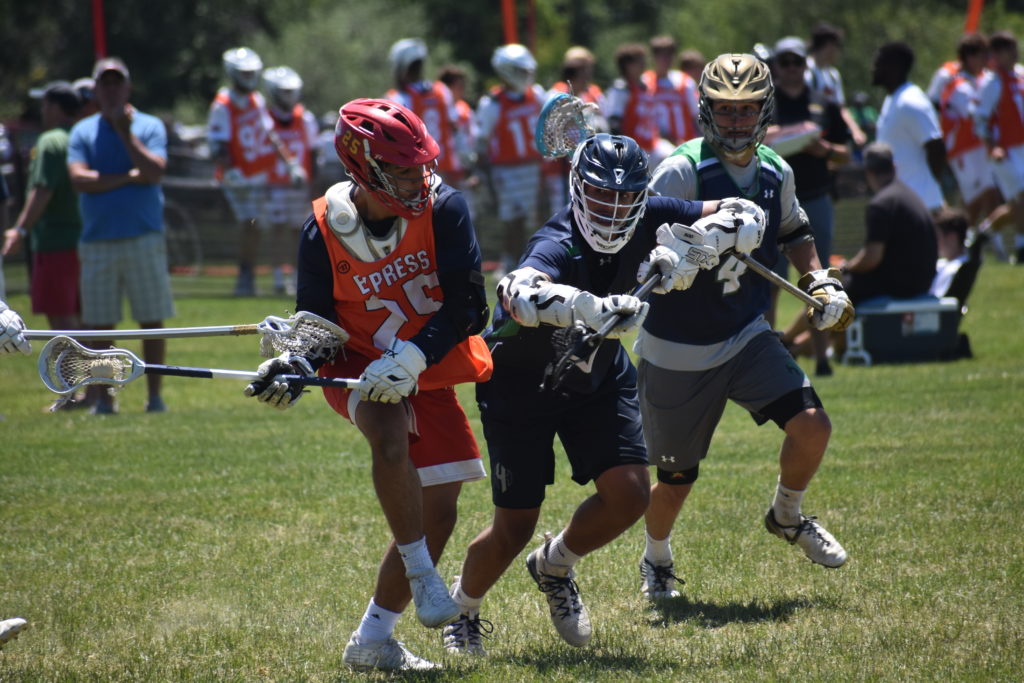 James Ball, faceoff midfield, Chaminade (N.Y.) / Long Island Express – Yale.
There's not much left to be said about Ball – who has a great case to be considered the No. 1 faceoff man in the 2020 class – but he just continues to dominate every time out. After taking some faceoffs and serving as a second-line midfielder this spring, where he popped 12 goals against an insanely difficult schedule, the future Bulldog was exceptional for the Express. He was a perfect 15-for-15, combined with a hat trick, in the Express' opener, and he rarely lost the rest of the way. Ball has the stick skills, quick hands and strength to go up against anybody, and he'll be Chaminade's starting faceoff man next year.
Collin Bergstrom, defense, Roxbury Latin (Mass.) / Laxachusetts Black – Brown. Highlights.
Though Bergstrom probably projects as a close defender at Brown, he also has the ability to play up top and cover shifty midfielders. He has excellent footwork and strength, and his superb stickwork stands out even in a loaded crop of '20 defensemen. An honorable mention All-ISL selection this spring, he routinely wins 1v1 matchups against top attackmen.
Cory Capri, attack, Glenn (N.Y.) / Team 91 Orange. Highlights
There's no doubt about who 91 Orange's go-to offensive guy is. Capri effortlessly runs the show from X, and he's got terrific change-of-direction ability and shiftiness. Once he gets his look, he can dip his shoulder and turn the corner as well as anyone, as he proved this spring with a 50-goal, 84-point season for Glenn. When he gets the ball, defenses start sliding early, but he showed that he's equally adept at dumping the ball off to the open space to create a scoring chance for his teammates.
Logan Darrin, LSM, Brunswick (Conn.) / Prime Time – Harvard. Highlights.
A high-level athlete tailor-made for the LSM position, Darrin can do a little bit of everything. Everything he does is smooth, and he can turn and run with just about any midfielder. He had a very impressive sequence against Thunder LB3 where he hammered the ball out and corralled it in one motion at the midline, then later added a solid pop on an unsuspecting middie in the middle of the field. He effortlessly snags up ground balls and is an absolute pest in coverage.
Collin Euvino, midfield, Mendham (N.J.) / Leading Edge Elite
Euvino excels as a short-stick defensive midfielder, and you can tell that he absolutely embraces the role and takes everything about it to heart. He is incredibly tough and has no fear about going to get ground balls, and he often manages to come out of piles with the ball. He'll take faceoff wings and he is very good at steering midfielders off their spot and to where he wants them to go.
Jonathan Feinberg, defense, Cold Spring Harbor (N.Y.) / Long Island Express
A very quick and tenacious defender, the 6-1 Feinberg was all over the field for the Express, racking up a bushel of ground balls and a bunch of caused turnovers. He started at LSM for Cold Spring Harbor this spring, so he has the versatility to play anywhere on the defensive end of the field, and his aggressiveness and ability to take the ball away didn't go unnoticed.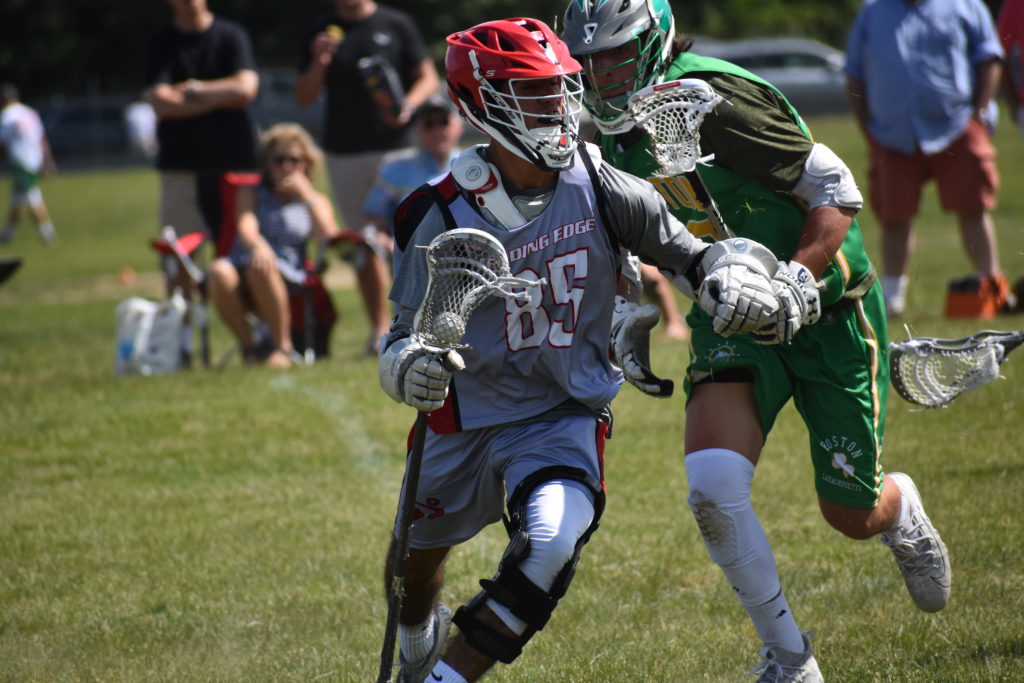 Mike Lenskold, faceoff midfielder, Bridgewater-Raritan (N.J.) / Leading Edge Elite
A newcomer to a very good Leading Edge team, Lenskold was a beast at the faceoff X for the Jersey boys. He consistently won the clamp and was able to exit cleanly, and he made good decisions with the ball in his stick when he won it forward. Often, he opted to win it backward to himself, but then was able to run away from pressure. He was particularly good in an early game against Laxachusetts, winning what must have been close to 90 percent of his draws.
Russ Maher, attack, Mount Sinai (N.Y.) / Long Island Express – Virginia. Highlights.
Maher had a monster year for the Mustangs, piecing together a 64-goal, 81-point campaign, and he picked up right where he left off. He's excellent at finding different ways to score and has a hard, accurate shot, and he can really do damage above the cage. Contact doesn't bother him, and he showed time and time again that he can finish in tight with the best of 'em. Defenses always have to account for him.
Judge Murphy, attack, Brooks (Mass.) / Laxachusetts Black. Highlights
Murphy started the weekend off hot with a great performance in Friday night's showcase, and he kept it going all weekend long for LXC. He's an excellent lefty X attackman type who finished fifth in the ISL with 67 points, including 43 goals. His handle in tight is rivaled by few, he's adept at finding open teammates and he's a willing and able rider. Murphy showed that he can get inside and finish, but he's also got the range to let it fly and be a consistent threat from 10-12 yards.
JT Morton, goalie, Boys' Latin / Crabs – Highlights
The uncommitted Morton stole the show against the stacked Team 91 Crush team in the semifinals. George Alvarez (St. John's, D.C. / Navy) was great in his own right in the first half, but Morton was out of of this world in the second half, making what must have been double-digit saves and only ceding one goal with less than two minutes to play. Morton, who started this year for the powerhouse Lakers, was unbeatable low, showing quick feet and fast hands, and he looked in control of the defense both in set situations and in the clearing game.
Dane Reda, midfield, Mattituck (N.Y.) / Team 91 Crush – Highlights.
Reda is one of the few remaining uncommitted players from the Crush squad, but that won't last if he keeps playing the way he did this weekend. With Joe Spallina's squad losing a couple of middies to injury, Reda stepped up big-time, making a bevy of nice plays in transition. He's noticeably bigger and faster, and he looked more poised in tough situations. Reda managed to get his stick on a handful of tough ground balls, too.
Nick Rossi, attack, Somers (Conn.) / Express North – Lafayette
Rossi has exceptional quickness and change-of-direction ability, and he gave defensemen fits all weekend long because of it. Asking a defenseman to stay between him and the cage with regularity at X is quite the request, and he was able to turn the corner and finish on a consistent basis. He torched Big 4 HHH for a first-half hat trick, for one, and filled up the stat sheet all weekend long. He put up 40 goals and 32 assists this spring for Somers, a testament to his ability to find open cutters with his feeds.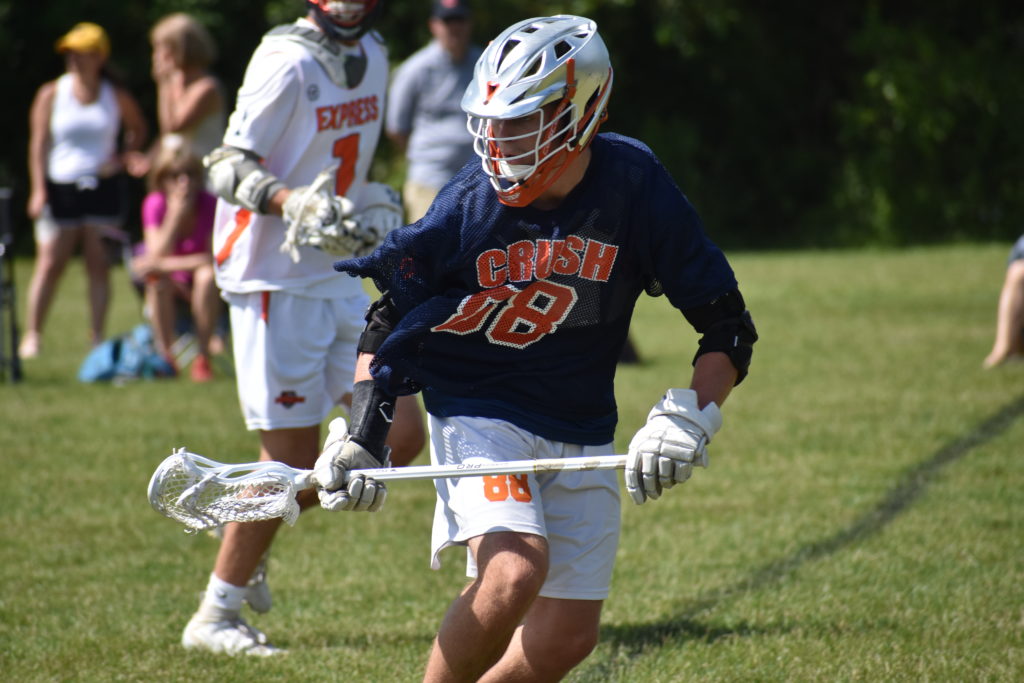 Jack Stewart, midfield, Moorestown (N.J.) / Team 91 Crush – Air Force
Another under-the-radar guy on Crush, Stewart did a great job of leading the defensive charge from the midfield unit. He's not flashy, but he does a great job of understanding his role and doing the little things. He'll go muck it up for a ground ball and did a great job of forcing midfielders into low-percentage chances. He did rack up 20 goals and 10 assists in his first year at Moorestown this year, so the offensive skill is there, but he really thrives as a two-way mid who can be a force on ground balls. 

Dane Swanson, midfield, McDonogh / Crabs – Navy. Highlights
Swanson is a bull in a china shop once he gets going downhill. If you let him get a step forward, you're in trouble, because he packs a massive frame with a heavy, accurate shot. He scored in bunches all weekend, and he can place the ball just about wherever he wants. If his hands are free, you're turning and raking. He had a bomb from the right wing against Thunder LB3 and added a nifty rip to the bottom corner in the semis against 91. A terrific alley shooter and someone who will help Navy a ton.
2020 Honorable Mention
George Alvarez, goalie, St. John's (D.C.) / Crabs – Navy. Highlights
Evan Barr, goalie, Somerville (N.J.) / Leading Edge Elite – Duke.
Jackson Bonitz, defense, McDonogh (Md.) / Crabs – Navy
Jeb Brenfleck, attack, Academy of the New Church (Pa.) / Big 4 HHH – Saint Joseph's. Highlights.
Matt Brock, faceoff midfield, Perkiomen Valley (Pa.) / Big 4 HHH – Rutgers. Highlights.
Aidan Decker, midfield, Chatham (N.J.) / Leading Edge Elite. Highlights.
Jack Leary, midfield, Haverford (Pa.) / Big 4 HHH. Highlights.
Stephen Krug, goalie, Iona Prep (N.Y.) / Express North
Brendan McCabe, defense, Chaminade (N.Y.) / Long Island Express – Michigan.
Jack McCarthy, defense, Connetquot (N.Y.) / Team 91 Orange
Alex Stepney, attack, Loomis Chaffee (Conn.) / Prime Time
JP Ward, attack, McDonogh (Md.) / Crabs – Furman. Highlights.