NLF National Championships 2020 Standouts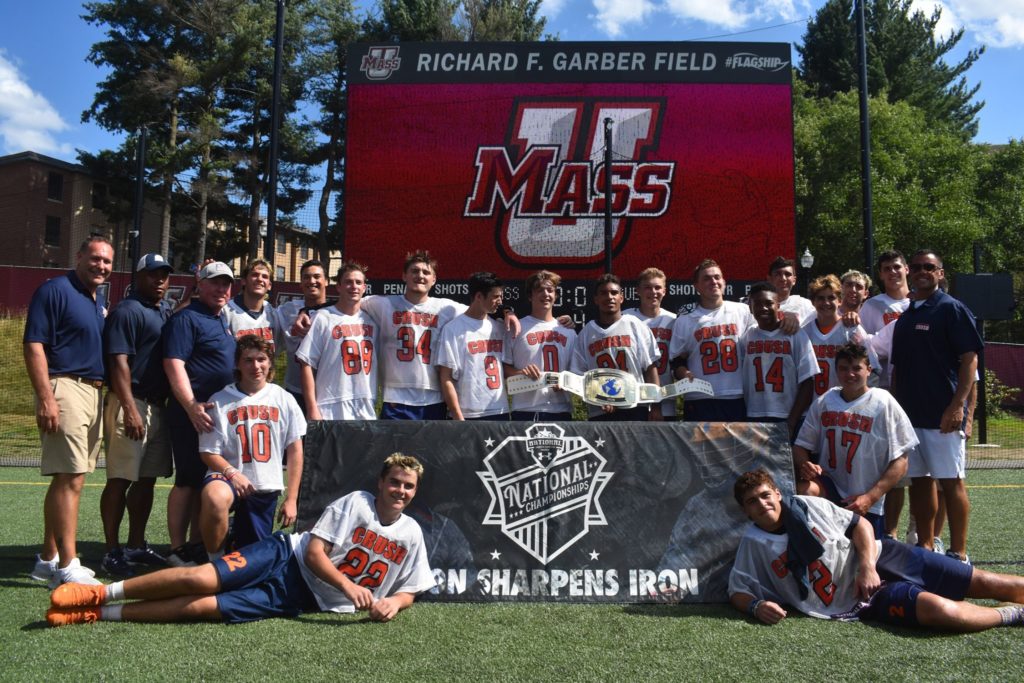 Follow the NLF on Instagram, Twitter and Facebook. Click here for the list of college coaches who attended the NLF National Championships. Click here, here and here for Facebook photo galleries. Standouts are listed in alphabetical order. Click here for the list of 2021 and 2022 standouts. 
You can rattle off a lengthy list of things that contributed to Team 91 2020 Crush being considered one of the best club teams ever assembled.
There's plenty of talent at every level of the field, led by the likes of Brennan O'Neill (St. Anthony's, N.Y./Duke), the No. 1 recruit in the 2020 class and one of the best high school players in lacrosse history. The continuity, which has seen most of the players together since Day 1 in elementary school, definitely helps, as does the work ethic and coaching.
One of the most impressive things, though, is that Crush doesn't find itself looking at opponents and figuring out what needs to be done to get the win. Rather, it focuses on what it can do right, and when those things add up, they usually do so in a hurry. It was no surprise when Crush won its second straight national title, this time via a 13-3 win over an outstanding Laxachusetts Black team, but how they did was even more impressive.
"Coming into this game, we weren't really focusing on them," said midfielder Brett Martin, a Johns Hopkins commit by way of Half Hollow Hills East (N.Y.). "We were more focusing on us, and if everyone does their job on our side, we don't have to worry about them. We executed the gameplan and came out by 10. We've been together for years, so the chemistry on this team is like second nature. When everyone's moving at the same pace, it's like poetry in motion."
It certainly is. Team 91 had to battle back from a pair of second-half deficits against the New England Tomahawks in the quarterfinals, but rolled before and after that. When that team is on, there's not much that you can do about it. It also doesn't hurt to have guys like Martin, a midfielder who excels on defense and in transition who's unafraid to take on the dirty jobs for the betterment of the team. It's a testament to a team that has worked together for so long and has been put into every kind of situation possible.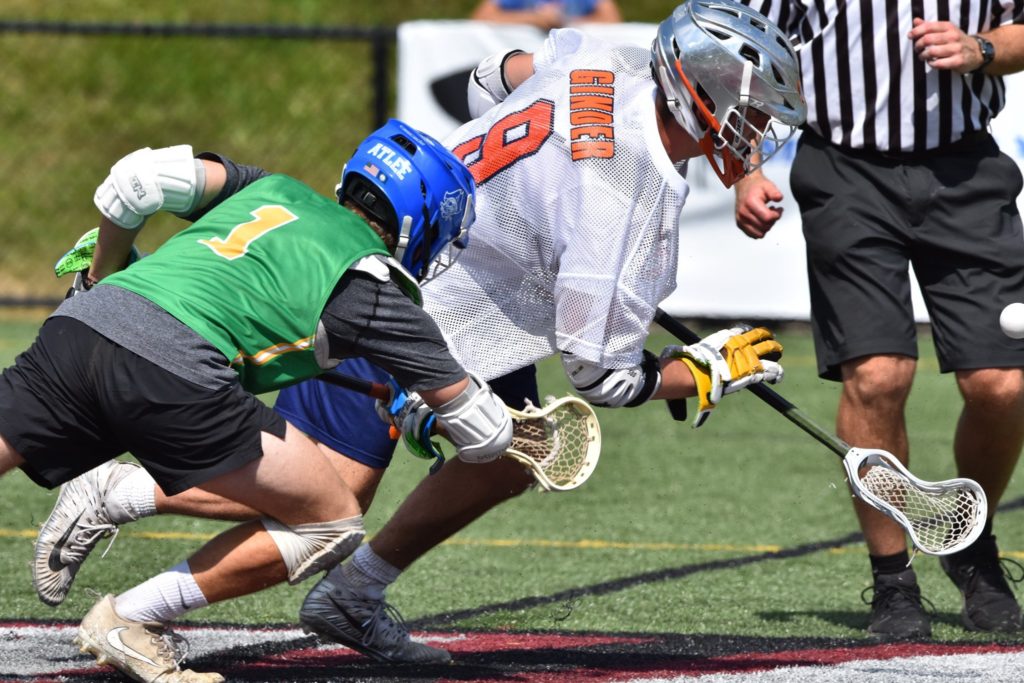 "It's been a long time with these guys, and it was a really good experience," said faceoff midfielder Koby Ginder (Brunswick, Conn./Princeton), who was lights-out in the semifinals and final against strong competition. "I think we play really well together, and it makes everything so fun."
There's always a target on your back when you're the No. 1 team in the country, particularly for a team that has won so many tournaments and that boasts 20 Division I commitments with a pair of underclassmen who are locks to join them in 2021 midfielder Andrew McAdorey (St. Anthony's, N.Y.) and 2022 attackman Joey Spallina (Mount Sinai, N.Y.). Despite that, it's been something that the Crush has relished and they've looked forward to getting everyone's best shot.
"It's been great playing with the best guys from all around playing the best competition," McAdorey said. "It's been special playing with them for so long. Everyone knows where each other's going to be, no matter where they are. You don't need to even see it anymore. You can just feel where they are and it's a special thing."
"It's a really good way to cap off an awesome 10 years that we've had together," said defenseman Nick Caccamo, a Yale commit from Harborfields (N.Y.). It's been truly life-changing. Growing up and being part of this since third grade, constantly learning lessons on and off the field, and getting to end it the way we did was the perfect ending."
Can't ask for much more than that.
2020 Standouts
Ricky Amorim, LSM/defense, Springside Chestnut Hill Academy (Pa.) / Big 4 HHH – Providence. In addition to his usual defensive duties, Amorim also picked up faceoff work throughout the tournament for Big 4 HHH, which was short its usual faceoff man. Amorim performed admirably, considering the circumstances, but he shines brightest on the back end. He's never met a check that he won't throw, and you always have to account for him when your team has the ball. Otherwise, it's on the ground and going the other way.
James Ball, faceoff midfield, Chaminade (N.Y.) / Long Island Express – Yale. What can be said about Ball that hasn't already been talked about at length? He may very well be the best faceoff man in the 2020 class, because there aren't many guys who can consistently win the matchup at the X and then run midfield afterward. Ball had a game-winner in the round robin where he contorted his body up the sideline to catch a ball, then swept around down the alley and tossed one in high to seal the win. He probably won't get a ton of midfield runs as a Bulldog because Yale has so many options around him, but he's going to be a big-time college player after his lone season as Chaminade's starting faceoff man next spring.
Collin Bergstrom, defense, Roxbury Latin (Mass.) / Laxachusetts Black – Harvard. A rare five-year varsity starter for Roxbury Latin, Bergstrom flipped his commitment to the hometown Ivy school right after the event, giving new Crimson coach Gerry Byrne a cornerstone for his 2020 defensive class. Judging by what Byrne has been able to do with defensemen at Notre Dame, we like Bergstrom's chances of making a big impact. He's got the size, nasty disposition and pure athleticism to be an extremely effective cover guy at the next level.
Jackson Bonitz, defense, McDonogh (Md.) / Crabs – Navy. Bonitz recently made quite the impression at the U.S. U19 camp, making the cut to the 32-man training roster, and it's not hard to see why. He very much looks the part of a future Navy defenseman, combining size, speed and athleticism, and you can tell that he's a linebacker on the football field with the way he plays. He was the leader of the Crabs defense and seemed to be the one putting guys in the right place.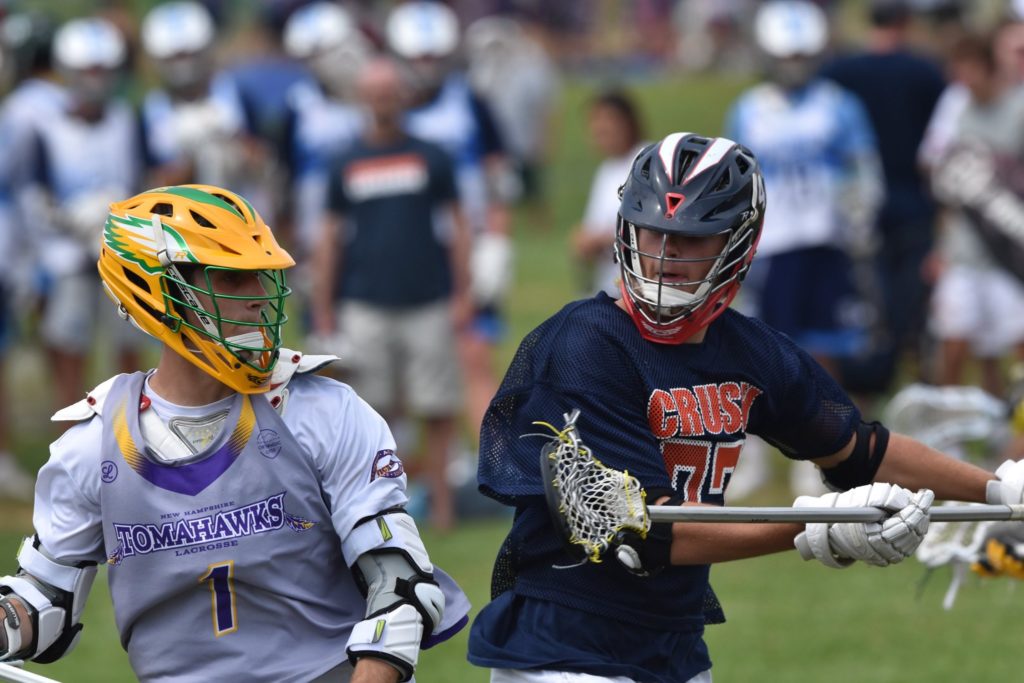 Sean Cameron, midfield, Bishop Guertin (N.H.) / New Hamsphire Tomahawks – Princeton. If you like watching players who can make basically everyone else on the field look like they're running in cement, Cameron is your guy. He's got great change-of-direction ability to go along with great top-end speed, and being a coach's son, has a very high lacrosse IQ. He doesn't have the size that his brother, Brian, an attackman at North Carolina, has, but he makes up for it with his shiftiness and ability to consistently get open. Cameron was particularly good in the quarterfinals, burying a hat trick against tournament champion Team 91 Crush.
Michael Chabra, midfield, Austin Prep (Mass.) / Laxachusetts Black – Providence. Chabra capped off a great summer with another electric performance for Boston's finest. He's a terrific shooter out of the midfield with either hand, and he's particularly good on stepdowns or when going north and south. He's noticeably bulked up and it shows in his game, where he can now combine his trademark quickness and explosiveness with added muscle to eat checks and stand his ground.
Eric Dobson, midfield, Fleming Island (Fla.) / SweetLax Florida – Notre Dame. There haven't been many 2020s who have seen their game take off more in the past year to 18 months or so than Dobson. It's so tough to cover him because, to start, how often do you see a 6-6 midfielder who can move like him and shoot like him? He's blossomed into a versatile threat after starting his career as a stand-and-shoot guy, and now he can dodge to feed and absolutely shoot bombs on the run.
Mason Drouin, midfield, Pinkerton (N.H.) / New Hampshire Tomahawks – Bryant. Drouin buzzes up and down the field with ease, but he's particularly lethal as a downhill dodger who can get to his shot down the alley with either hand. He put up two goals and an assist against the Crush, and he's got the size and strength to bully his way through to where he needs to get.
Kai Kelly, attack, IMG Academy (Fla.) / Legends West – Kelly's been flying under the radar, but he's going to field some calls after his performance last weekend. The IMG product handles the rock like a Canadian in tight, which makes sense, considering that he has an extensive box background. He snapped home some highlight-reel goals throughout the weekend, showcasing a lightning-quick release, and he was one of the more productive attackmen at the tournament.
Cole Krauss, defense/LSM, Delbarton (N.J.) / Leading Edge – Duke. The future Blue Devil lived up to his lofty hype yet again, both as a cover guy and as someone who can put the ball on the ground and get it going the other way. The lefty was everywhere picked up a lot of confidence from making the 32-man U.S. U19 tryout roster, and it's clear that he's nowhere near a finished product yet. His size, speed and athleticism, along with a great stick, will help him compete for early minutes at Duke, and he's taken the next step in his development.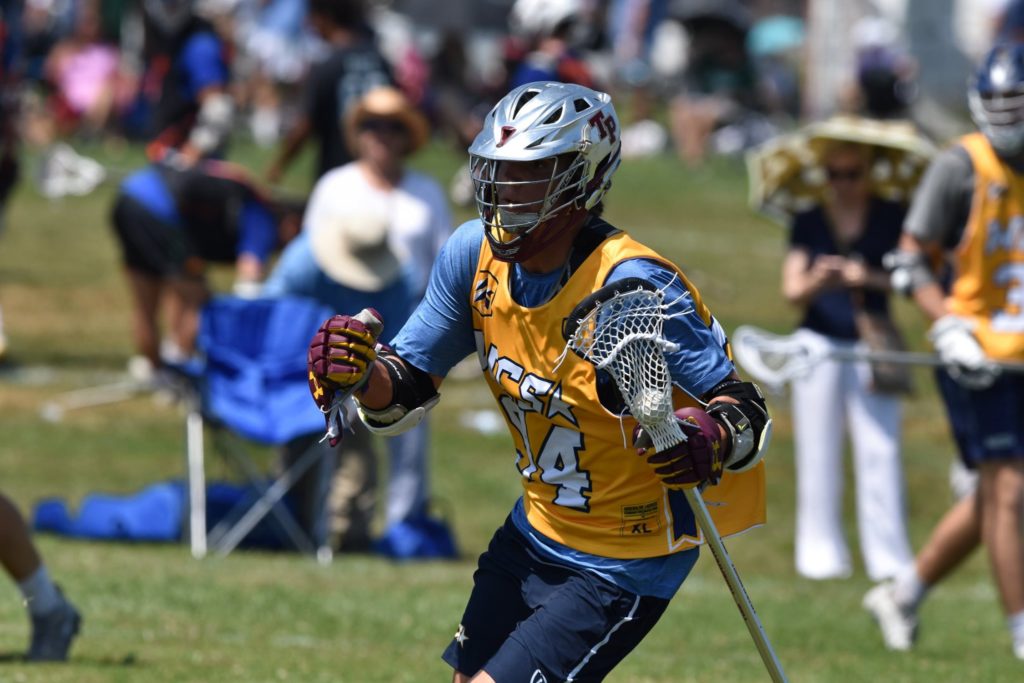 Porter Hollen, midfield, Torrey Pines (Calif.) / West Coast Starz – Brown. Coming off of a great season for nationally-ranked Torrey Pines, Hollen capped his excellent summer with another big offensive weekend. The Starz rattled off four straight wins after losing their first game, and Hollen was a huge reason why. Everything runs through him and he's usually got his fingerprints all over a goal, whether it's as the guy who gets the assist or setting someone up with a hockey assist. The future Brown Bear has excellent vision and an understanding of what the defense is trying to do, and he's adept at dropping dimes into a tiny window.
Russ Maher, attack, Mount Sinai (N.Y.) / Long Island Express – Virginia. Maher always seems like he's adding a new wrinkle to his offensive game with every passing event. It's that type of versatility that makes him so dangerous around the cage. He's comfortable beating a man with his speed on the sweep to get top side, or he can sit on the wing and rip lasers. Everything seems to run smoother when he has the ball in his stick, and the lefty doesn't shy away from contact and he can score in a multitude of ways, as evidenced by his 64 markers this spring for the Mustangs.
Casey McDermott, attack, Brighton (N.Y.) / SweetLax Upstate – Johns Hopkins. You don't ever have to worry about McDermott taking plays off, because he only knows how to go at 100 percent, all the time. He's a very physical dodger with great vision and a great finisher, but you also have to love the pride in which he rides with. There are no free clears with McDermott, and that relentlessness often pays off for him.
Ryan MacKenzie, midfield, Christian Brothers (N.Y.) / SweetLax Upstate – Duke. Ask your short stick to cover MacKenzie and you might as well tell the scorekeeper to put another goal up on the board for SweetLax. Ask a pole to cover him and it still isn't a fun job. MacKenzie is a big body who loves to sweep across to get top side, and he packs a ton of power into his dodges. He's extremely reliant on his left hand, but it doesn't matter because he's so good at getting there and working counters to get his hands free. MacKenzie also showed on a couple of occasions that he's able to thread the needle with some precise passes.
Chris Nichols, midfield, Delbarton (N.J.) / Leading Edge – There might not be a less glamorous job in the sport than that of a short-stick defensive midfielder, but there's a reason why midfielders like Nichols are always a part of great teams. Nichols is super reliable and consistent, and while you might think that it's a good time to go once your midfielder is matched up on him, it has a tendency of actually being a very bad time to go. Nichols relishes the job of being a SSDM and does a great job of getting low to dislodge players off of their spot. He even showed some offensive acumen this weekend by chipping in a couple of goals.
Matt Pecora, attack, Deerfield (Mass.) / West Coast Starz – Pecora is a thick lefty who has absolutely no qualms about going to high-traffic areas to rack up goals. He's tough and eats checks for breakfast, and they pretty much never faze him. The Deerfield product capped a great summer by scoring a bushel of goals for the Starz and was pretty much automatic on anything inside.
Zachary Poremba, attack, Parkland (Pa.) / Big 4 HHH – A righty attackman who finds different ways to get open, Poremba – who buried 35 goals for the Trojans this spring – filled up the back of the net early and often. He doesn't need a ton of room to take advantage of his opportunities, and he was a constant presence for Big 4 HHH.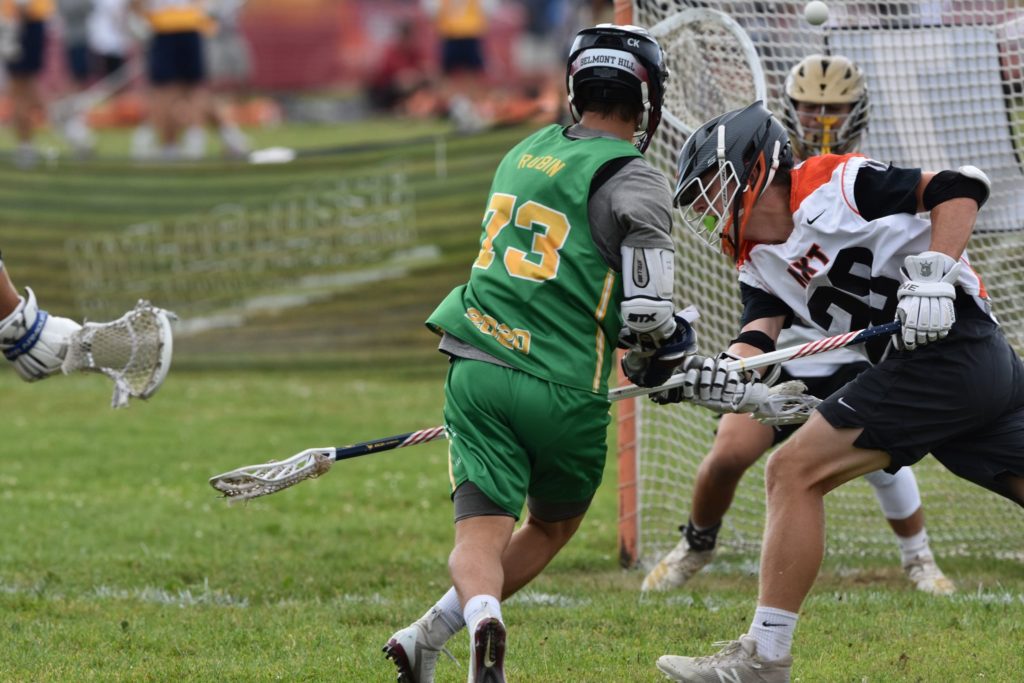 Cam Rubin, attack, Belmont Hill (Mass.) / Laxachusetts Black – Penn. An early commit to the Quakers, Rubin's game has shown tremendous development in the past year or so. He's markedly stronger, which has already helped a heavy shot become even more explosive. He scores as a dodger or on stepdowns, and he's made huge strides in his passing game, where he can now routinely expose defenses on the backside if a double is sent his way. Rubin is in total control of the offense at X and at GLE.
Davis Smith, defense, Ponte Vedra (Fla.) / SweetLax Florida – Utah. Smith parlayed a great tournament into a commitment, choosing upstart program Utah on a visit right after the event. The Utes got a good one who can play either LSM or close, and he's got a great stick and a motor that's always running. Davis is an all-around defenseman who can do a little bit of everything, and he does a nice job of getting physical with his matchup.
Luke Staudt, goalie, West Genesee (N.Y.) / SweetLax Upstate – Loyola. The first four-year starter in the cage at West Genesee since Syracuse All-American, pro all-star and Jacksonville head coach John Galloway – pretty good company, no? – the future Greyhound is consistent and the cage and he makes everything look easy. You won't find him thrashing around to make wild highlight saves because he usually doesn't have to. He'd rather rely on solid positioning and good fundamentals to get the job done, like when he only gave up two goals to tournament finalist Laxachusetts Black after a strong performance against Leading Edge.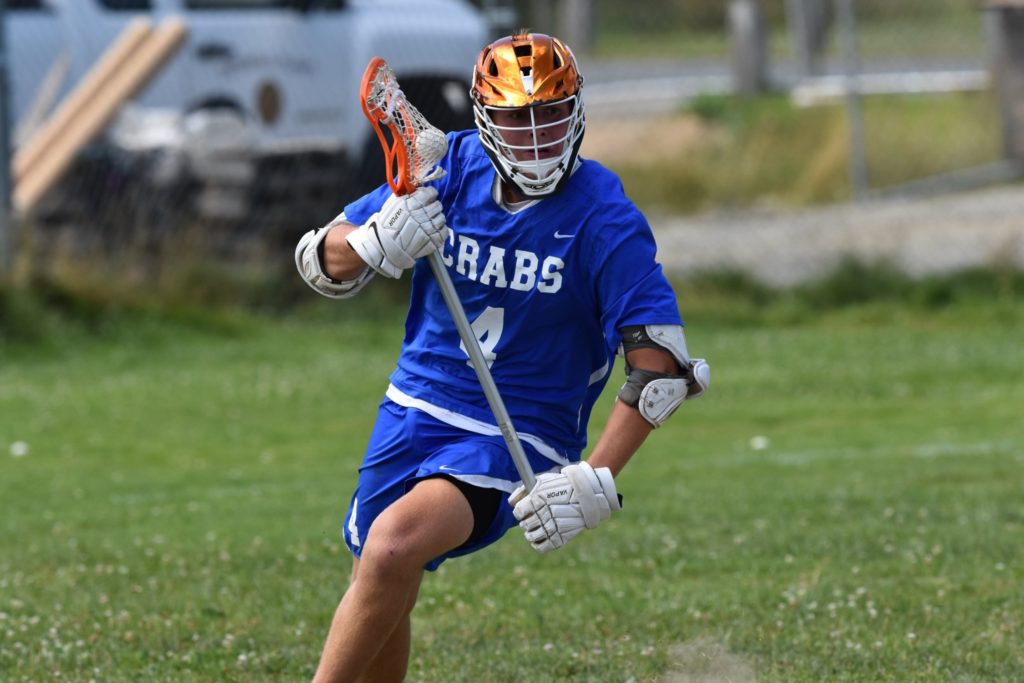 JP Ward, attack, McDonogh (Md.) / Crabs – Furman. Ward has been having an outstanding summer for the Crabs. A big-bodied attackman with a deft touch around the crease, he's automatic in tight and does a really nice job of creeping into open spots. He also showed off improved vision with a couple of nice passes, including an early dime to Brent McVicker (IMG Academy) for a mid-range rip.
Justin Wietfeldt, faceoff midfield, New Canaan (Conn.) / Eclipse – Michigan. Wietfeldt carries the reputation of being one of the class' elite faceoff men, and he did a nice job of backing it up for Eclipse. He has very quick hands and shoots out of his stance quickly, usually corralling the ball by himself and leading the fast break. He also scrapped when he had to, and he usually makes the right decisions with the ball in his stick.
Ajax Zappitello, defense, Sunset (Ore.) / Legends West – Maryland. Throw a skip pass near Zappitello at your own peril, because chances are that he's batting it out of the air. He has one of the most active sticks of any defenseman in the country, and he's constantly picking passes off or disrupting play. He's not the biggest guy, but he plays bigger than his size, and few players have blown up more in the past year than him.
Honorable Mention
Cole Kastner, defense, Menlo (Calif.) / West Coast Starz – Virginia.
CJ Kirst, attack, Delbarton (N.J.) / Leading Edge – Cornell.
Timothy Lacroix, midfield, St. John's (Mass.) / Laxachusetts Black – Bryant.
Matt Licata, attack, Timberlane (N.H.) / New Hampshire Tomahawks – Utah.
Mac MacLean, attack, Taft (Conn.) / Legends West – Bucknell.
Brian McCarry, midfield, Upper Dublin (Pa.) / Big 4 HHH
John Schofield, defense, Medfield (Mass.) / Laxachusetts Black – Lehigh.
Henry Serr, defense, Lake Washington (Wash.) / West Coast Starz – Michigan.
Noah Spratt, midfield, Germantown Academy (Pa.) / Big 4 HHH
Liam Storkerson, LSM, Oxbridge (Fla.) / SweetLax Florida.
Henry Vogt, goalie, Exeter (N.H.) / New Hampshire Tomahawks – Merrimack.