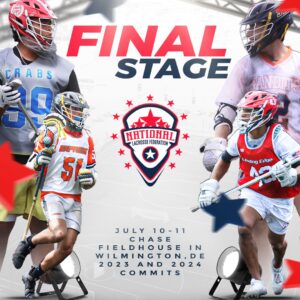 COMPETE AGAINST THE BEST ONE LAST TIME
When: Monday-Tuesday, July 10-11, 2023
Where: Chase Fieldhouse, 401 Garasches Ln, Wilmington, Del. 19801
Who: The best committed players in the 2023 and 2024 classes. Email Bruce Chanenchuk to express interest in the event.
Dial in your game before college
If you want to make an immediate impact in college, you've got to make sure your game is dialed in and a cut above everyone else's.
The NLF Final Stage, set for July 10-11, brings together the top committed seniors and juniors in the country for a weekend of elite-level training. Players will learn from an incredible group of college coaches and pro players, and it's going to be as demanding and tough as high-level college lacrosse will be.
If you're serious about playing right away and putting everyone on notice, this is the event for you.
All games are filmed in HD by NextPro.