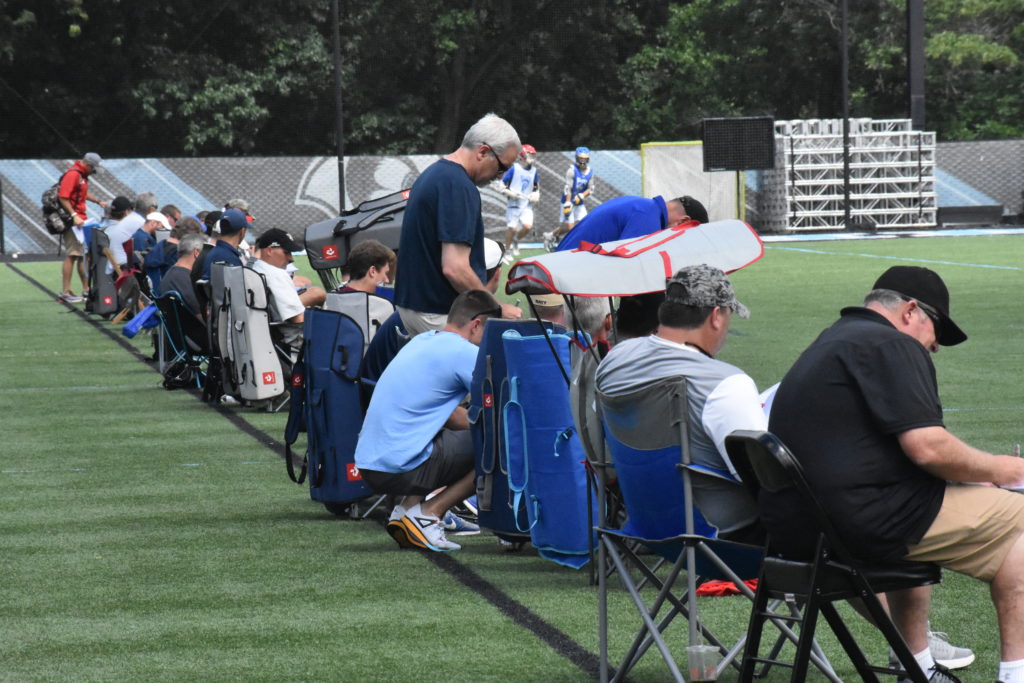 Follow the NLF on Instagram, Twitter and Facebook. 
The class of 2021 is officially on the clock.
With July 1 (hello, service academies) and Sept. 1 (all other Division I programs), which will allow schools to reach out to the rising junior class, quickly approaching, this is the biggest summer to date for the '21 class as players try to land on their dream school's radar.
And the odds are that coaches from their dream school were on the sidelines as last Friday's NLF Elite 120, which brought out 61 college coaches from the top Division I schools in the country, led by national champion Virginia and all seven other teams who reached the national quarterfinals. CLICK HERE for a full list of schools who were in attendance.
One hundred and twenty of the very best 2021 prospects came out to Johns Hopkins University's Homewood Field, and by the looks of it, the 2021 class is shaping up to be full of future stars. A visit to the Under Armour headquarters preceded the visit, allowing the players to get a behind-the-scenes look at one of the most cutting-edge companies in the world. CLICK HERE for a photo gallery from the day.
Here's a breakdown of some of the top players from the event.
Elite 120 Standouts
Michael Bath, LSM, Gonzaga (D.C.) / MadLax – Highlights
"That kid is a top 5 player in this class. He's a savage," one coach said after watching Bath all day. He has the ideal frame for the position at about 6-2, 190 pounds, and he can flip his hips and run with anyone. He excelled off the ground and covered a ton of ground in 1v1 situations, took the ball away and was an active presence on the faceoff wings. He makes playing LSM look effortless, and he also consistently made the smart, heady play.
Sebastian Birse, defense, Westfield (N.J.) / Leading Edge Elite
Birse has athleticism in spades and he uses it to his advantage as a quiet cover guy who has the potential to blanket his man all game. He showed great footwork to mirror attackmen and made them pass out of their matchup when they couldn't beat him. He's not going to be the highlight-reel guy who's hammering monster checks and dislodging the ball all the time, but he'll thrive by holding his man out of the stat columns. He repeatedly denied strong hands and made attackmen take bad shots.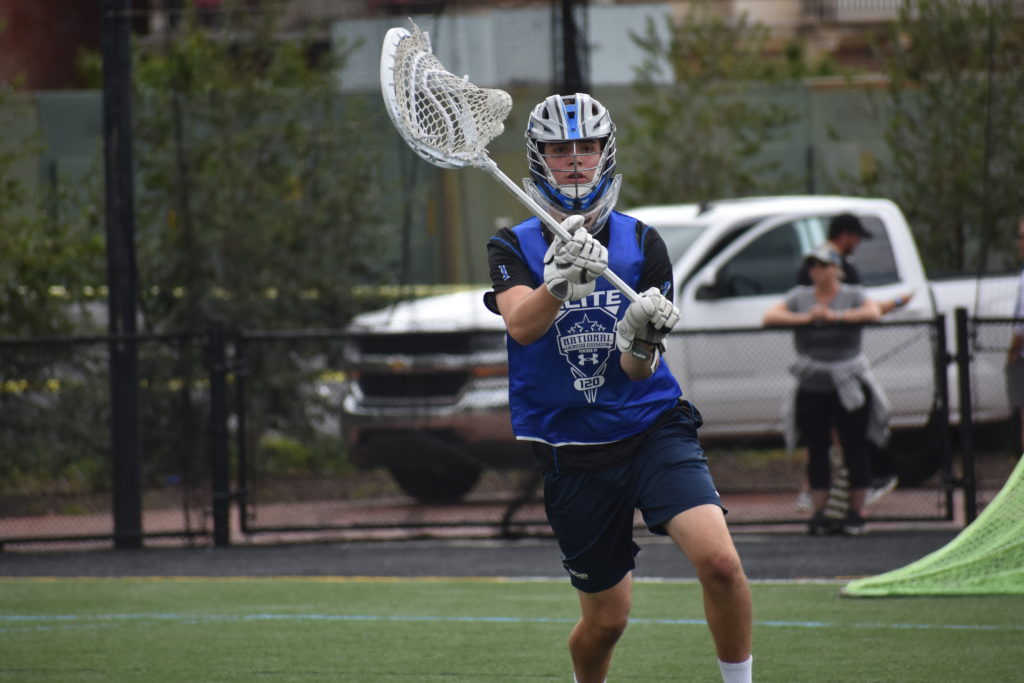 Andy Demopoulos, goalie, Darien (Conn.) / Eclipse – Highlights
Demopoulos has been a known commodity with the Eclipse '21s for a while, but he broke out on the national stage this spring when he put up 13 saves against a loaded St. Anthony's (N.Y.) team in a televised game on ESPNU. Any conversation about the best '21 goalie in the country has to include him, and he showed why again at the Elite 120, gobbling up shots left and right. For a bigger goalie, Demopoulos does a really nice job of taking away low shots, and shooting high on him is usually openly declaring that you don't want to have possession of the ball anymore. Always in total control of the defense and displaying poise and patience, he's going to be a rare three-year starter in the Darien cage, which says something about his abilities.
Ronan Doherty, LSM, Groton (Mass.) / Laxachusetts – Highlights
A very well-known player on the '21 circuit, Doherty just stands out every time he suits up, whether it's for a stacked LXC Black team or in a showcase setting. He's a little shorter than your prototypical LSM, but there aren't many in the class who disrupt as much as he does. There's never a question as to what kind of effort he's giving, constantly going all out and making his own luck in the process. Doherty never backs down from anyone and won't sit back, preferring to be the aggressor and making midfielders uncomfortable. He throws precise checks and uses his strength to bully offensive players.
Garrett Glatz, attack/midfield, Boys' Latin (Md.) / Crabs 
Glatz is on the smaller side, but he has incredible footwork and agility that allows him to beat bigger defenders with ease. He was a top-6 scoring threat for Boys' Latin this spring after contributing a bit as a freshman, and he's very versatile when he comes out of the box, as he can either invert or dodge from up top with a quick split down the alley. Glatz, whose older brother plays at Penn State, showed that he's a significant matchup problem for either poles or shorties, and he had his fair share of points by the end of the day.
Mitchell Gutgsell, goalie, Valor Christian (Colo.) / Denver Elite – Highlights
Gutgsell, who guided Valor Christian to a 16-1 mark this spring, put on a show in the Michigan cage, coming away with enough big-time saves to cut up a new highlight reel. He's very fluid in his movements with very little wasted motion, and he has terrific footwork in his crease. He seemingly took away every low shot fired his way and has a knack for making in-tight saves. Gutgsell was very vocal in leading the defense, too.
Leo Johnson, attack, Avon Old Farms (Conn.) / Eclipse – Highlights
There might not be a more entertaining player to watch in the entire class than Johnson, who popped 33 goals to go with 41 assists this spring in his first season at Avon Old Farms. The dynamic lefty is so shifty with his ability to stop and start on a dime, and there isn't much that he can't do. He had great chemistry with teammate Chris Kavanagh (Chaminade, N.Y. / LI Express) and the two tortured defenses together, with Johnson as the primary feeder and Kavanagh the finisher. Johnson tosses passes into tiny windows where the recipient can catch the ball loaded, and he's comfortable initiating from the wing and X. His handle in tight is so good that he can finish in high-traffic areas despite his smaller frame. He also doesn't give up on a ride and can wreak havoc on opponents' clears.
Chris Kavanagh, attack, Chaminade (N.Y.) / LI Express – Highlights
Kavanagh and the net don't need much of an introduction, as he doesn't exactly need Google Maps to find it. That being said, one of the plays that stood out the most was a great ride where he caused a turnover and set up a teammate for a dunk on the crease. Outside of that, Kavanagh is in the business of scoring goals, and business is boomin'. He had an early goal where he just uncorked a laser, and he played well off of Johnson's terrific passing ability, regularly finding open creases in the defense. He's a heck of a shooter, but he's a scoring threat from everywhere, and he's not above making your No. 1 defenseman look foolish with his dodging ability.
Ethan Long, midfield, Calvert Hall (Md.) / Crabs
You wouldn't expect a big, strong midfielder like Long to be so fluid, but it's what enables him to thrive all over the field. He combines his athleticism with a really nice outside shot, but he also showed that he can routinely beat his man and initiate for his teammates. A consistent contributor on one of the best teams in the country, which pulled off the rare MIAA three-peat, Long is a converted attackman has soft hands, oozes upside and could end up as one of the very best '21s in the country.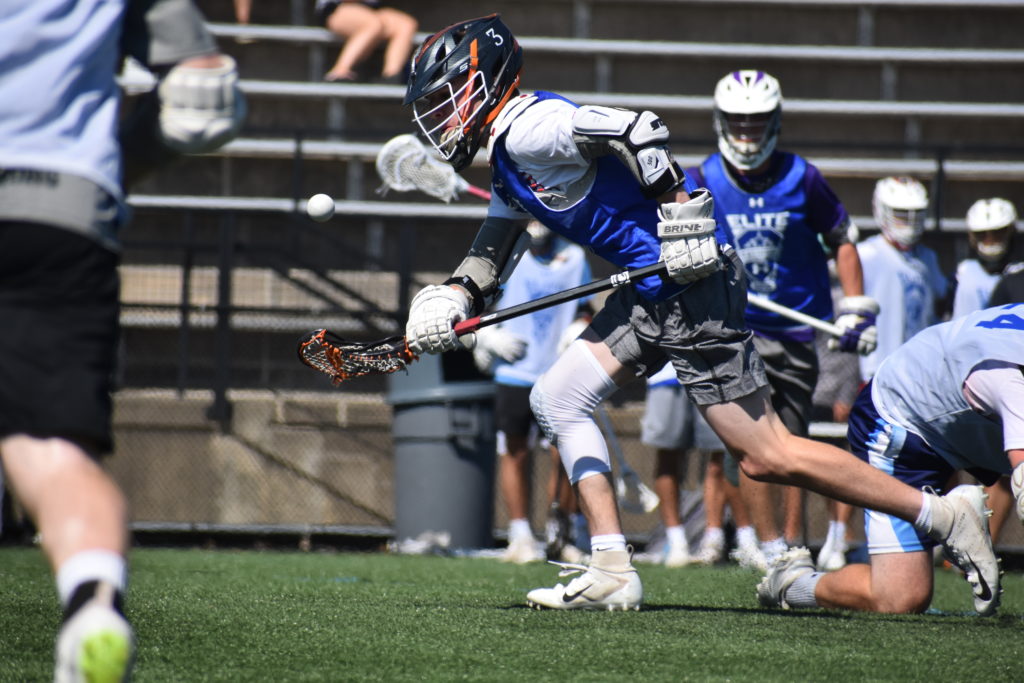 Quinn McConnaughey, faceoff midfield, Thayer (Mass.) / Laxachusetts
McConnaughey excelled at Thayer this spring, finishing second in the ISL with wins in 70.4 percent of his faceoffs, and that play carried over to the Elite 120. He jumped out right away by ripping home a high scorcher off of a win and ground ball right before the end of the first half, and he had a hand in a couple of other goals. At the X, he showed quick hands, but he also scrapped and hustled to gain his fair share of 50-50 balls.
Jack McGorry, midfield, Allentown Central Catholic (Pa.) / Big 4 HHH – Highlights
McGorry brings a little bit of everything to the midfield. He had a really nice play early on where he anticipated a pass in a settled situation, picked it off like a free safety driving on a pass, outran the ride and picked up a hockey assist in the process. He seemingly gets better every time out and while he's always been good offensively – he pocketed 46 goals and added 26 assists for the Vikings this year – , he did a very solid job defensively of consistently pushing his man out of good shooting angles.
Kyle O'Donoghue, midfield, St. John The Baptist (N.Y.) / Team 91 Blaze – Highlights
O'Donoghue can score, as evidenced by his 19 goals and 12 assists this spring for St. John The Baptist, but he's what you look for in the shot clock era because of his ability to defend and get out in transition. Common sense says to look for the 1v1 matchup against the SSDM, but that's not usually a good idea against O'Donoghue. He consistently gets leverage by getting up under guys' pads and knocking them off of their spot, and he absolutely relishes the challenge of playing defense. He has exceptional speed and a terrific first step, which make him a tough cover and hard to stop in transition, and he's great at picking up ground balls. He had a couple of hockey assists off of his work in the transition game.
Kevin Parnham, defense, Pingry (N.J.) / Leading Edge Elite
A big, mean lefty with plenty of experience – he's on track to be a four-year starter at Pingry – Parnham throws good checks while maintaining body control. He consistently stays low in his stance, allowing him to use his strength and power to manhandle attackmen, and his aggressive disposition serves him well on the back end. Also a hockey player, Parnham showed a good handle in traffic and the toughness that everyone wants.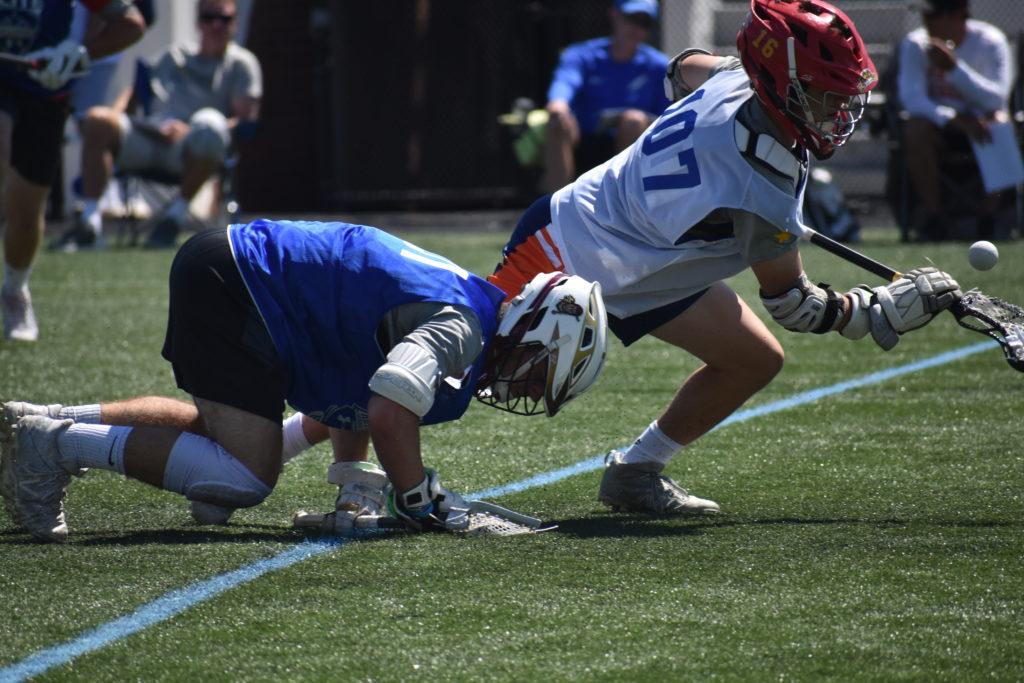 Mac Rodriguez, faceoff midfield, Chaminade (N.Y.) / Team 91 Blaze 
Rodriguez has the ability to do so much on the field that calling him a FOGO would not be doing him any type of justice. At the faceoff X, he has incredibly quick hands and is very tenacious on ground balls, and you'll never see him give anything less than 100 percent. With the ball in his stick, Rodriguez is a significant offensive threat and not sliding to him is a poor defensive strategy. Even when the slide comes, though, he's smart and sees the field well enough to almost always find the open man, as he did on a nice dumpoff to Connor Davis (Bullis, Md. / DC Express) for a goal. Rodriguez also takes wings for the Blaze team when he's not facing off, and he's so explosive and quick as a dodger from up top that he can beat defenders to either get his own shot off or feed.
Ben Smith, attack, Boys' Latin (Md.) / Crabs
Smith is going to find himself at the top of a lot of colleges' wish lists at attack, and with good reason.
"He's a poor man's Pat Spencer," one college coach said.
If you're almost on a four-time All-American's level as a prospect and are going to be a four-year starter in the MIAA, you're doing something right. Like his fellow Boys' Latin product, Smith showed that he's completely comfortable running the show in a showcase setting. He'll be sought-after because of his ability to do it all, whether it's score goals, set them up, ride and orchestrate the offense. He has a terrific stick and protects it well, and he shows an advanced understanding of how to find open spots in the defense.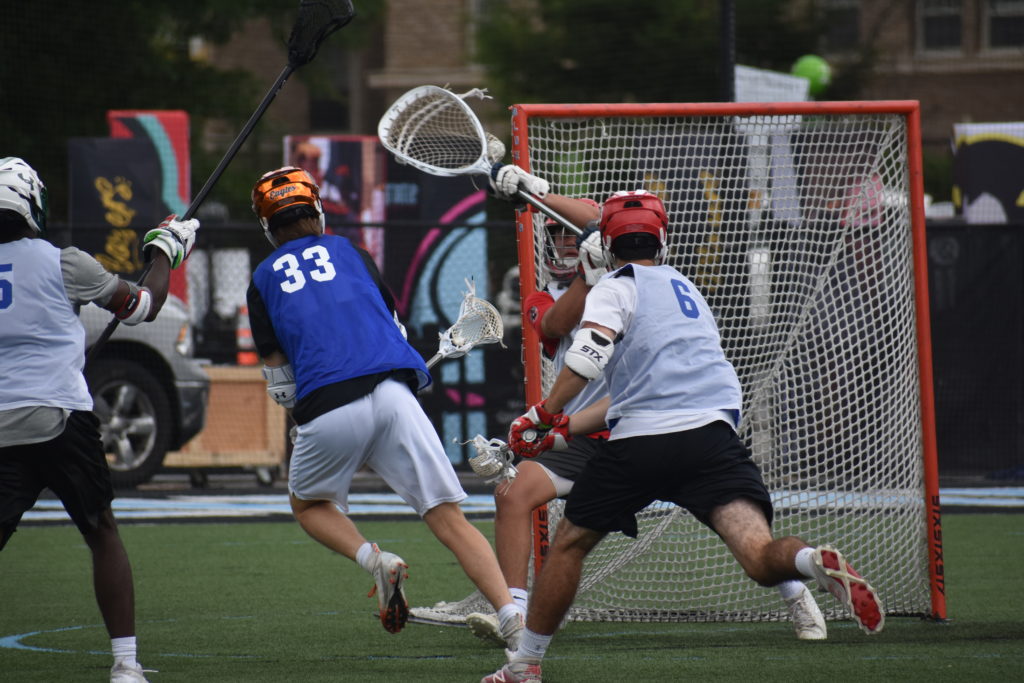 Alex Zepf, goalie, Chaminade (N.Y.) / Long Island Express
Could Zepf find himself as the next starting goalie at Chaminade after the Flyers graduated one of the best 'keepers in the country in Liam Entenmann (Notre Dame)? It's certainly possible, particularly if he plays like he did at the Elite 120. He made a terrific save early on a massive rip from eight yards out, and doubled down on it with a couple of terrific in-tight saves. Zepf's footwork was on point, and he showed quick hands in making a bunch of nice saves.
Honorable Mention
Bryan Anderson, LSM, Roxbury Latin (Mass.) / Laxachusetts – Highlights
Cade Caggiano, attack, Ardrey Kell (N.C.) / Carolina 24/7 – Highlights
Jack Clark, attack, Springfield (Pa.) / Big 4 HHH – Highlights
Connor Davis, attack, Bullis (Md.) / DC Express – Highlights
Matt Dixon, midfield, Loyola Blakefield (Md.) / Crabs
Reilly Dugan, midfield, Episcopal Academy (Pa.) / Big 4 HHH – Highlights
Braden Erksa, attack, Lassiter (Ga.) / Thunder LB3 – Highlights
Will Ferraro, midfield, Seton Hall Prep (N.J.) / Leading Edge Elite – Highlights
Tyler Kuehl, defense, Bullis (Md.) / DC Express – Highlights
Mason Lazasz, attack, La Salle (Pa.) / Big 4 HHH – Highlights
Will Lynch, faceoff midfield, Chaminade (N.Y.) / Long Island Express
Jeffery Ricciardelli, attack, Taft (Conn.) / Eclipse – Highlights
Luke Romanek, faceoff midfield, New Hampton (N.H.) / NH Tomahawks – Highlights
Ryan Spilman, midfield, Boys' Latin (Md.) / Crabs
Zach Travaglini, attack, Belmont Hill (Mass.) / Laxachusetts – Highlights
Luke Walstrum, attack, Council Rock North (Pa.) / Big 4 HHH – Highlights
Luke Waters, midfield, Brunswick (Conn.) / Eclipse
Cavanagh Williams, LSM, Sacred Heart Prep (Calif.) / ADVNC