NLF Class of 2020 Top 50 Rankings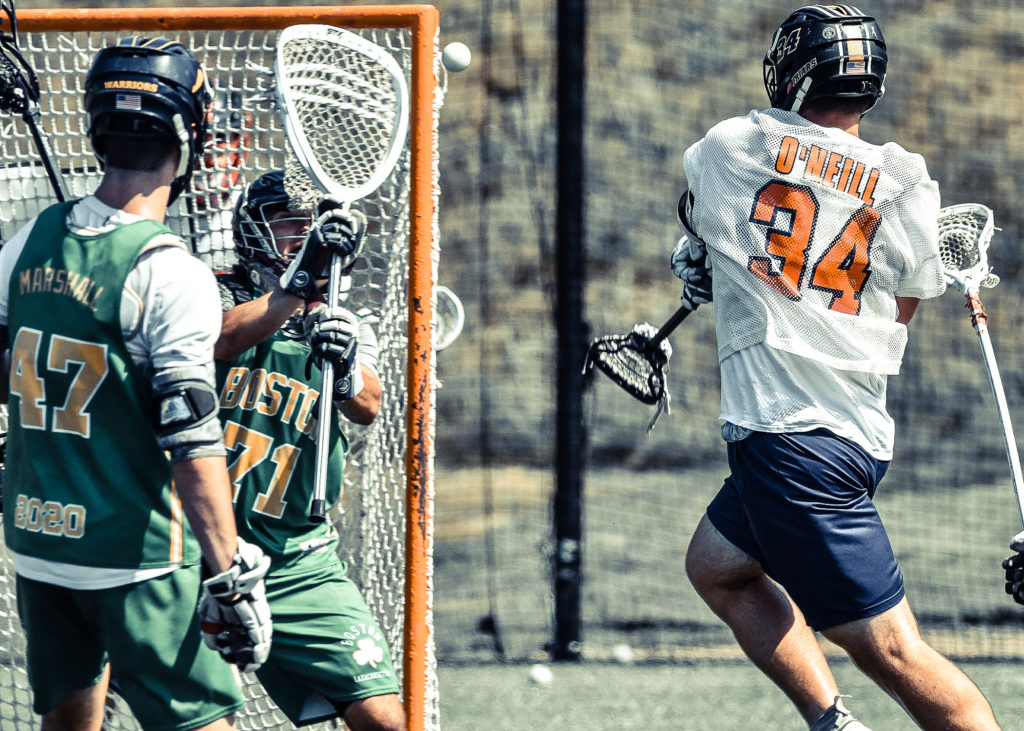 Follow the NLF on Instagram, Twitter and Facebook. Click here for the list of college coaches who attended the NLF National Championships. Click here to apply for this fall's NLF 2021 Uncommitted Showcase and click here to apply for the team Fall Invitational. 
The hype started building up through Brennan O'Neill's youth lacrosse career with Team 91 Crush, a team that routinely played up against 2019 teams and still came away with win after win.
It continued when he became the youngest Division I commit in history as an eighth grader, added to it when he piled up a staggering 99 points on varsity as an eighth grader, and hasn't stopped since, what with the constant social media reminders, jaw-dropping plays and monumental big-game performances. The most recent, a seven-goal, one-assist outburst vs. national power and rival Chaminade after tallying the same stat line in the 2018 NLF National Championship game, including the game-winning goal as time expired.
The most incredible part about all of the hype surrounding the St. Anthony's senior isn't that it often reached seemingly-absurd proportions. Rather, it's the fact that he's lived up to every bit of it. A 6-2, 225-pounder with elite stick skills, body control, lacrosse IQ, vision, the ability to try any shot and find teammates all over the field, O'Neill is a one-in-a-lifetime recruit, but this summer at the National Championships at UMass, the Duke commit only had one goal: win another national title.
"It was great to finish the way we started," O'Neill said. "We knew that it wouldn't be the same if we lost in our last time together, and we knew that it was our last chance to show what Crush is about and to seal the deal on us being one of the best club teams ever. Crush really helped me become the player that I am today, particularly getting coached like that, and I couldn't see myself anywhere else."
The decision to make O'Neill the No. 1 prospect in the class of 2020 in the inaugural National Lacrosse Federation rankings was as easy as it gets. While there are plenty of other incredibly-skilled players in the class, O'Neill is the total package, and he's a sure bet to make a massive impact as a Blue Devil. He put forth a whopping 56-goal, 16-assist campaign as a junior for the 15-1 Friars, who arguably played the toughest schedule in the country. It'll be hard to top that for an encore, but it won't be for lack of trying from O'Neill and his teammates, which include Andrew McAdorey, the NLF No. 1 class of 2021 prospect, and Aidan Danenza, our No. 16 class of 2020 prospect.
"I want us to win every game and I don't think we should lose," O'Neill said. "Our goal is to come out the way we did last year. We want to beat Chaminade, of course, and we knew we should have in the first game. I think that loss really helped us along the way and helped us realize that we're not unbeatable. Seeing that loss on our record was disappointing, but we knew we had another shot at revenge."
Unfortunately for everybody else, O'Neill still feels like he can get a lot better, which is both terrifying and feasible.
"I want to improve my speed more," O'Neill said. "My stick skills will get better along the way, but I want to focus on improving my speed for the next level. I have a lot of tools, but I want to improve my athletic ability."
Improbably enough, O'Neill has lived up to the enormous hype around him, and he's just getting started.
"Brennan is a special talent that walks the walk every time he touches the field," Crush coach Joe Spallina said. "There's immense pressure on him and he handles it so well, and he's simply a dominant player. Duke is getting an incredible player and person, and he's as advertised."
---
Welcome to the first National Lacrosse Federation player rankings. We recently unveiled the class of 2021 top 50, as well as an honorable mention list, and we're continuing by unveiling our top 50 seniors in the class of 2020. The top 2022s list will follow to close out our inaugural rankings.
Players must play for an NLF club or have played at the NLF Opening Weekend or NLF National Championships to be considered for the rankings, which was chosen in consultation with club coaches and college coaches, as well as in-person evaluations. The class has a ton of offensive gamebreakers, particularly at the top, with six big-time scoring threats in the top 10 and 15 attackmen or midfielders in the top 25.
More than 100 players were considered for the top 50, and a list of some of the honorable mention names will be published soon. The NLF draws the best players and teams in the country to its events, and many of the players on the rankings will be college lacrosse's stars of tomorrow.
The NLF hosts a pair of events during the November recruiting period. Click here to apply for this fall's NLF 2021 Uncommitted Showcase on Saturday, Nov. 16 and click here to apply for the team Fall Invitational on Sunday, Nov. 17, both at Farmingdale State College.
Brennan O'Neill, attack, St. Anthony's (N.Y.) / Team 91 Crush / Duke
Xavier Arline, attack, Shoreham-Wading River (N.Y.) / Team 91 Crush / North Carolina
Eric Malever, attack, Woodward (Ga.) / Thunder LB3 / Maryland
Sean Cameron, midfield, Bishop Guertin (N.H.) / New Hampshire Tomahawks / Princeton
Jackson Bonitz, defense, McDonogh (Md.) / Crabs / Navy
James Ball, faceoff midfield, Chaminade (N.Y.) / Long Island Express / Yale
Cole Krauss, defense/LSM, Delbarton (N.J.) / Leading Edge / Duke
Russ Maher, attack, Mount Sinai (N.Y.) / Long Island Express / Virginia
Casey McDermott, attack, Brighton (N.Y.) / SweetLax Upstate / Johns Hopkins
Nathan LaLiberte, faceoff midfield, Pinkerton (N.H.) / New Hampshire Tomahawks / Bryant
Carter Parlette, midfield, Ponte Vedra (Fla.) / SweetLax Florida / Notre Dame
Nick LiCalzi, defense/LSM, South Side (N.Y.) / Team 91 Crush / Navy
Eric Dobson, midfield, Fleming Island (Fla.) / SweetLax Florida / Notre Dame
CJ Kirst, attack, Delbarton (N.J.) / Leading Edge / Cornell
Dylan Hess, midfield, Ponte Vedra (Fla.) / SweetLax Florida / Georgetown
Aidan Danenza, midfield, St. Anthony's (N.Y.) / Team 91 Crush / Duke
Jack Schirtzer, defense, Mount Sinai (N.Y.) / Team 91 Crush / Maryland
Dane Swanson, midfield, McDonogh (Md.) / Crabs/ Navy
Connell Kumar, midfield, Seton Hall Prep (N.J.) / Leading Edge / Virginia
Mikey Boehm, attack, St. Ignatius (Ohio) / West Coast Starz / Michigan
Cam Rubin, attack, Belmont Hill (Mass.) / Laxachusetts / Penn
Nick Caccamo, defense, Harborfields (N.Y.) / Team 91 Crush / Yale
Evan Barr, goalie, Somerville (N.J.) / Leading Edge / Duke
Collin Bergstrom, defense, Roxbury Latin (Mass.) / Laxachusetts / Harvard
Max Cooney, defense, Georgetown Prep (Md.) / Crabs / North Carolina
Ross Burgmaster, defense, Auburn (N.Y.) / SweetLax Upstate / Notre Dame
Kyle Stephenson, midfield, Seton Hall Prep (N.J.) / Leading Edge / Michigan
Michael Chabra, midfield, Austin Prep (Mass.) / Laxachusetts / Providence
Miles Botkiss, midfield, Torrey Pines (Calif.) / West Coast Starz / Harvard
Patrick McIntosh, attack, Salisbury (Conn.) /SweetLax Upstate / Virginia
Justin Wietfeldt, faceoff midfield, New Canaan (Conn.) / Eclipse / Michigan
Ryan McKenzie, midfield, Christian Brothers Academy (N.Y.) / SweetLax Upstate / Duke
George Alvarez, goalie, St. John's (D.C.) / Crabs / Harvard
Porter Hollen, midfield, Torrey Pines (Calif.) / Deerfield (Mass.) / West Coast Starz / Brown
Jack Whitney, defense, Berkshire (Conn.) / Eclipse / Michigan
John Dixon, faceoff midfield, Noble and Greenough (Mass.) / Laxachusetts / Georgetown
Brett Martin, midfield, Half Hollow Hills East (N.Y.) / Team 91 Crush / Johns Hopkins
Connor McDonough, attack, Moorestown (N.J.) / Big 4 HHH / Towson
Jackson Peters, midfield, Darien (Conn.) / Eclipse / Navy
Ethan Gylenhaal, midfield, Springside Chestnut Hill (Pa.) / Big 4 HHH / Bucknell
Will Stax, midfield, Milton (Ga.) / Thunder LB3 / Air Force
Tyler Cordes, midfield, Connetquot (N.Y.) / Team 91 Crush / Navy
Mason Drouin, midfield, Pinkerton (N.H.) / New Hampshire Tomahawks / Bryant
Luke Mercer, midfield, John Jay (N.Y.) / Prime Time / Penn State
Cole Kastner, defense, Menlo (Calif.) / West Coast Starz / Virginia
Jack Tuttle, midfield, Castle View (Colo.) / Denver Elite / Denver
Marquez White, midfield, Poway (Calif.) / Legends / Princeton
Caden Hawkinson, LSM/defense, Cold Spring Harbor (N.Y.) / Team 91 Crush / Michigan
Ajax Zappitello, LSM, Sunset (Ore.) / Legends / Maryland
Matt Licata, attack, Timberlane (N.H.) / New Hampshire Tomahawks / Villanova