National Championship AA Preview: Laxachusetts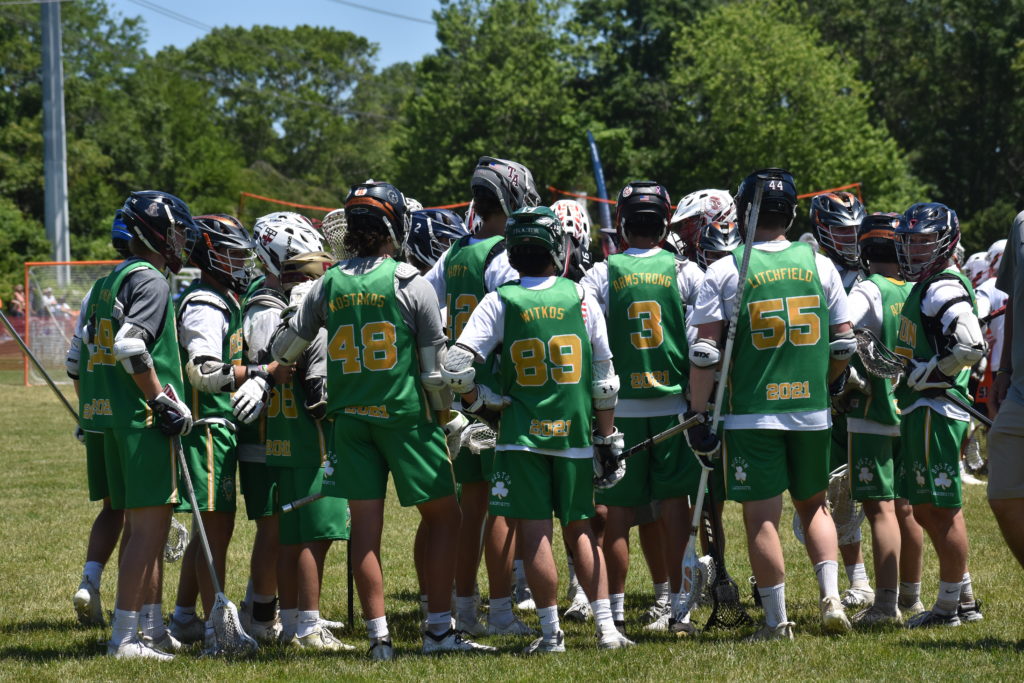 Follow the NLF on Instagram, Twitter and Facebook. This is the Laxachusetts 2020 and 2021 preview for the 2019 NLF Club National Championships. We'll be profiling some of the top players from every 2020 AA and 2021 AA teams who will be in attendance. 
2020 Black
Top Commits
Collin Bergstrom, LSM/defense, Roxbury Latin (Mass.) / Brown
Blake Brookes, defense, Belmont Hill (Mass.) / Dartmouth
Michael Chabra, midfield, Austin Prep (Mass.) / Providence
John Dixon, faceoff midfield, Nobles and Greenough (Mass.) / Georgetown
Cam Rubin, attack, Belmont Hill (Mass.) / Penn 
Top Uncommitted Players
Mike Allieri, goalie, Middlesex (Mass.) – If Allieri gets a clean look at a shot, it's not going in. You'd better be putting some movement on it or changing planes in a hurry if you want to score. He's good at catching the shot and quickly getting the ball out, and he's worked hard to improve his clearing game.
Aidan Carroll, attack, Boston College High (Mass.) – A two-time All-American and one of the state of Massachusetts' most explosive attackmen, Carroll is finally back after dealing with an injury he suffered in the spring. He's a true X attackman who's deadly from either side of the cage.
Liam Ford, midfield, St. Sebastian's (Mass.) – A two-way midfielder with a terrific righty outside shot, Ford also adds a major dose of athleticism and toughness to the midfield.
2021 Black 
Bryan Anderson, LSM, Roxbury Latin (Mass.) – Anderson looks the part of a big-time Division LSM, combining great size, toughness and athleticism. You can't get comfortable around him because he's so disruptive, and he's a huge asset on the faceoff wings, showing the toughness and stick skills to routinely come away with ground balls.
Trey Brown, defense, Belmont Hill (Mass.) – Another defenseman straight out of Laxachusetts central casting, Brown is a physical specimen with the agility and footwork of a much smaller guy. He loves to mix it up physically, and he has the potential to be special at the next level.
Quinn McConnaughey, faceoff midfield, Thayer (Mass.) – McConnaughey excels at facing off, but what separates him is his ability to make things happen after the win. He's athletic enough to stay on the field and be a reliable two-way midfielder, and he can let it rip with time and space.
2020 Yellow
Top Commits
Jake Candelino, LSM/defense, Pingree (Mass.) / Sacred Heart
Niall Cremin, midfield, Lawrence (Mass.) / UMass Lowell
Sascha Gannon, attack, Belmont Hill (Mass.) / Dickinson 
Peter Kip, midfield, Thayer (Mass.) / Holy Cross
Top Uncommitted Players
Matt Cawley, LSM, Westwood (Mass.) – Cawley isn't the biggest LSM out there, but his tenacity and his penchant for causing turnovers make him stand out in a big way, and he's one of the top scorer on the Yellow team as a pole.
Garrett McKinnon, goalie, Scituate (Mass.) – McKinnon has great size at 6-3 to go along with plus athleticism – he's a wide receiver on Scituate's football team -, and he's been having a good summer. McKinnon also boasts quick hands.
Ian Peck, LSM/defense, Marshfield (Mass.) – A standout all season long for Marshfield, Peck combines a ton of grittiness and toughness with good feet, which allows him to cover a handful of different attackmen.
2021 Yellow
Drew Litner, attack, Sharon (Mass.) – Litner can leave defensemen reaching for air with his great change-of-direction abilities and agility, and he's got the lacrosse IQ to make himself a threat around the cage.
Louis Timmins, midfield, Boston College (Mass.) – Timmins is a big, strong and athletic midfielder who thrives when he can be physical all over the field. When the ball's in his stick, he's got the shake and first step to beat his man clean.
William Stockwell, midfield, Catholic Memorial (Mass.) – A terrific athlete who's also started at middle linebacker since he was a freshman, Stockwell brings that physicality to the midfield, and his tenacity helps him make plays.